All Branches OPEN for in-person service - Library Hours
All branches will be closed on Statutory Holidays. Cobourg Library closed Sundays - Canada Day to Labour Day.
Our online resources are available, 24/7 and can be accessed remotely using your library card.
Need a Library Card? Apply now
Has your Library card expired? Fill in this online form to renew.
Programs and Services for Adults & Teens
Read our latest Program Guide to see the amazing programs we have lined up for you!
Check our Calendar of Events to register for a program.
Our Library has books, movies and magazines for both fun and study. We have graphic novels, games and music CDs too.
Find out about the history of your family. Read old newspapers or view census or cemetery records in our Local History room.
Public computers and free wireless are available at all branches.
We offer Home Delivery Service for anyone unable to come to the library due to illness or mobility.
Volunteer at the Library! Help keep the books in order, or lend a hand with a program.
Join TAG, our Teen Advisory Group, and you can suggest new books, or help plan a fun program.
The Computer Lab - 2nd Floor - Cobourg
Welcome to our Computer Lab - Cobourg
There are currently 7 computers available, with a session time of 90 minutes, up to a maximum time of 180 minutes/day/user.
For the safety of all those using the Lab, please keep the following in mind:
• You must use hand sanitizer prior to entering the Library
• No food or drinks may be consumed in the Lab.
• Please observe a social distance of 2 metres whenever possible.
• The use of masks is required, as per the HKPR Health Unit.
• Computers are available by reservation only and may be reserved on a first-come-first-served basis
• You must use the computer that you reserved.
• Headphones are not available to borrow - please bring your own or mute your computer
• Printing, scanning and copying are available
Authors Live - Tuesdays at 11:00 a.m. on 89.7
Spread the word!
Our very own volunteer, Chris Worsnop, has created an amazing radio program on Northumberland 89.7FM titled "Authors Live"
Authors Live is a radio program developed specifically for people living in seniors' residences that airs each Tuesday at 11:00 a.m.
The live authors in AUTHORS LIVE are themselves seniors living in the Northumberland area.
In the program, they will read aloud a variety of material including extracts from their own writing and pieces from the writing of well-known authors, ranging from poems to short stories.
Think of it as an adult 'story time'.
To listen to previous episodes online, head to: https://northumberland897.ca/authors-live
Home Services Delivery
Home Services Delivery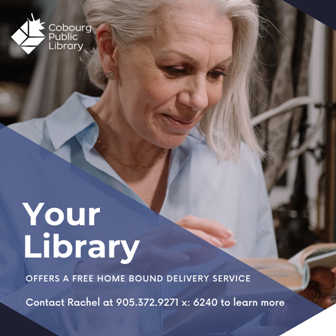 The Cobourg Public Library offers a free Home Bound Delivery service for Cobourg, Bewdley and Gores Landing residents who cannot make it into the Library. Once every four weeks, we will deliver a new bag of Library materials to you and pick up the Library materials that are ready to be returned.
Who is eligible for Home Services Delivery?
Our Home Bound Delivery Service is for Cobourg, Bewdley and Gores Landing residents who cannot make it into the Library due to:
Long-term illness
Mobility issues
Physical disability
Visual disability
Where do we deliver?
We can only deliver to addresses within the Cobourg, Bewdley and Gores Landing area, including:
Long-term care facilities
Nursing homes
Private homes
Retirement homes
Seniors' apartments
What can be borrowed?
Library materials from our fiction and non-fiction collections that can be borrowed include:
Books on CD
DVDs
Music CDs
Paperbacks
Regular print and large print books
Library materials that cannot be borrowed through our Home Services Delivery service include:
Quick Reads
Fast Flicks
Binge Bundles
Interlibrary loans
How does it work?
Deliveries
Once every four weeks, we will deliver a bag of Library materials to your residence. At the same time, we will pick up any Library materials that are ready to be returned.
Selection of Library materials
For both our Home Services Delivery and Library Pickup services, Library materials are selected either by:
Library staff, based on your reading interests with the help of your volunteer.
Register for Home Services Delivery
To register for either our Home Services Delivery or Library Pickup services, or for more information, contact the Home Delivery office by:
Seed Library

Our Seed Library is open at all branch locations
Check out these books on gardening:
Self-sufficiency and DIY
Sowing and Saving Seeds
Container Gardening and Small Space Gardens
Vegetable Gardening and Organic Gardens
Wildlife Gardening and Pollinator Friendly Gardens
Guides to Saving Seeds
Adult and Teen Programs
OCTOBER 2022 - PROGRAMS - Adults and Teens
Monday Movies – Cobourg - Mondays - 2:00 p.m. - Rotary Room - Oct 3rd, 17th, 24th & 31st
Join us for free movie screenings each Monday afternoon.
Light refreshments will be provided. No registration necessary.
Upcoming movies lists will be available at the Library.
*No movies on Oct 10th - Library closed.
Gaming Night - Teens & Adults - Cobourg - Tuesdays at 4:30 p.m. - October 4th, 11th, & 25th
Do you miss playing Super Smash Brothers against your friends?
Come out on Tuesday nights and test your skills. Competitive and casual players welcome.
Brought to you in partnership with EXP.
Cobourg Library - Rotary Room (no group on October 18th)
Bewdley Yarn Circle - Wednesday nights at 6:00 p.m. - Oct 5th, 12th, 19th & 26th
Join us at the Bewdley Branch for our Yarn Circle.
A place to come sit and chat with other yarn crafters and work on a current project of yours!
available at the Cobourg Public Library by looking at famous actors' breakout roles.
Boomers & Beyond - Cobourg - Fridays - 10:00 a.m. - Rotary Room
Oct 7th - St. John Ambulance Therapy Dogs
Oct 14th - Low Waste Living presented by the owner Happy Beet
Oct 21st - From Forest to Farmland, a presentation by George Parker which tells the story of the survey and early settlement of Hamilton Township in the late 1700s.
Oct 28th - How You Can Combat Climate Change, presented by Blue Dot Northumberland
Monday, October 17th to Saturday, October 22nd
Think you can tell the difference between a line from Ed Sheeran's hit songs and Edgar Allan Poe's poems? It may be harder than you think, follow us on Instagram and take a guess because one lucky participant will win a prize!
This contest ends on Sunday, October 22nd.
The winner will be announced on Facebook and Instagram and drawn at random. This contest is not associated with Instagram or Facebook. No cash value can be exchanged. Pursuant to our internal policy 1.14 no board members, relatives or library staff may enter.
Virtual Author Visit - Bianca Marais - Join us on FaceBook on Monday, October 17th at 8:30 p.m.
Funny, tender and uplifting, The Witches of Moonshyne Manor, explores the formidable power that can be discovered in aging, found family and unlikely friendships.
Marais' clever prose offers as much laughter as insight, delving deeply into feminism, identity and power dynamics while stirring up intrigue and drama through secrets, lies and sex.
Heartbreaking and heart-mending, it will make you grateful for the amazing women in your life.
Bianca Marais is the author of the beloved Hum If You Don't Know the Words and If You Want to Make God Laugh, as well as the Audible Original, The Prynne Viper.
She was recently awarded the Excellence in Teaching Award for Creative Writing in 2021 from University of Toronto's School of Continuing Studies. The Witches of Moonshyne Manor is her latest work of fiction.
OCTOBER 2022 - EVENTS - Adults and Teens
Socktober - October 1st to 31st
Socks are the least donated and most required resource for the homeless. Donate your new socks at all three of our locations from October 1st to 31st to ensure that they reach those in need in our community.
Harvest and Donate to our Seed Library - Help our Seed Library GROW!
Donate your locally grown harvested seeds to add to our Seed Library for someone to borrow, grow and enjoy next year.
Earn an entry for the draw to win an amazing gift basket with each and every donation!

Harvest your seeds
Dry your seeds
Bag, label with seed name, seal
Bring into the Library
Fill in a form with your name and contact information
Attach the form to your bag of seeds
Place your form & seeds into the bin at your Library. Winners will be drawn at random Tuesday, November 1st.
Breakfast, Books & More - Harwood Hall - Saturday, October 1st - 8:00 a.m. to 11:00 a.m.
Join us at Harwood Hall - 5453 Front St, Harwood
Enjoy an amazing Pancake Breakfast, then stop by our table to check out some Library materials, get a Library membership, sign up for a program and learn more about what the Library has to offer!
Ontario Public Library Week - ALL WEEK (Oct 17th to 22nd) - Pop by any one of three branches to sign up for a Library card and automatically be entered to win an amazing gift basket!
Monday, October 17th - 8:30 a.m. to 11:30 a.m. - Join us at the Cobourg YMCA where we will be offering free Library Cards
Tuesday, October 18th - 11:00 a.m. to 7:00 p.m. - The Human Library address people's prejudices by helping them to talk to those they would not normally meet. Meet people from our community who may change your mind on prejudicial topics like: homelessness, addiction, cannabis, environmentalism, policing and more.
Wednesday, October 19th - 9:00 a.m. to 1:00 p.m. - Join us at the Cobourg Walmart where we will be offering free Library Cards
Thursday, October 20th - 2:00 p.m. - "Pop" into the Rotary Room in Cobourg for free popcorn and a library-themed movie
Friday, October 21st - 10:00 a.m. - From Forest to Farmland, a presentation by George Parker
Saturday, October 22nd - 10:00 a.m. to 2:00 p.m. - October Book Sale and Silent Auction.
Book, Movie and Game Reviews and Suggestions
Craft Ideas
Virtual Craft Along Group Posts
Other Craft Ideas:
Recipes to try
Other Fun Ideas!
More ideas on the Children and Families page!
Black Cat, Burnham Family Farms, Change Makers Refillery,
The Dutch Oven, Just Brew It, Millstone Bread, The Pink Cafe and Sprucewood Handmade Cookie Co.