Planning and Development Services manages the growth and physical form of the Town through the land use planning process and by establishing goals and objectives for future growth and development. The Planning and Development Department is responsible for the review, processing and approval of all planning applications under the Planning Act, R.S.O 1990, c.P. 19, as amended, and heritage applications under the Ontario Heritage Act, R.S.O 1990, c.O. 18, as amended.
The Department provides activities and support to residents, businesses, applicants and the Corporation through three (3) organizational groups:
Long Range Policy & Strategic Planning
Development Planning & Approvals
Heritage Planning & Approvals
Planning staff are responsible for the following:
Heritage Conservation
The Planning & Development Department is also responsible for administering Guidelines and permit approvals for designated heritage properties and Cobourg's Heritage Conservation Districts.
Land Use Planning
Land use planning means managing our land and resources. It helps each community to set goals about how it will grow and develop and to work out ways of reaching those goals while keeping important social, economic and environmental concerns in mind. It balances the interests of individual property owners with the wider interest and objectives of the whole community.
A series of of Citizen's Guides have been prepepared by the Ministry of Municipal Affairs and Housing (MMAH) to help you understand how the land use planning process works in Ontario. The Citizen's Guides are intended to give general information only and are not an interpretation of the Planning Act. For more information, visit the MMAH website directly or below for a certain Citizen's Guide.
9. The Plan Review and Approval Process
10. Making Mediation Work for You
---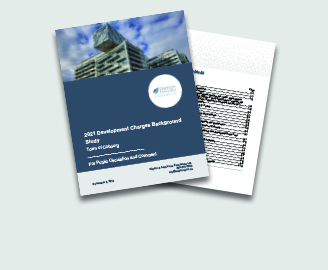 2021 Development Charges Background Study
This background study has been prepared pursuant to the requirements of the Development Charges Act 1997 (s.10), and accordingly, recommends new Development Charges (D.C.s) and policies for the Town of Cobourg (Town). The Town retained Watson & Associates Economists Ltd. (Watson) to undertake the D.C. study process. Watson worked with senior staff of the Town in preparing this D.C. analysis and the policy recommendations.
View the Report. View the Draft Bylaw.
---
Town of Cobourg Development Dashboard
Your new tool to see what developments are happening in the Town of Cobourg!
Learn More about the Tool: The Town of Cobourg Development Dashboard is an ArcGIS web-based map that shows active planning files.
---
Department Organizational Chart
View the Planning and Development Division's Organizational Chart.