Volunteering at the Cobourg Library
Please complete an application form (also available at the front desk) if you'd like to join our volunteer team!
All volunteers must submit a clear Vulnerable Sector Check. Fill out this form to submit to the Cobourg Police Department.
Contact Rachel Spence via email, or by phoning 905-372-9271 ext. 6240 for more information about our volunteer program.
Interested in finding out more about library volunteer opportunities?
Read our latest Volunteer E-Newsletter
Why Volunteer at the Library?
The culture here is friendly, inclusive and fun to be around.
We value our volunteers and provide flexibility and support.
It's a great opportunity to give back to our community, make a difference to the people around you, make new friends, develop new skills and enhance your resume!
We offer a Volunteer Perks Program (see below).
We also hold social gatherings throughout the year and offer free tea, hot chocolate, coffee and treats on an ongoing basis.
Volunteer Perks Program 2019
We have changed our Volunteer Perks program for 2019
To recognize the hours our volunteers complete, we are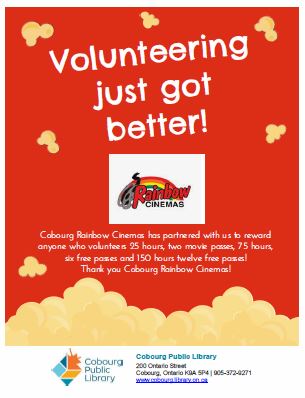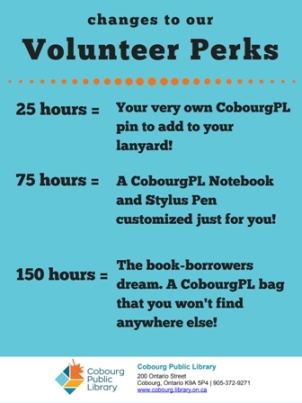 now offering the following items to mark your hour milestones:
25 hours:
Your very own CobourgPL pin to add to your lanyard
And 2 passes to Cobourg Rainbow Cinemas!
And 1 free small coffee or 1 free small fry from McDonald's (while supplies last)
75 hours:
A CobourgPL Notebook and Stylus Pen customized just for you!
And 6 passes to Cobourg Rainbow Cinemas!
And 1 medium extra value meal from McDonald's (while supplies last)
150 hours:
The book-borrowers dream - a CobourgPL bag that you won't find anywhere else!
And 12 passes to Cobourg Rainbow Cinemas!
And 1 Medium Extra Value Meal and Ice Cream Cone from McDonald's (while supplies last)
Volunteer Testimonials
Thomas M - The best part of being a volunteer at the Cobourg Public Library is how welcoming the staff are. Everyone is super friendly and help make volunteers feel like a valued part of the CPL family. I look forward to my volunteer time and being able to give back to an organization that gives so much to so many.
Chris W - I've been showing a movie as a Library volunteer on Monday afternoons for some 12 years now, and I have no intention of giving it up. In fact, I look forward to those sessions each week, when I connect with a group of interested film-goers (I call them "My usual suspects") and share with them the experience of watching a film on the big screen in the company of like-minded others. It's the audience sharing that makes all the difference between watching at home, alone, and really enjoying and appreciating a film. They don't call it "mass media" for no reason.
Cobourg is very lucky that the Library staff has always gone out of their way to support this program, as well as its older sibling, the Friday Movie Matinee.
Kimberly M - My love for reading and libraries started very young. I've always been a "reader" and wrote creatively as a child and high school/university student. When my children were born I immediately engaged them in the Cobourg libraries' programs and felt an immediate, personal connection with Rhonda Perry. When my children were older I furthered my passion for the library and its programs by enrolling as a volunteer, as did both of my kids.

As a volunteer I feel welcomed and appreciated and I have been so impressed by the staff's willingness to assist me (and my children) in whatever project I have engaged in. It is not "work". It is fun!

My volunteer responsibilities include shelf reading, survey week, Santa Claus parade, assisting with special events, and the Family Lego club which is now in its 5thyear!

I will continue to volunteer at the library in some capacity for many more years to come. It is a safe and comforting place that supports learning/reading in so many creative and innovative ways. The staff are amazing and so obviously passionate about what they do that it is easy to support them and our wonderful library.
Shelf reading and Organizing
Are you an organizational guru with expertise in ABCs with a passion for learning the Dewey decimal system? Perhaps you're simply curious about different types of literature?
Our shelf readers use these skills to help make our library more inviting while allowing customers and staff to locate library materials efficiently.
The benefits of this position is that you will enjoy a quiet, inviting environment where you can learn about new and interesting books!
Children and Youth Services Department
Are you interested in bringing out your inner-child? What about your inner teacher? If you are an attentive, playful, creative and organized person who has a passion for working with youth, we want you!
Duties include assisting with programs, preparing materials for future programs, shelf reading, shelving books and many things in between, an assignment in this department is varied and always interesting.
Volunteers allow us to provide a fantastic level of programming.
The benefits of volunteering in this department include meeting local families and spending time with youth and having the opportunity to be creative while enhancing your resume.
Adult Programs
Are you a social butterfly with a fervour for authors and library events?
As a volunteer in adult programs, you would be helping us with our programs, including lectures, educational events, as well as recreational and social events.
Duties could include setting up chairs and tables, making coffee and tea, assisting in setting up displays, and more, depending on the program.
Volunteers allow us to provide a fantastic level of programming.
The benefits of volunteering includes free coffee and tea, getting to attend library events, meet visiting authors and socializing with library patrons.
Home Delivery Service
Do you have a humanitarian streak? Are you interested in making a huge impact in someone's life? This service allows homebound patrons access to the collections of the Cobourg Public Library through personalized home delivery service. In this position you will need to:

Discuss reading preference with your partner patron;
Select and deliver materials to the homebound patron and return retrieved materials to the Library;
Maintain records for your partner;
Provide friendly, reliable, and regular service on a four week rotation and,
Be committed to volunteering 3 to 5 hours each month.

The impact you can have on a patron's life having chosen to volunteer in this role, is remarkable. You will act as a friendly constant who connects them to new library materials that they would otherwise have difficulty obtaining.
The benefit of volunteering in this area is that you will get to know someone new in your community.
Community Ambassador
Are you a library lover who is active in our community? Do you enjoy helping others and connecting with new people?
As a part of our street team, you will work with Library staff to go out into our community to share information about Library services and resources while visiting with patrons and distributing promotional materials.
Many volunteers assist with different projects throughout the year, including our Santa Claus Parade wrap-up party, face painting at Cobourg's Sandcastle Festival, Survey Week, and many other events.
Helping people in our community learn more about the libraries resources and services is a vital part of ensuring we play an active role in our community.
Training will be provided and there are great benefits such as invitations to local events, membership in our volunteer perks program and the ability to meet more people in the community.
Teen Advisory Group (TAG)
Are you between the ages of 13-18? Are you willing to contribute fresh ideas and opinions for our programs and collections? We need you to join TAG!
As a part of TAG, you will provide a teen viewpoint to the Library while earning your community service hours.
We meet on the second & last Tuesday of the month at 4:30pm - and do awesome things like eat and help plan teen programs!
Please ask at the Youth Services Desk, call 905-372-9271, ext. 6130 or email for details.