Administration
The Cobourg Fire Department consists of a Fire Chief, a Deputy Fire Chief, a Chief Fire Prevention Officer, an Administrative Assistant, 16 full-time firefighters and, at full complement, 20 volunteer firefighters.
The Cobourg Fire Department provides 24-hour emergency services including fire suppression, emergency medical care with defibrillation, awareness level hazardous materials response, entry level ice and cold water rescue, confined space rescue, vehicle extrication, and response to any other natural or accidental emergency.
Apparatus & Equipment
Pump 371 is a 2012 Rosenbauer custom triple combination pumper. It has a 20 m hydraulic ladder which can be used as an elevated water stream. A 600 l/pm Hale pump supplies the water.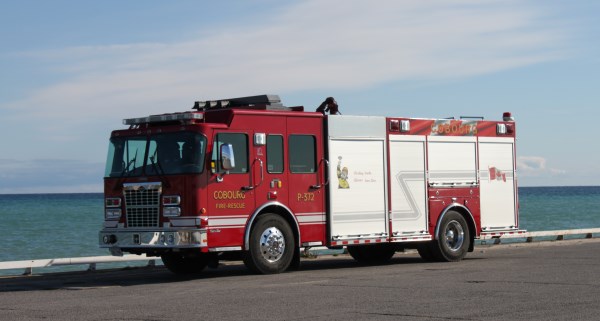 Pump 372 is a 2010 Dependable custom built pumper. This vehicle responds to fires, vehicle accidents and ice/water rescue calls. It carries the largest amount of water (3,400 l) and has a 6,000 l/pm Hale pump.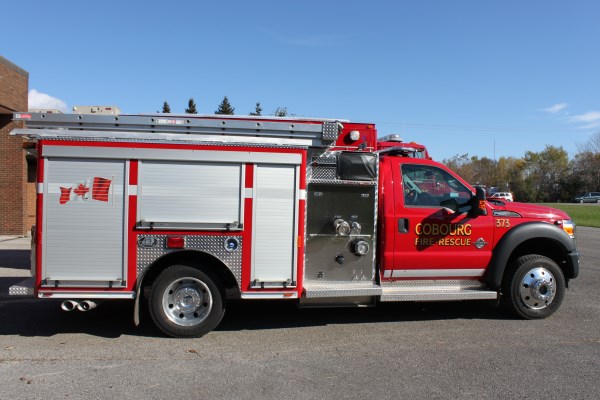 Pump 373 is a 2012 Dependable rapid intervention mini pumper, built on a Ford F-550 chassis, with a custom body. This truck runs all medical assist calls when the on-duty crew strength is two; rescue calls and other minor incidents such as grass/brush fires, rubbish fires and service calls. This truck is fitted with a Hale pump capable of 4,000 l/pm, with an on-board foam proportioner for Class A foam.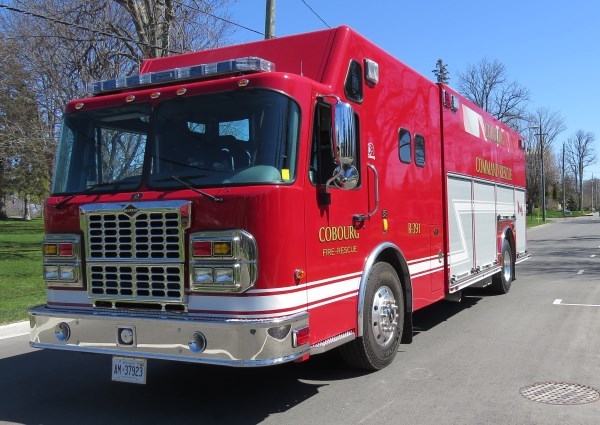 Rescue 391 is a 2010 Spartan cab and chassis with an Arnprior built rescue body. It's equipped with a command/accountability centre and can illuminate a scene with its 15 kw hydraulic generator and 6,000 w telescopic light bar. This unit responds to vehicle accidents, hazardous spills and ice/water rescue calls.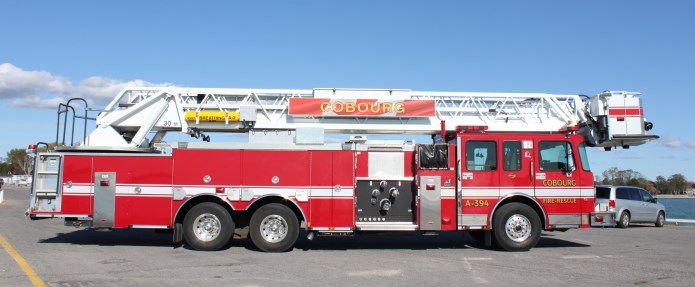 Aerial 394 is a 2006 Spartan cab and chassis with a Sl body. It has a 30 m platform triple combination pumper. It can pump 8,000 l/pm from a Hale pump. The aerial is primarily used for industrial and high rise fires.
.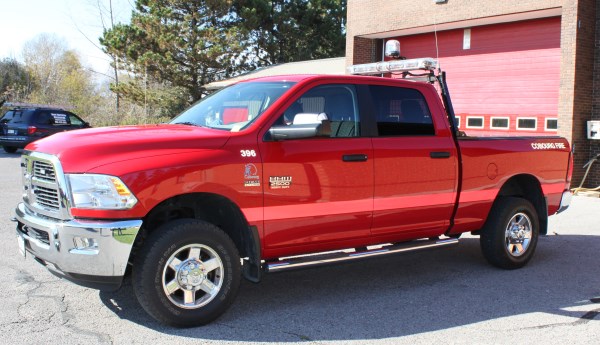 Mobile 396 is a 2011 Dodge Ram. It is used as a service vehicle and by the firefighter/inspectors when they conduct fire inspections, to tow our fire safety trailer and hose trailer, and as a second responder vehicle for medical calls
Mobile 398 is a 2014 Jeep Cherokee. It serves as an administrative vehicle for the Fire Prevention Officer.
A 1932 Seagrave pumper is the pride of the department. Today, it's primarily used for parades and public displays. Through the generous support of the public and the department's own fund-raising efforts, the pumper was restored to its former glory in 2000.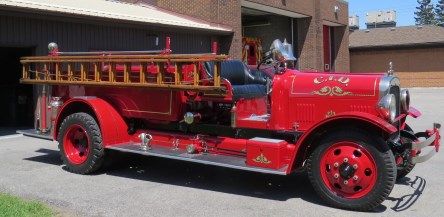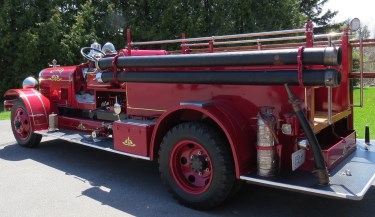 Communications
With their state of the art communications centre, Peterborough Fire Services provides dispatching services 24/7; not only for our department, but for all fire departments in Northumberland County. This results in improved, consistent communications between all of the fire departments in Northumberland County, no matter what the emergency.
Training
The department has a very in-depth, intensive training program. All firefighters must take part in ongoing training and refresher courses for the following:
NFPA 1001 curriculum
Recruit training
Driver training
CPR, defib, first aid, administering 02
Auto extrication
Live fire training
Pump, Aerial & Tanker operations
Hazmat
Shore-based ice/water rescue
Other specialized courses (i.e. fire investigation)
Recruiting
Are you interested in a challenging, yet rewarding part-time career? Our Volunteer Fire Fighter Recruitment Guide should answer all of your questions! Please check the Town of Cobourg's website ("Careers" page) and social media venues for openings!
Public Education
The department takes part in various public education & public relations activities throughout the year. Educating the public is key to the prevention of fires. We offer:
Fire safety talks for seniors
Fire safety education for children
TAPP-C (arson prevention program for "at risk" children)
A smoke alarm program
Hall tours
Fire safety displays at events such as the Cobourg Waterfront Festival
Fire Prevention Week activities
Fire drill assistance
To request any of the above, please use our Hall Tour/Public Education form (Word or PDF).
Statistics
| | |
| --- | --- |
| YEAR | # OF CALLS |
| 2021 | 1,409 |
| 2020 | 1,364 |
| 2019 | 1,507 |
| 2018 | 1,666 |
| 2017 | 1,395 |
| 2016 | 1,158 |
| 2015 | 1,179 |
Emergency Management
The Town of Cobourg's fire, police and other emergency personnel and support agencies have an emergency plan that can be set in motion for large scale emergencies and disasters. Known as the Community Control Group (CCG), this team's function is clear: Respond, assess and restore things back to normal. The CCG takes part in annual training sessions and exercises. These sessions help identify any areas of consideration and ensure that the CCG will be effective and efficient for any emergency that arises. Managing an emergency begins with the individual - See what you can do and what the Town of Cobourg is doing to prepare for emergencies. Your preparedness helps us all!
Fees and Charges
Item
Fee
HST
Total
Air bottle refill
$ 5.00
$ .65
$ 5.65
False alarms (after 3)
300.00
39.00
339.00
Automatic aid
750.00
97.50
847.50
Unapproved open air burning (Fee + costs)
410.00
53.30
463.30 + costs
Fire watch (per man/per hour)
65.00
File search and letter
75.00
9.75
84.75
Copies of reports
75.00
9.75
84.75
Fire safety plan development (per hour)
45.00
Requested inspections
95.00
12.35
107.35
Re-inspections (after 1, per occasion)
95.00
12.35
107.35
Standby (film production, special events - per man/per hour)
65.00
Emergency response to hazmat incident / MTO calls (per hour)
410.00
53.30
463.30

Burn permit fees

- Residential

- Contractor

75.00

200.00

9.75

26.00

84.75

226.00

Firehall meeting room rental (Training or boardroom)
50.00
6.50
56.50
As per Policy P-1411, groups or organizations that are safety/emergency related (i.e. IAPA, OCEAP, St. John's) are exempt from room rental fees unless the group is charging a fee for the course they are holding. Meeting organizers are fully responsible for room set up, clean up, refreshments and/or any other special items they may require. Please email booking requests and/or questions to fire@cobourg.ca.
Other important resources