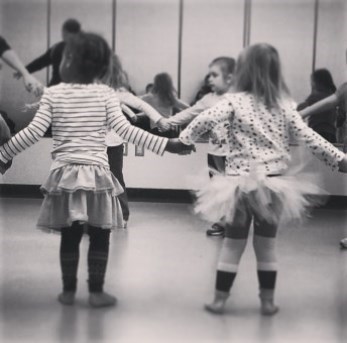 DANCE PROGRAM DESCRIPTIONS
Call the CCC Reception desk to enrol your child today!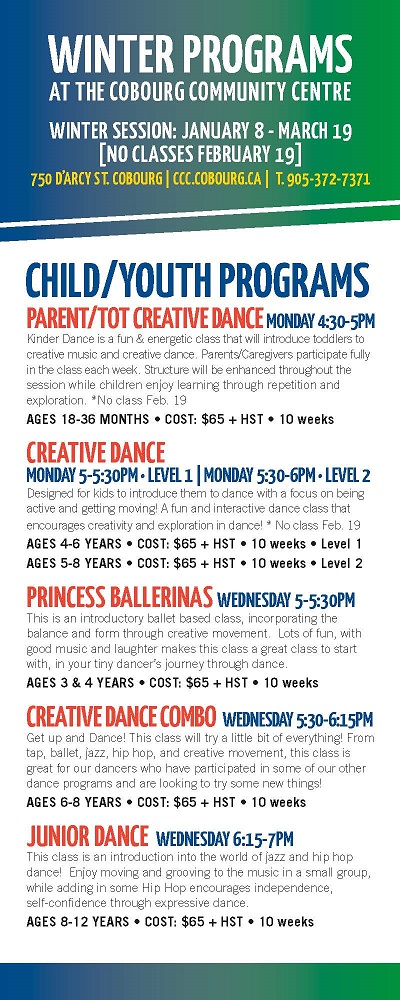 Kinder Dance
Children aged 2 to 4

Kinder Dance is a fun and energetic class that will introduce toddlers to creative music and creative dance. Parents/Caregivers participate fully in the class each week. Structure will be enhanced throughout the session while children enjoy learning through repetition and exploration.
Princess Ballerinas
Children aged 3 to 4

This is an introductory ballet based class, incorporating balance and form through creative movement. Lots of fun, with good music and laughter makes this class a great one to start with, in your tiny dancer's journey.
Creative Dance
Children Aged 4-6

Designed for kids to introduce them to dance with a focus on being active and getting moving! A fun and interactive dance class that encourages creativity and exploration in dance.
Creative Dance Combo
Children Aged 6 to 8
Get up and Dance! This class will try a little bit of everything. From tap, ballet, jazz, hip hop, and creative movement, this class is great for our dancers that have participated in some of our other dance programs and are looking to try something new!
Jazz/Hip Hop
Children Aged 6 to 9
This class is an introduction into the world of jazz and hip hop dance! Enjoy moving and grooving to the music in a small group, while adding in some hip hop encourages independence and self-confidence through interpretive dance.
Street Dance/Hip Hop
Children Aged 9+
Street Dance is a class specifically designed for kids that just want to DANCE! A very active and energetic class that involves jazz, hip hop, and self-expression all set to great music. This class is sure to be a blast!
Musical Theatre
Boys and Girls ages 6-12 years
We encourage kids to be creative and try new things. That's why Musical Theatre is a great place to start! Kids will learn about dancing, singing, acting and have a chance to put it all together in a mini-showcase at the end of the program, for friends and family.