Advertising at the Cobourg Community Centre:
---
Since its inception in 2011, the Cobourg Community Centre has grown to be the recreational heart of our municipality. Today, the CCC is home to the 2017 RBC Cup Champions the Cobourg Cougars, the Cobourg Nissan Kodiaks, Northumberland Nighthawks, West Northumberland Wild and the Cobourg Seniors Activity Centre with 1,200 members and counting. Many local businesses, like yours, rely heavily on the patronage of these visitors. With our affordable price points and three year terms, the CCC offers sustainable advertising opportunities with guaranteed interaction with your target market.
Our two main advertising locations are the Bowl and the Pond Arenas.
The Bowl Arena
Our CCC sponsors benefit from the enormous foot traffic that takes place on a daily basis. Our Walking Track on the top level of The Bowl arena invites hundreds of participants every morning and afternoon. Northumberland Minor Hockey rents upwards of five hours every night from Monday to Friday for seven months of the year and over eight hours on weekends. In addition to our regularly scheduled athletic programs the CCC welcomes guests for the following:

• 30 – 35 Cobourg Cougars home games each season with upwards of 400 fans per game
• Northumberland News Home show
• Cobourg Kodiaks Lacrosse play 9 regular season games including their home opener which sees close to 850 fans
• CCC hosts the CCI and St. Mary's High School graduations each year with close to 1000 individuals in attendance
• Over 60 Men's shinny play three days per week from September – April
• High School Teachers Hockey play every Tuesday afternoon from September – April
The Pond Arena
The ice in The Pond arena is left in for almost 12 months of the year and is utilized year round for daily hockey for local men's and women's recreational leagues as well as evening practices for the OJHL and Northumberland Minor Hockey Association. The Pond Arena is located adjacent to the CCC Grand Hall which is a central meeting location for families and children as well as the new home to the Cobourg and District Sports Hall of Fame.

• Hosts Adult Shinny five days a week
• Drop-In Adult Skating twice a week
• Northumberland Minor Hockey Association rents four hours every evening from Monday to Friday for seven months of the year and over eight hours on the weekends
• Home of the CCC's 'Learn to Skate' and 'Learn to Play Hockey' sessions
• Hosts an Over 35 league for five hours every Thursday evening for eight months of the year
• Holds private Hockey Development Camps for the entire summer (Justin Williams Hockey School, Elite Edges, First Line Hockey, Puck-It)
Rates
Please note that the rates listed below are charged per year and are required for a three(3) year term. Based on availability. These rates are subject to change.



The Bowl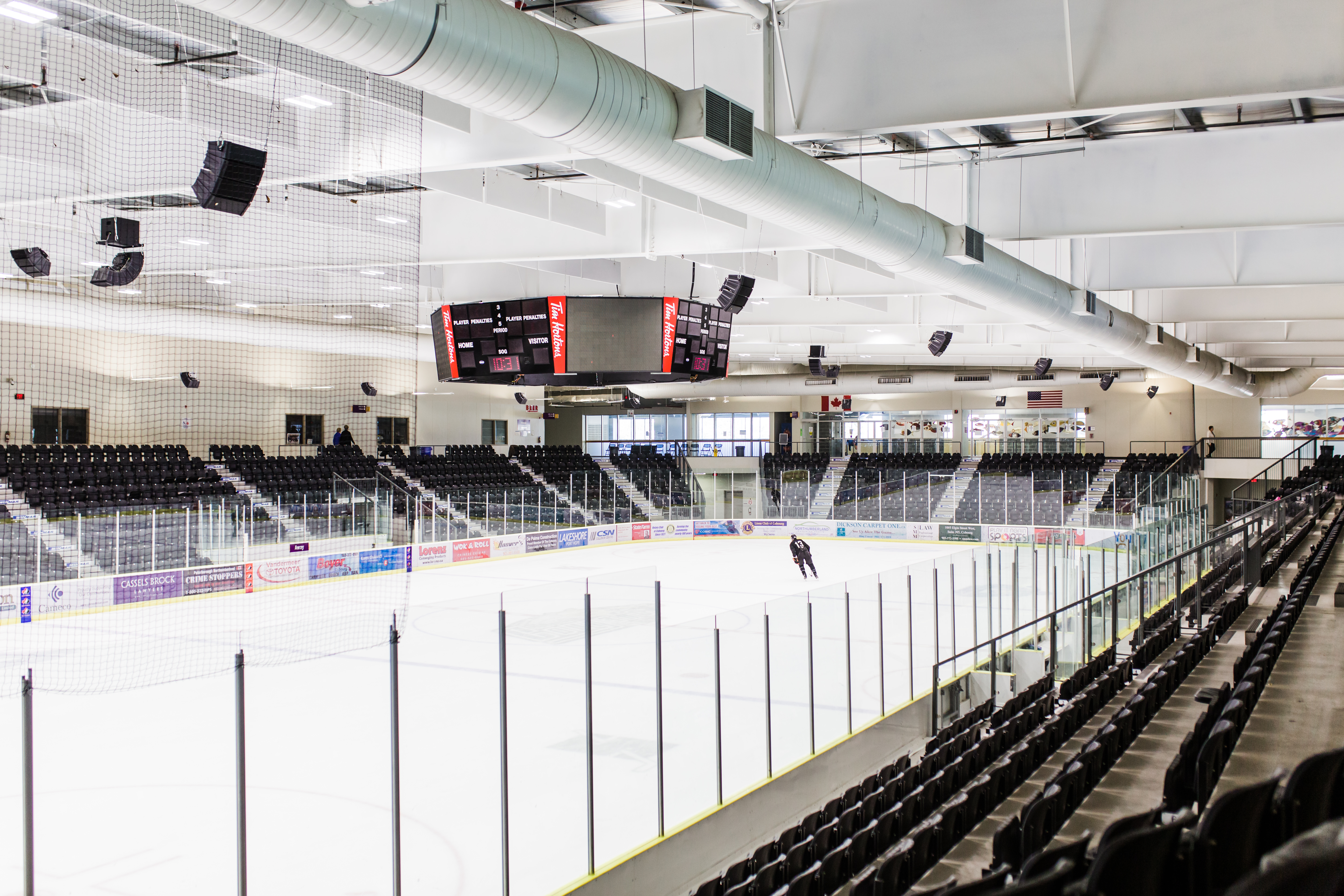 • 8ft Rink Board - $550
• 12ft Rink Board - $825.00
• 16ft Rink Board - $1,100.00
• In Ice Logo - $1,500.00
• Vomitory Entrances - $1,100
The Pond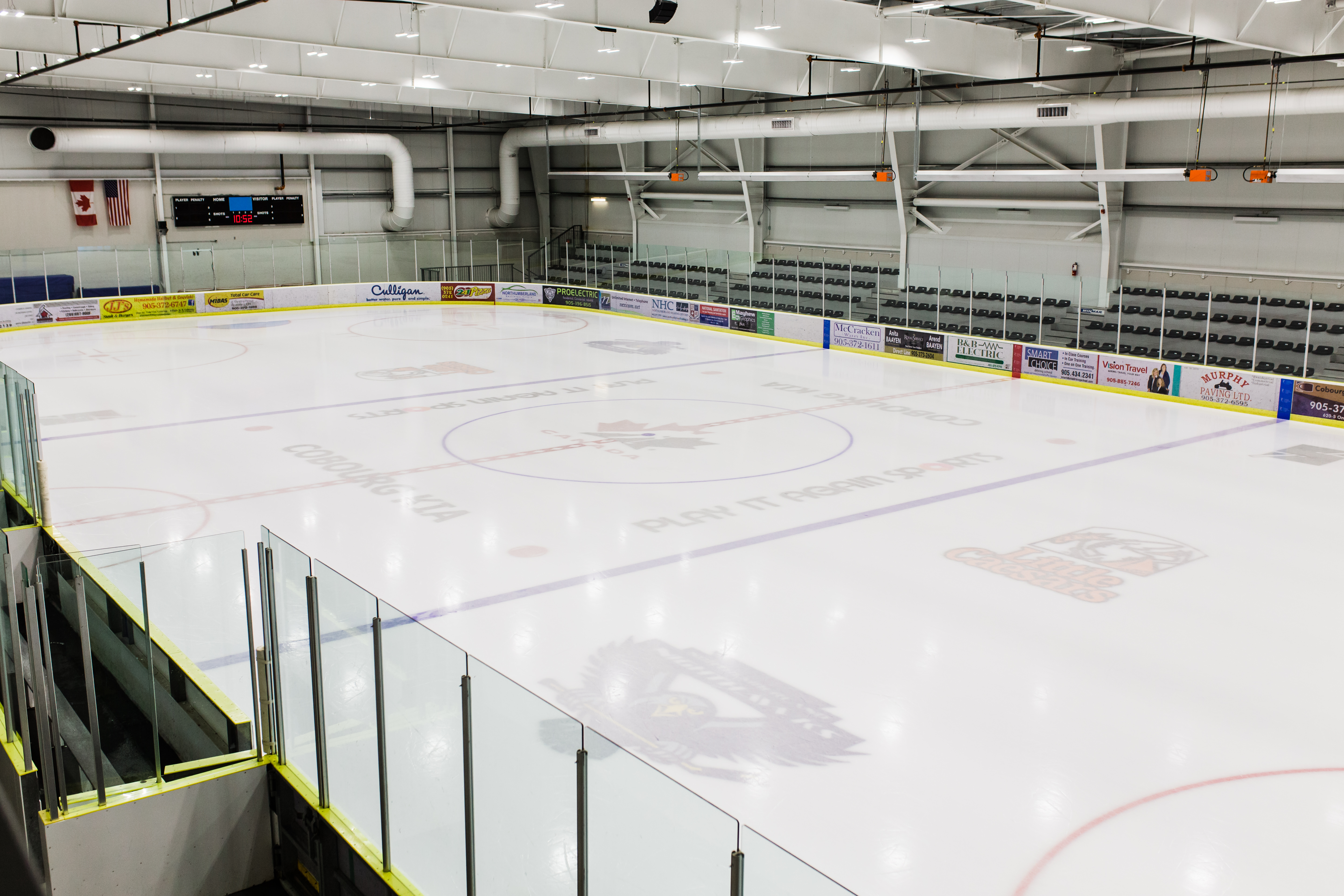 • 8ft Rink Board - $550.00
• 12ft Rink Board - $825.00
• 16ft Rink Board - $1,100
• In Ice Logo - $1,500
Zamboni
• Zamboni Wrap - $1,250