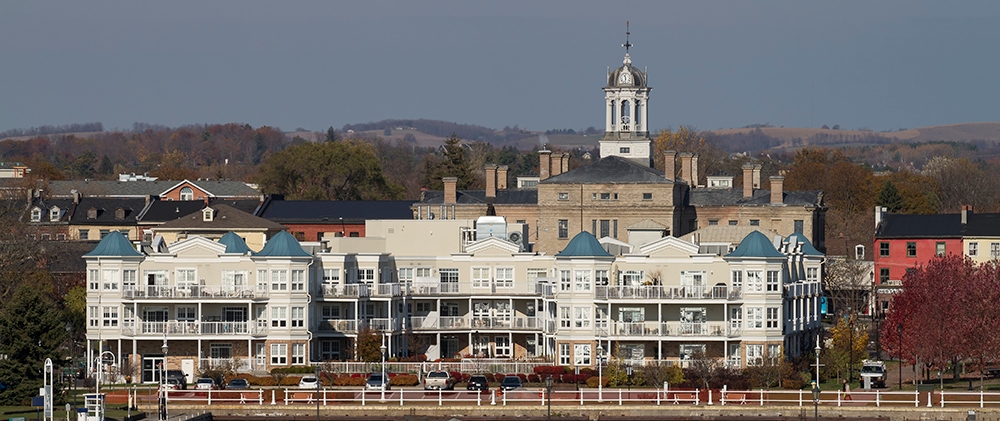 Whether you are here for a long stay, or short, there is always something to explore in Cobourg. Stroll past heritage homes, enjoy the many unique restaurants and shops, or take in a theatre show. Maybe a relaxing day on the beach? You will find things to keep you coming back again and again.
Accommodation
Not enough room for everyone to stay on board? Just feel like a night in a more luxurious setting?

You will find a variety of accommodations in Cobourg to suit your needs. From camping in Victoria Park Campground, to historic inns, or bed and breakfasts, to hotels and motels, there is something for everyone, many within walking distance of the Marina.
For more information and a convenient list, please see Cobourg Tourism.
Food and Dining
Dining out while travelling is something most people like to do, and Cobourg is a wonderful place to find places to eat.
From fine dining to family restaurants to a farmers market, you will find it all, much of it just a short walk away in the downtown.
For more information and a convenient list, please see Cobourg Tourism.
Transportation
Please note that the Cobourg Beach is currently CLOSED due to COVID-19.
Cobourg Marina is centrally located just two short blocks from downtown and right beside Victoria Park and its beautifully groomed white sand beach. There are many ways to get around to see the rest of town.
Whether you are looking for a stroll on the beach or the Waterfront Boardwalk, or to venture further away to take in some of the history of Cobourg and the surrounding area, there is an easy way to get there. Many of Cobourg's Heritage Homes and buildings are well within walking distance.
Cycling
Cycling is a common pastime, with quiet streets and dedicated bike lanes, or for the more adventurous, the rolling hills of surrounding Northumberland County and the trails in Northumberland Forest. For more information, see Northumberland County.
Transit
Cobourg Transit has hourly stops right at the Marina on the comfortable, accessible busses. For more information and a schedule, please see Transportation and Getting Here.
Train
If you need to leave your boat and get back home, VIA Rail has a station in Cobourg, not far from the marina. For more information and schedules, please see the VIA Rail website.
Learn more about activities in Cobourg by clicking the button below:
Experience Cobourg