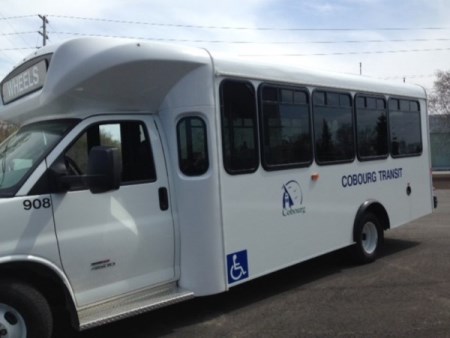 Public Transit
Cobourg Transit is a fully accessible service that has three (3) buses running On Demand services. Cobourg Transit also offers an origin to destination service called WHEELS for eligible riders who cannot use conventional transit.
NOTICE: Senior 30-day Pass Increase - January 1, 2023
As of January 1, 2023, the Cobourg Transit Senior 30-day pass rate will be increased as follows:
| | | | |
| --- | --- | --- | --- |
| Year | Adult | Senior | Student |
| 2023 | $62.50 (no increase) | $42.50 (increase of $6.25/month) | $48.75 (no increase) |
| 2024 | $65.00 ($2.50 increase) | $48.75 (increase of $6.25/month) | $48.75 |
*Note - There will be no changes to cash fare for 2023 ($2.25)
NOTICE:
Cobourg, ON (August 30, 2022)
Due to a driver shortage, the Town of Cobourg is updating the hours of operation for the Cobourg Transit service.

The Town of Cobourg Transit provider, Century Transportation, is currently experiencing a driver shortage. To ensure comprehensive coverage during peak hours, the Town of Cobourg will be adjusting transit hours of operations to 6:15am to 7:45pm Monday to Friday, 8:15am to 6:45pm Saturday and 8:45 am to 3:45 pm on Sunday.

"We recognize the importance of our transit service to our riders and the community," says Laurie Wills, Director of Public Works. "Each day, our transit service allows members of our community to get to work, access medical appointments and run essential errands. Century Transportation is making it a priority to find new transit drivers so we can reinstate our full hours of operation."

Interested Drivers
Interested drivers can apply on the Century Transportation website. Successful applicants who do not have a BZ drivers license, will receive free training.

For more details visit the Century Transportation job posting at Position Description (taleo.net)

More Information For more information on the Cobourg Rides On-Demand Transit Service, including how to book, how to pay, and how to use the service please visit the Cobourg Transit webpage or call the Engineering department at 905-372-4555.
For any questions or concerns please reach out to the Engineering Department by calling 905-372-4555.
Bus Stop Information
For a list of bus stops in the Town of Cobourg please click here.
Cobourg Transit - Smart Cards
For more information on Smart Cards click here.
Click the image below to register, load or purchase your smart card today!
Cobourg Rides On-Demand Service

How to Book A Ride
You can book a ride up to one-week in advance in three easy ways:
1) Download the 'Pick-Up On-Demand' App
3) Call 905-373-0582
Once you've booked your ride, please ensure that you are waiting at your designated pick up location in advance of your pick up time.
Helpful Information for Riders regarding On Demand Service:
What does 'On Demand' mean?
On-Demand Transit is a shared-ride public transit service without a fixed schedule or route. The bus travel is optimized by computer software, and it is based upon rider trip requests on a first come first served basis. Trips can be requested in advance (1 week) or same day.
Important: Please note that On-Demand does not mean 'immediate' service, you may be presented with a few trip options to pick from, and depending on the time of day, you may incur a wait time.
For example, with the fixed route system you may have to wait up to an hour for the next bus to arrive at a stop. The same applies for an on demand service where the bus has been booked by other riders and those rides have to be completed first.
Peak Service Times
It has been noted that Cobourg Rides 'Peak' service times are between 10am and 4pm Monday to Friday. If you are looking to book a trip during this peak window it is recommended that you book ahead of time, riders have the ability to book up to one (1) week in advance of your trip.
Important: the booking system will only offer rides within one (1) hour of your chosen pick up time. If there are no rides available within the one hour window, try choosing an alternate pick up time. Booking further in advance will give you more flexibility of pick up options.
Booking a Ride
Riders do not require a cell phone to book a trip with Cobourg Rides, bookings can be made by calling from your home phone/landline.
Bookings Number: 905-373-0582
When a rider books a pick-up, it is highly recommended that you book your return trip at the same time. If you know you are going to require roughly an hour to complete your task once you have arrived at your destination, book your return trip accordingly. This will eliminate the possibility of longer wait times during peak service hours.
Booking Window – the booking window refers to a 10 minute window of time during when the bus will arrive to pick you up.
Arrive Before Time – when booking a trip and selecting a ride, be sure to pay attention to the 'Arrive Before Time' which appears in red. This time indicates when you will be arriving at your destination. For example, if you have to be at work by 5pm, ensure that the pick up time that you choose has an arrival time before 5pm.
Benefits of On Demand:
Easy Online Booking: Schedule a ride anytime directly from your computer, tablet or smartphone.
Reliable On-Demand Pick-Up: Pick-up within 10-20 minutes of your scheduled time.
Track Your Ride: Track your ride in real-time through the app so you always know where your bus is.
Cashless Payment System: Pay with a credit card through your secure online account. Cash fares of $2.25 and paper tickets will be accepted onboard
Albert St Terminal Hours:
Monday to Sunday - 8am to 4pm
Service Announcement - Courthouse Road @ Golden Plough Lodge Stop
Please be advised that starting on May 3, 2021 Cobourg Transit will not be stopping in front of 580 Courthouse Road (Halcyon Place) transit stop/shelter due to ongoing construction of Golden Plough Lodge. Wheels members will continue to have access to pick-up/drop off locations at Halcyon Place and Golden Plough Lodge front doors.
A virtual stop has been created at the top of Courthouse Road by the entrance to the Golden Plough Lodge driveway: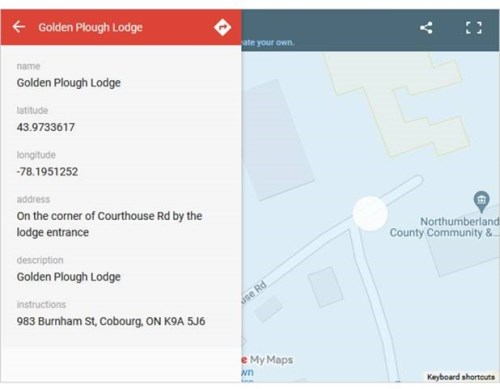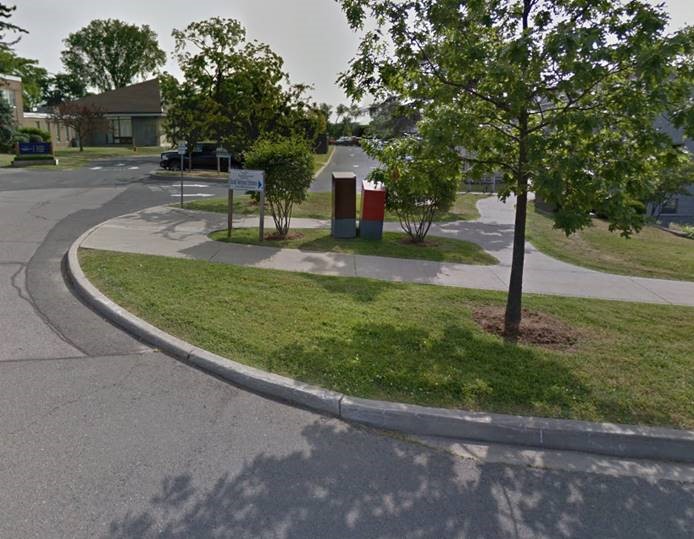 For more information, please see the Public Notice
Fares & Passes
| Types of fares and passes | Fee As of January 1, 2023 |
| --- | --- |
| Cash fare | $2.25 |
| Adult monthly pass | $62.50 |
| Senior monthly pass | $36.25 |
| Student monthly pass | $48.75 |
| 20 Ride Pass | $45.00 |
| 10 Ride Pass | $22.50 |
| Children 5 and under | FREE |
Hours & Services
Conventional Transit:
| | | |
| --- | --- | --- |
| Day | Start | End |
| Monday to Friday | 6:15 a.m. | 9:00 p.m. (Last booking 8:45 p.m.) - currently 7:45 p.m. |
| Saturday | 8:15 a.m. | 6:45 p.m. (Last booking 6:30 p.m.) |
| Sunday | 8:45 a.m. | 3:45 p.m. (Last booking 3:30 p.m.) |
**Start and end times noted above occur at the Downtown Albert Street Terminal.
Express Shuttle (Port Hope to Cobourg)
The Port Hope-Cobourg Express Shuttle makes trips to Cobourg twice per hour.
Map: Click here to view.
Schedule:
Port Hope Town Hall (56 Queen Street) :00 and :30
Northumberland Mall at :10 and :40, every hour during operation.
Northumberland Hills Hospital at :14 and :44
Cobourg Walmart at :15 and :45
| Day | Start | End |
| --- | --- | --- |
| Monday to Friday | 7:00 a.m. | 8:00 p.m. (Last shuttle 7:40 p.m.) |
| Saturday | 9:00 a.m. | 4:00 p.m. (Last shuttle 3:40 p.m.) |
| Sunday and Holidays | No Service | No Service |
For more information on Port Hope Transit Service please call (905) 885-2431.
---
WHEELS Transit: Specialized Accessible Transit (by bookings only)
Call (905) 373-0582 to book 24 hours in advance.
| | | |
| --- | --- | --- |
| Day | Start | End |
| Monday to Friday | 6:15 a.m. | 9:00 p.m. (Last booking 8:45 p.m.) - currently 7:45 p.m. |
| Saturday | 8:15 a.m. | 6:45 p.m. (Last booking is 6:30 p.m.) |
| Sunday | 8:45 a.m. | 3:45 p.m. (Last booking is 3:30 p.m.) |
Become a WHEELS Member
Cobourg Transit offers an origin to destination service called WHEELS for eligible riders who cannot use conventional transit. There is an application process for becoming a Wheels member (see below), please be sure to read the Wheels Policy (below) before completing your application. For more information about becoming a member of WHEELS, please call the Engineering Department at 905-372-4555.
Recent News & Updates
COVID-19 - Public Transit is resuming fare collection as of Tuesday, January 26.
___________________________________________________________________________________________
Getting here
The Town of Cobourg has a number of ways to get around and enjoy all Cobourg has to offer including two Highway 401 off-ramps (exits 472 and 474) and direct access on County Road 2 from both the east and west.
For more information on transportation services: