Cobourg Transit - Smart Cards (Passes)
Cobourg Transit users who would like to pay their fares in advance or utilize the convenience of contactless payment now have the option to purchase a reloadable Smart Card.
Register, Load or Purchase Smart Card Passes
For detailed information on how to use the online loading portal click on the User Guide below.
Cash Fare - $2.25
Tickets - $2.25 each/sheets of 10 for $22.50

30-day Passes
Adult $62.50
Senior $36.25
Student $48.75
Ride Passes
10 - $22.50
20 - $45.00
*There is an additional $5 charge for the first card purchased. The 10 Ride and 20 Ride Passes can be reloaded on board Cobourg Transit by placing the appropriate funds in the farebox.
Renewing or Reloading Your Card
Subsequent passes (after the first card purchase) will be loaded on the customers' existing card and can be purchased through one of the following methods:
Call 905-372-4555
Visit the Victoria Hall Finance Office - 55 King Street West
First Card Online Purchases
Customers that purchase their first smart card online have the following options for obtaining their pass:
Regular Mail – no charge for regular mail
Courier – courier rates apply ($5.10 within Cobourg)
Pick-up – Victoria Hall, Finance Office at 55 King Street West


Cobourg Rides — Cobourg's On-Demand Transit Service
Benefits of On Demand:

Easy Online Booking: Schedule a ride anytime directly from your computer, tablet or smartphone.

Reliable On-Demand Pick-Up: Pick-up within 10-20 minutes of your scheduled time.

Track Your Ride: Track your ride in real-time through the app so you always know where your bus is.

Cashless Payment System: Pay with a credit card through your secure online account. Cash fares of $2.25 and paper tickets will be accepted onboard.
How to Book A Ride
You can book a ride up to one-week in advance in three easy ways:
1) Download the 'Pick-Up On-Demand' App
3) Call 905-373-0582
Once you've booked your ride, please ensure that you are waiting at your designated pick up location in advance of your pick up time.

Bus Stop Information
For a list of bus stops in the Town of Cobourg, click here.
Helpful Information for Riders:
What does 'On Demand' mean?
On-Demand Transit is a shared-ride public transit service without a fixed schedule or route. The bus travel is optimized by computer software, and it is based upon rider trip requests on a first come first served basis. Trips can be requested in advance (1 week) or same day.
Important: Please note that On-Demand does not mean 'immediate' service, you may be presented with a few trip options to pick from, and depending on the time of day, you may incur a wait time.
For example, with the fixed route system you may have to wait up to an hour for the next bus to arrive at a stop. The same applies for an on demand service where the bus has been booked by other riders and those rides have to be completed first.
Peak Service Times
It has been noted that Cobourg Rides 'Peak' service times are between 10am and 4pm Monday to Friday. If you are looking to book a trip during this peak window it is recommended that you book ahead of time, riders have the ability to book up to one (1) week in advance of your trip.
Important: the booking system will only offer rides within one (1) hour of your chosen pick up time. If there are no rides available within the one hour window, try choosing an alternate pick up time. Booking further in advance will give you more flexibility of pick up options.
Booking a Ride
Riders do not require a cell phone to book a trip with Cobourg Rides, bookings can be made by calling from your home phone/landline.
Bookings Number: 905-373-0582
When a rider books a pick-up, it is highly recommended that you book your return trip at the same time. If you know you are going to require roughly an hour to complete your task once you have arrived at your destination, book your return trip accordingly. This will eliminate the possibility of longer wait times during peak service hours.
Booking Window – the booking window refers to a 10 minute window of time during when the bus will arrive to pick you up.
Arrive Before Time – when booking a trip and selecting a ride, be sure to pay attention to the 'Arrive Before Time' which appears in red. This time indicates when you will be arriving at your destination. For example, if you have to be at work by 5pm, ensure that the pick up time that you choose has an arrival time before 5pm.
---

Download the 'Pick-Up On-Demand' App Today!

Book, pay, track and rate your ride from any computer, tablet or smartphone using the "Pick-Up On-Demand" App available for Cobourg Rides beginning April 19, 2021 on Google Play or the App Store. Download the app today to create your account and get ready to book your on-demand ride!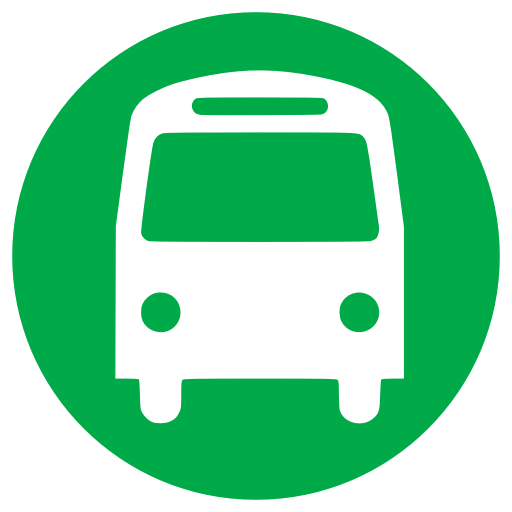 Track the Bus in Real Time

Seating for up to 12 Passengers

Children Under 5 Years Ride Free

Accessible for Wheelchairs and Strollers
---
---
Boundary Map and Virtual Stops
---
Information and FAQs

Hours of Operation
All Riders (including WHEELS):
Monday to Friday: 6:15 a.m. to 9 p.m.
Saturday: 8:15 a.m. to 6:45 p.m.
Sunday: 8:45 a.m. to 3:45 p.m.

Booking a Ride
1) 'Pick-Up On-Demand' App
Booking a bus on Cobourg Rides is convenient, user-friendly and completely customizable. Here's how it works:
Download the "Pick-Up On-Demand" app on Google Play or the App Store
If you're a first-time user, create an account online or call 905-373-0582. If not, login to your existing account.
Choose "Book a ride" and go through the process of selecting your nearest available transit stop or virtual stop as your pick-up location and destination.
Include your desired date and time based on availability.
Pay through the secure online account to complete booking.
Track your vehicle in real-time and be ready at the curb-side at your designated pick-up location.
Hop on, find a seat, relax and enjoy the ride.
Arrive at your destination on-time and rate your ride.


2) Book Online
Visit the 'Pick-Up On-Demand' web application to book online at https://book.pickup.rideco.com.
Choose "book a ride" and select the nearest available transit stop or virtual stop as your pick up and drop off location, date and time.

3) Call 905-373-0582
Book an on-demand ride over the phone. The hours of operation to use the phone booking service are:
Monday to Friday from 7 a.m. to 9 p.m.
Saturday 8:15 a.m. to 6:45 p.m.
Sunday 8:45 a.m. to 3:45 p.m.

Fares and Passes
Single Ride: $2.25
*Multi-ride passes coming soon.
**Cash and paper tickets will be accepted onboard.
Payments made through the "Pick-Up On-Demand" app are payable by credit card or Visa-debit.

News & Notices

Frequently Asked Questions (FAQs)
How is on-demand different from traditional (fixed route) transit service?
Most transit services have fixed routes, bus stops and schedules. Buses must continue on the route even if there are no passengers. With the proposed on-demand service, passengers must request transportation in advance, which will stop at the curb next to their pick-up location. There is no set schedule and if there are no riders, the bus can be parked until there is a request for service, saving money and decreasing GHG emissions.
Why not have bus routes instead?
The Town's Service Delivery Review identified that the fixed route level of service is not providing the best value for the costs associated with the operational and capital expenses. In order to improve the level of service to all areas of the Town without significantly increasing operational costs associated with additional routes, it was determined, through research of available transit service options, that an on-demand service model would best suit a Town of Cobourg's size.
I want to be picked up at a specific address. Why isn't this service door-to-door?
On-demand service operates 'curb-to-curb,' meaning that the bus will stop at the curb next to the location requested for pick up (virtual stop or transit stop). During the trial phase of the on-demand pilot, we are utilizing our existing transit fleet vehicles which are full size buses. Not all streets and addresses can be accessed by these larger vehicles due to their width and wide turning radii. Riders must be waiting at the curb when the bus arrives. The app will provide expected arrival times so riders can be prepared.
How does the service work?
On-demand is similar to Uber or other ride-hailing companies. Customers will book their trip in advance either through a mobile app (computer or smart phone) or by calling. You will be asked to provide a pick-up location (existing transit stop or virtual stop), the time you would like to be picked-up and where you are traveling. If you are completing a roundtrip, you can book the pick up and return trip at the same time!
How is it determined where I can be picked up and dropped off?
When you book a ride, you can input your current location and drop off destination (address, intersection, name of location, etc.). The booking app or call centre will automatically show/tell you the nearest virtual stop or existing transit stop to your pick up and drop off location.
What is a virtual stop?
A virtual stop is a pre-determined location that can be selected by a rider as a pick up or drop off location. There are many virtual stop locations around all areas of Town for you to choose from. The bus must pick you up or drop you off at either a virtual stop or existing transit stop. Virtual stops are specifically located where the transit vehicles can access and where riders can easily and safely board and disembark. Virtual stops have been spaced so that there is a very short walking distance from most addresses.

Where are the virtual stops?
A map is included on this page which shows the existing location of transit stops as well as the new virtual stops.
Can virtual stops be added to this service?
Yes they can! As the pilot progresses, data will be collected that will show us where the most frequently requested stops are happening so that we can add more stop locations to make the service even better for riders.
How is this different than a taxi?
The service is a shared-ride service. Routes will be created based on customers being picked-up and dropped-off. There may be multiple customers traveling to different places throughout the community in the same vehicle. This shared-ride model improves access for customers to the service while reducing costs to the Town.
How much will the service cost?
A single trip is $2.25. Multi-pass options will be available soon.
Can I pay with cash?
Yes you can pay for your ride with a $2.25 cash fare or paper tickets onboard.
Where can I purchase ticket booklets or monthly passes?
We are working on these details. More information will be posted as we approach the trial launch date!
How do I register an account with RideCo in order to book rides?
Registration is now available. You can create an account with RideCo online or call 705-373-0582 to have someone set up an account for you.
What if I can't book online or use the app?
You can call our call centre to book your rides at 905-373-0582. During the first phase of the trial period, the call centre will be available for all hours that the on-demand service is being provided with the exception of 6:15am to 8:00am Monday to Friday for Wheels members.
How do I book my return ride home if I don't have access to a phone or smart phone while I'm away from my house?
No problem! You can book your return trip home at the same time that you book your pick up time.
For example: on the fixed route system, you know that you would normally catch the bus at 9:15 am in order to get to the bank by 10:00 am and you know that you have to be back at the stop waiting for the bus at 11:00 am to go home. When you book a return trip with the on demand service, you can still get picked up at 9:15 am and can request a return trip pick up from the bank at 11:00 am, same as the fixed route! Alternatively, if you don't need that whole hour, you can book an earlier return time. The best part about on-demand is that you are not limited to a set schedule. You get to make your own!
What can I expect for wait times?
When you book a ride, either the app or dispatcher will provide you with the driver's estimated pick up time and destination arrival time. If you are using a smart phone, you will receive a notification when your vehicle has arrived. You also have the option to use the mobile app to track your vehicle's location in real-time enroute to your location. Remember that this is a shared transportation service so wait and travel times may vary. Routes may not be direct as the driver picks-up/drops-off other customers along the way.
Why am I not able to see details about the vehicle's location?
Location details are visible on the app only when the vehicle is enroute to your location. You can track the vehicle in real-time on the map when it's nearer to your pick-up time.
Will the transit vehicle wait for me if I am late?
In order to provide timely service to all riders, it is not possible for the vehicle to wait. All vehicles must maintain the schedule for picking up and dropping off passengers. Unlike a taxi, the transit vehicle will not wait for individuals to come out of their home or business, or pull up on driveways. The maximum time the vehicle can wait is one minute.
Can I cancel or modify my bookings?
When you book a ride, you are making a commitment to the system and the driver since a schedule is created to accommodate your trip and potentially other people's trip too. If you are not able to take the ride, we advise you to cancel as soon as possible.
Can I use the on-demand service to go to Port Hope?
The on-demand service is only available within the Town of Cobourg. The existing shuttle between Cobourg and Port Hope will continue to operate.