This information will be updated as candidates file for office.
Town of Cobourg Municipal Election 2018
The next municipal election will be held on: October 22, 2018.
Welcome to the Town of Cobourg 2018 Municipal Election Page. On this site you will find key information for both electors and for candidates as it becomes available. Information will be updated and added to the web site as the election date draws nearer.
In an effort to continue to make voting as accessible as possible Municipal Council has approved the use of Alternative Voting in the 2018 Municipal Election. Electors have the option in 2018 of voting by touch tone telephone or through online voting on the internet.
Be sure to check this page often for all updates and information regarding the 2018 Municipal Elections.
If you have any questions or have any comments about the election, please do not hesitate to contact the Municipal Clerk's office.
Brent Larmer,
Municipal Clerk and Returning Officer (905) 372-4301 / blarmer@cobourg.ca
Notice of Nominations for Office
On the List to Vote?
Eligible to vote? Visit
to confirm you're on the list to vote. Have your say. Log on today.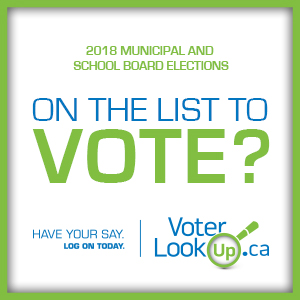 Summary of Key Dates:
| | |
| --- | --- |
| Nominations Accepted: | Tuesday May 1, 2018 |
| Nomination Deadline: | Friday July 27, 2018 at 2:00 p.m. |
| Voting Day: | Monday October 22, 2018 |
| New Term of Council Starts: | Friday December 3, 2018 |
2018 Town of Cobourg Telephone and Internet Voting Election Policies and Procedures
Click Here to view the 2018 Town of Cobourg Internet/Telephone Election Policy and Procedures

So you want to Run for Council?
The Association of Municipalities of Ontario (AMO) has provided a course for potential municipal election candidates and what you need to know before running for office.
So You Want to Run for Council PDF Flyer
Sign Up for the AMO "So You Want to Run for Council" Here
2018 Municipal Election Documents