Cannabis is Now Legal in Canada - What Does that Mean for Cobourg?
On October 17, 2018, recreational cannabis became legal in Canada. From municipalities through to the Federal Government this will have impact on all levels of government. Each level of government has distinct responsibilities in ensuring that the legalization of recreational cannabis is implemented with consideration to community safety, health and economic opportunity.
The provincial government will introduce legislation to allow the private sector to retail recreational cannabis in Ontario by April 1, 2019. In the meantime and as of October 17, consumers 19 or older will be able to purchase recreational cannabis through an online retail platform operated by the Ontario Cannabis Store. View Ontario's Cannabis Retail Regulation Landscape.
Source: Government of Canada.
Municipal Governments Can 'Opt-Out' of Retail Cannabis Sales
Municipal governments can opt out of cannabis sales in their communities by January 22, 2019. Councils that opt-out of private sales can opt-back in at a later date. All municipal governments will receive at least $10,000 to support transition to legal cannabis and the province will announce the full funding allocation in the future.
Survey - Now CLOSED
Thank you to all Cobourg residents and business owners who participated in our online survey regarding opting-in or out of cannabis retail stores operating in our Town. The final results are as follows:

Send us your thoughts on cannabis in Cobourg by emailing communications@cobourg.ca. This feedback as well as the results from the opting-out question will be brought forward to Cobourg Municipal Council on the Committee of the Whole Meeting scheduled for Monday, January 7, 2019 at 4 p.m.
---
Cannabis Retail Plan Project Conclusion
Following discussion at the Regular Council Meeting, Council voted 5-2 on January 14, 2019 to allow retail cannabis stores to operate within the Town of Cobourg.
Read the article published in Northumberland News.
Federal Government
On October 17, 2018, the The Cannabis Act (Bill C45) came into force. It puts in place a new, strict framework for controlling the production, distribution, sale and possession of cannabis in Canada.

The Cannabis Act will:
prevent youth from accessing cannabis
displace the illegal cannabis market
Protecting the health and safety of youth is a top priority. Be aware that the Cannabis Act establishes serious criminal penalties for those who sell or provide cannabis to youth. It also establishes a new offence and strict penalties for those who use youth to commit a cannabis offence.

In addition, the Act also prohibits:
products that are appealing to youth
packaging or labelling cannabis in a way that makes it appealing to youth
selling cannabis through self-service displays or vending machines
promoting cannabis that could entice young people to use cannabis, except in narrow circumstances where it will not be seen by a young person

More Information
View the Government of Canada's website for further information.
Provincial Government
Recreational cannabis was legalized on October 17, 2018 by the Federal Government. Ontario's Government for the People has put rules in place to keep cannabis out of the hands of children and youth, keep our roads safe and combat the illegal market.

Ontario now has laws in place (after extensive public and stakeholder engagement) about how, where and who can buy and possess cannabis in the province. The government is also moving forward with a tightly regulated private retail model for cannabis that would launch by April 1, 2019.

Medical cannabis will continue to be subject to different rules than recreational cannabis.

More Information
View the Province of Ontario's website for further information.
Public Engagement & Council Meeting Schedule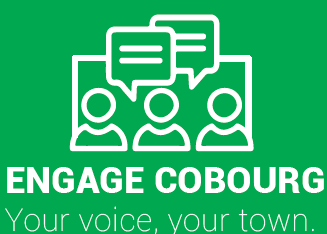 We want to know how you feel about the smoking/use of, and the retail sale of, recreational cannabis in Cobourg. There are several ways that you can have your say and stay informed:

1) Attend our Public Meeting on December 17th at 6 p.m. in the Concert Hall.
2) Tell us if you think the Town of Cobourg should opt-out of private sales of cannabis (see question above).
3) Send your Feedback to communications@cobourg.ca
4) Attend Council Meetings where the cannabis opt-in option will be discussed and decided upon:
Committee of the Whole Meeting - January 7, 2019 at 4 p.m.
Regular Council Meeting - January 14, 2019 at 4 p.m.

View the Cannabis Retail Plan Mailer.

Cobourg Council Meeting Agendas, Minutes & Presentations
Please visit Civic Web to access all Cobourg Municipal Council meeting agendas and minutes.
Town Issued News
Frequently Asked Questions About Cannabis
What is legal
Adults 19 years and over can purchase up to 30 grams(g) (about one ounce) of cannabis online through the Ontario Cannabis Store
Adults can have 30 g of dried cannabis in their possession
Cannabis can be used by adults in a private home or on private property and in places where it is legal to smoke tobacco
Condominiums/apartments can have their own rules around cannabis use/growth
Adults can grow up to four plants per household in their residence or in their outdoor space
What is not legal
Like tobacco, the use of cannabis is not permitted in publicly owned spaces and sports facilities
Cannabis use is not permitted in vehicles and boast that are being driven or under a person's care or control
Children under the age of 19 cannot buy, use, possess or grow cannabis
An unlicensed individual or corporation cannot sell or distribute cannabis
Travelling outside of Canada with cannabis is not permitted
You cannot drive while impaired from cannabis
Advertising cannabis in public is not permitted
Q. When did cannabis become legal?
A. The federal legislation that legalizes recreational cannabis came into effect on October 17, 2018.

Q. What is the legal age to have cannabis in Ontario?
A. In Ontario, the legal age limit to buy, use, possess and grow recreational cannabis is 19 years or older.

Q. Where can cannabis be used?
A. Recreational cannabis can only be used:
In a private residence, including the outdoor space of a home (for example, a porch or back yard)
Within a residential unit or balcony; however, that depends on building rules and/or lease agreements
Recreational cannabis cannot be used in:
Motor vehicles and boats being driven under a person's care or control
Workplaces
In parks or near playgrounds with distances set out in the Smoke Free Ontario Act.
University/college residences
Non- designated rooms in hotels, motels or inns
Any place where smoking tobacco is prohibited, including Celebration Square and in Municipal parks
Q. Where can I buy cannabis?
A. As of October 17, 2018, you can order cannabis products online through the Ontario Cannabis Store which will be operated by the Government of Ontario. In April 2019, you will also be able to make purchases at provincially-regulated retail locations.

Q. Where will the retail locations be located?
A. This is not yet known. The province will approve and licence retail store locations and the number of stores. The Government of Ontario is providing municipalities with the ability to opt-out of having retail locations within their jurisdiction. Town of Cobourg Council has until January 22, 2019 to make the decision to opt-out or permit retail stores. The province will continue to consult with municipalities including Cobourg, KPRDHU Public and Cobourg Police on the implementation of the private retail model.

Q. What if my neighbour is smoking or growing Cannabis and the smell is bothering me, who do I contact about this?
A. Nuisance odor caused by a neighbour smoking cannabis is not in contravention of any Municipal by-law. Neighbours should be respectful and considerate of one another when consuming cannabis on private property.

Q. Will there be consultations where the public will have the opportunity to weigh-in on the Town of Cobourg opting-out or having retail locations?
A. Yes, Cobourg Municipal Council is looking to receive public input on their decision on whether or not to opt out at its December 17, 2018 Public Meeting.

Q. Will retail stores be located near schools?
A. The province has proposed a licence and regulated private retail model that includes the establishment of distance buffers between schools and retail cannabis locations. This will ensure that cannabis will not be offered for sale at retail locations close to schools. The exact distance is not yet known, but will be set out in regulations.
Citizen Inquiries and Complaints – Who to Call?
Complaints about use, sales and distribution of cannabis and drug impairment while driving - Cobourg Police at 905-372-6821.
Questions related to health impacts (ie., second-hand smoke or impact on children) - Haliburton Kawartha Pine Ridge District Health Unit at 1-866-888-4577.
Complaints about smoking cannabis on Municipal property and facilities and in public spaces - By-law Enforcement at 905-372-4301.
General information, please call the Legislative Services Office at 905-372-4301.
Retail License Requests
The government of Ontario has announced the Alcohol and Gaming Commission of Ontario (AGCO) as the regulator for privately run recreational cannabis stores. The AGCO's focus will be on the safe, responsible and lawful sale of cannabis, consistent with the government legislation, once enacted.

The AGCO will move quickly to define the licensing process for private retailers once the legislation has been enacted, and will work closely with the government to support the goal of having private stores licensed and open for business by April 1, 2019.

The AGCO will provide a list of municipalities who have opted-in to private sales of cannabis and how to obtain a retail license request.
Cannabis Documents