TechXpo
---
TechXpo Cybersecurity Challenge is a one-day event taking place on October 5th, 2019 at Venture13, with a $1K cash team prize up for grabs. This event is part of the global CyberLympics, brought to you by SiberX, Durham College AI-Hub and Venture13. The purpose of the event is to encourage developers to bring forward innovative ideas for cybersecurity applications that are technically feasible and commercially viable. Teams will have one day to advance their concepts and pitch them to a panel of experts. Our mentors and advisors will be available to help teams rapidly iterate their concepts and prepare a pitch presentation to the judges. The winner of the TechXpo Cybersecurity Challenge will be announced at the Cyberlympics finale at Durham College on October 26th, 2019.
TechXpo is proudly sponsored by Venture13 VentureZone Members Eagle Aerospace and ConnexHealth Inc. and the Cobourg Police Service – Corporate Services.
Includes
Free registration and admission to Tech Talk
Compete in a team for $1K cash prize
Chance to network with event sponsors
Experiential learning and guidance from mentors
Food and beverages
Free Parking and optional free transportation from Durham College to Venture13 if needed.
Event Details
Date: Saturday, October 5, 2019. | Time: 7:30 a.m. until 4:15 p.m.
Location: Venture13 Innovation and Entrepreneurship Centre, 739 D'Arcy Street, Cobourg, Ontario, K9A 0H6.
The Challenge
In One Sentence
Teams are challenged to pitch a concept for a new cybersecurity application (of any kind).

Purpose
The purpose of the TechXpo challenge is to support the cybersecurity sector in the exchange of ideas and expertise with TechXpo partners while also attracting developers to Venture13 to encourage opportunities for collaboration and talent acquisition with local firms including TechXpo sponsors Eagle Aerospace and ConnexHealth Inc.

Rules
Teams will normally be comprised of 4-5 individuals, one of which is a software developer.
Individual registrants will be assigned to teams by the organizers.

Teams publically disclosing information hereby waive their right to privacy, confidentiality and any presumption of intellectual property protection by the event convener, Northumberland CFDC. Teams must make their own decisions regarding the sharing or disclosing of any information, resources, intellectual property, etc. as all disclosures and communications made during the course of the event will be considered public knowledge. Click here to download the TECHXPO CYBERSECURITY CHALLENGE LICENSE AND PARTICIPATION AGREEMENT, which every individual registrant will be required to sign in person on the day of the event.

The concept for the cybersecurity application must be:
Innovative
Technically feasible (with a plan for development, testing and commercialization), and
Commercially viable (have a profitable business model).
Team presentations will be:
No more than 15 minutes in length including Q&A with the expert panel of judges
May include an A/V dimension (screen/podium/projection provided)
May include technology demonstrations, visualizations, props, etc.
Teams will work throughout the day (from approximately 10:00 AM to 2:30 PM) to iterate their concept and prepare a pitch presentation for a panel of expert judges.

Our mentors and advisors (see below) will interact with teams throughout this time, to provide support, input feedback and encouragement.

After deliberation in private, judges will determine and announce, in their sole and unfettered discretion, the winning team, who will share a $1,000 cash prize.

Judges will be appointed by Northumberland CFDC and will comprise a panel of no less than three.

A $1,000 cash prize will be shared by the winning team.

The winning team will be featured at the Global CyberLympics finale at Durham College on October 26th, 2019. All members of the winning team will be expected to attend the event and receive recognition on stage.

Teams certify by participating that they acknowledge these Rules, which may be amended from time to time at the sole discretion of Northumberland CFDC in consultation with event partners. The current version of the Rules is the one which appears on this webpage.
TechXpo Schedule
A more detailed schedule will be emailed to each participant upon registration.
| | |
| --- | --- |
| 7:30 AM | Check-in/Orientation |
| 8:30 AM | Opening Ceremonies |
| 9:00 AM | Tech Talk: I to Eye: Thinking like a Hacker, with Mahdi Raza |
| 10:00 AM | Event Begins |
| 12:00 PM | Lunch – Sponsored by Eagle Aerospace |
| 3:00 PM | Presentations |
| 4:00 PM | Judging |
| 4:15 PM | Winner Announced |
Keynote Speaker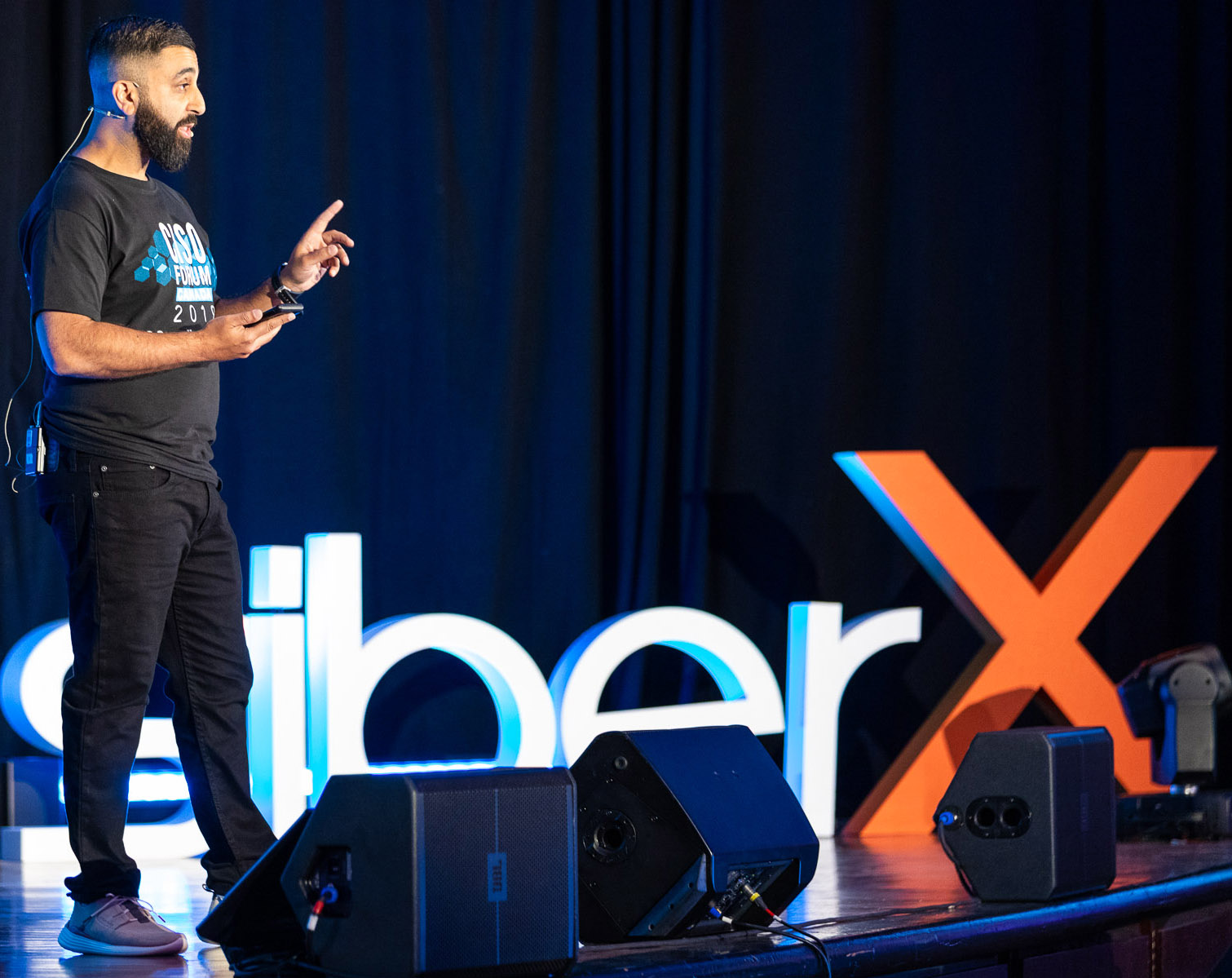 Mahdi Raza
I to Eye : Thinking Like A Hacker
Mahdi Raza is the Co-Founder of SiberX, a roaming customized platform for training, events and skills development in the cyber security universe. SiberX utilizes leading industry certifications to train and test professionals. With a team of multi-disciplinary experts, they run live simulations and war games to recreate threats, scenarios and responses faced across industries. SiberX is bringing to Canada, the first ever Global CISO Forum with 300+ CISOs, CFOs, CTOs, CIOs, and CEOs of Fortune 500 companies. SiberX is also bringing to Canada, the first ever Global CyberLympics which is an online ethical hacking, computer network defense game, dedicated to finding the top computer network defense teams. With 75+ countries and more than 2,100 participants, Global CyberLympics will be an epic event in the Durham Region.
Mentors
Jahanzeb Abbas

Jahanzeb Abbas, or "JB" hails from the financial industry, specifically Bank of Montreal, where he has led many enterprise-wide initiatives, including: legacy workflow application replacement, data conversion and strategy, report and application development, data analytics etc. With 10 years of experience in both business and technology divisions, JB now works as a Systems Consultant for the Loss Prevention and Risk line of business, and guides them to leverage existing technology tools or explore new ones (like machine learning) for maximum efficiency. At the TechXpo, JB will act as a mentor by establishing a simplified roadmap (approach) to completing any challenge.


Daryl Thomas
Daryl Thomas is a dynamic, results‐driven I.T. Professional with over 19 years' experience. Daryl has a proven track record of success in the management, support, and administration of enterprise class information technology and the ability to fuse technological needs with business goals.

Ali Hirji
Ali Hirji has over 12 years of technology management experience in public and private sectors in the United Arab Emirates, Tanzania and Canada. As an academic researcher in broadband communications and social science, he also conducts graduate level field work, lectures undergraduate classes and mentors students. His career focus lies in connecting the corporate and academic worlds in the areas of research, I.T. and broadband communications.
FAQ
Can I come for the Tech Talk only?
Yes. All are welcome. Please RSVP to info@venture13.ca, but you are required to arrange your own transportation.

What if I don't have a team?
Anyone can register. If you do not a full team, you will be assigned.

What Do I Bring?
You don't need much, just the essentials. Definitely bring your passion, energy and ideas! And if you have them:
Laptop, Phone, Charger, Earphones, etc.
Food and beverages will be provided.
About Our Sponsors
Eagle Aerospace
Eagle Aerospace is an innovation 'skunkworks' company, working primarily for Team Eagle Ltd. And holding multiple patents, with extensive IP in development. Success is defined by listening to customers and responding with practical product and service solutions. Innovative ideas demonstrate the forward thinking philosophy and proven track record of Eagle Aerospace. Contract engineering and design staff are constantly looking to improve day-to-day operations at airfields as well as in other automotive-related industries. Eagle Aerospace is a Member of the Venture13 VentureZone, with Team Eagle Ltd. headquarters in Campbellford, Ontario.

ConnexHealth Inc.
ConnexHealth Inc. is an innovative SaaS startup located at the Venture13 VentureZone. ConnexHealth connects individuals and families with healthcare providers through a dedicated and supervised application. Where previously services were booked via phone and referrals, ConnexHealth's web-based application connects needs and services within a geographical radius, effectively facilitating connections, issuing recommendations and processing funds instantly.

Cobourg Police Service – Corporate Services
The Cobourg Police Service – Corporate Services provides CRC-as-a-Service coast-to-coast and is an anchor organization and member of the Board of Partners of Venture13, with an operational centre located on the secure second floor of the premises.
Questions?
If anything is unclear or you have more questions, please contact info@venture13.ca