Getting Married
How to get a Marriage Licence Application Form
Congratulations, you're Getting Married!

To make it legal you'll need a valid Ontario marriage licence before your civil or religious marriage ceremony. You can purchase your marriage licence from the Town of Cobourg or another Ontario municipality with the authority to issue marriage licences. A Marriage Licence is valid only for marriages taking place in Ontario and expires three (3) months from the date of issue.

Marriage Licence Application:
Online from ServiceOntario (including general information on marriages)
Online from the Town of Cobourg Website
In person at the Municipal Office (55 King Street West, Cobourg)
How to get a Marriage Licence

To get your Licence you will need to complete a hard copy of the Marriage Licence Application Form.

Both you and your partner will need to sign the Marriage Licence Application Form and submit a hard copy of the form to our Legislative Services Department at Victoria Hall, Cobourg. Below outlines the process for attaining a marriage licence:
Complete the Marriage Licence Application Form, including signatures of both applicants. Only one applicant needs to bring in the forms, identification and documents for both, or both applicants can come in.
Bring in your original identification (see Supporting Identification Documents).
Bring in your Divorce document, if applicable We need to see an original (with seal) or court certified copy, of the: Decree Absolute or Divorce Certificate.
For divorces granted outside of Canada, please read the Foreign Divorce process.
Licence Processing Hours: Monday to Friday between 8:30 a.m. to 4:00 p.m.
Licence Fee: $125 Payable by cash, cheque or debit.
Supporting Identification Documents
Here is what you will need when you come in to get your licence:

Two (2) pieces of original and current government issued identification for each person getting married. One piece of identification must include your photo.

The first piece of identification must be one of the following:
Original Birth Certificate
Current Passport
Record of Immigrant Landing
Canadian Citizenship Card
Native Status Card

The second piece of identification must be photo identification, which can be one of the following:
Driver's Licence
Passport (providing it is not used as the first piece of identification)
Provincial Photo I.D
Any other Canadian government issued photo I.D.
If you have any questions regarding acceptable identification, please contatct the Legislative Services Department at 905-372-4301.
Proof of Marriage/Name Change
You will need to apply for a Marriage Certificate if you need to provide proof of marriage or if you are changing your name. The Marriage Certificate can take up to ten (10) weeks to process. You can apply for a Marriage Certificate:
Online at Service Ontario.
A paper copy of the Marriage Certificate application form is provided to all couples along with the Marriage Licence when processed.
Civil Ceremony Marriage Services
The Municipal Clerk's Department offers civil ceremonies to couples who want to have a simple, non-religious marriage ceremony within the Town of Cobourg's nationally significant and very unique heritage Victoria Hall Bailey Court Room, or other Municipal Venues.
Booking your Civil Marriage Ceremony
Our Municipal Clerk and Marriage Officiant are avilable to officiate your Wedding at our Municipal Office, in one of our Cermony Loactions- Bailey Court Room, Council Chambers, and Mayor's Office or at other locations within the Town of Cobourg at the approval of the Officiant.

Ceremonies at the Municipal Office are avilable:
Friday Afternoons 1:00pm, 2:00pm, 3:00pm and 4:00pm.
Couples must provide two (2) witnesses for their ceremony, along with an interpreter if they do not speak English and/or require language assistance.


To Book, visit our Municipal Offices at 55 King West, Cobourg, or call to book a date at 905-372-4301.

Once you have booked your ceremony your Marriage Officiant will contact you to schedule your wedding consultation before your wedding day. Both partners are required to attend the wedding consultation with the Wedding Officiant as you will be reviewing all aspects of your ceremony. Please bring your Marriage Licence (if not provided at the time of booking), photo identification, a completed Civil Marriage Ceremony Questionnaire, and any additions to your script you would like to include.
Civil Ceremony Fees
A Civil Marriage Ceremony at our Municipal Offices is $300.00.
This fee must be paid at the time of booking and all fees are subject to the Town of Cobourg Fees and Charges By-law.
Changes and Cancellations:
There is no fee for any changes to your wedding date, but a new date is subject to aviailability and the 90-day timeframe of the Marriage Licence. If you would have to cancel or change a wedding date, please call the Legislative Services Office and 905-372-4301.
Civil Ceremony FAQs
For all your Civil Ceremony and Marriage Licence questions, we've got the answers.


When should I purchase my Marriage Licence?
An Ontario Marriage licence is valid for three (3) months after the issue date, so anytime within three (3) months to your wedding date is a great time to purchase your Marriage Licence.
What should I bring to the marriage consulation?
At the time of the Marriage consultation meeting with the Officiant please bring, for both partners, the following items:
A valid Marriage Licence, if not already provided at the time of booking the ceremony.
A completed Civil Marriage Ceremony Questionnaire.
A receipt for your payment of the ceremony.


How many guests may I have?
For marriage ceremonies at our Municipal Offices you may have as many guest as you want as long as each ceremony is complying with the occupancy load of each location. The amount of guests can be up to 118 persons in the Bailey Court Room.


How many witnesses need to be present?
In order to legalize your marriage, two witnesses must be present during the ceremony. The Town of Cobourg can help to supply witnesses at the request of the couple.


How old do my witnesses need to be?
Although there is no minimum age for a witness, it is suggested that they should be at least 14-years of age and should be able to understand and appreciate what is happening and to be able to give evidence of such at a later date if required.


Can we play music during the ceremony?
Yes! The playing of music at the ceremony is encourgaed, but the couple must supply a music player and the recorded music.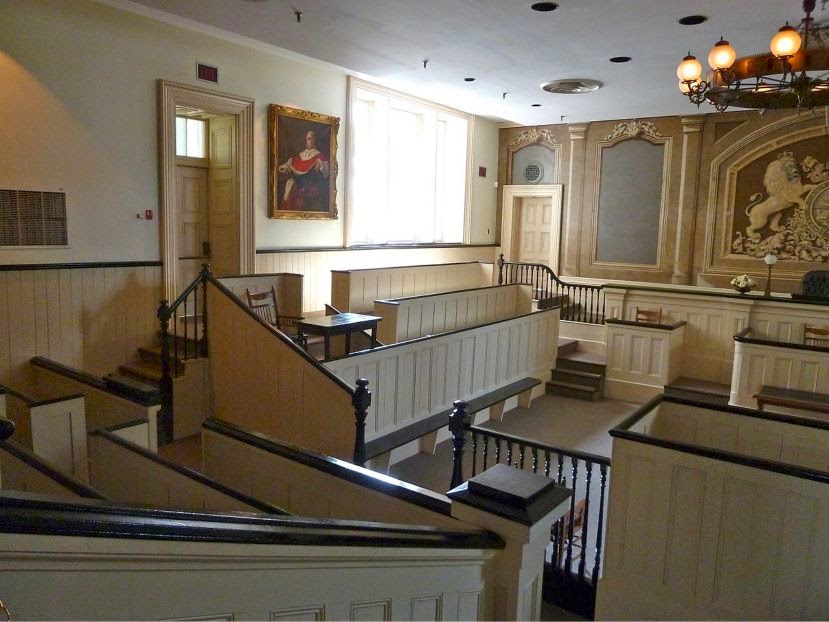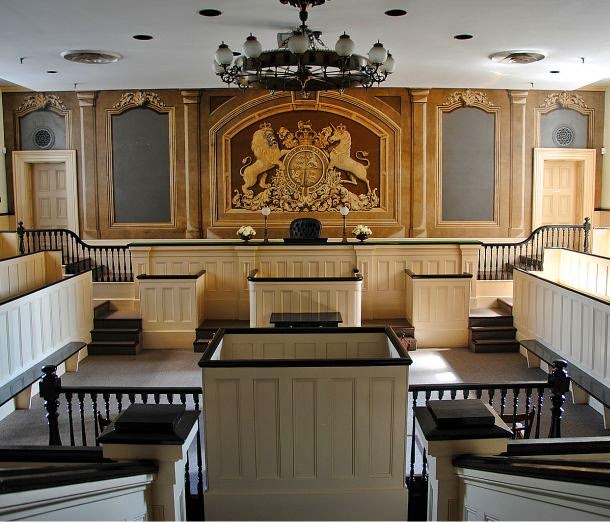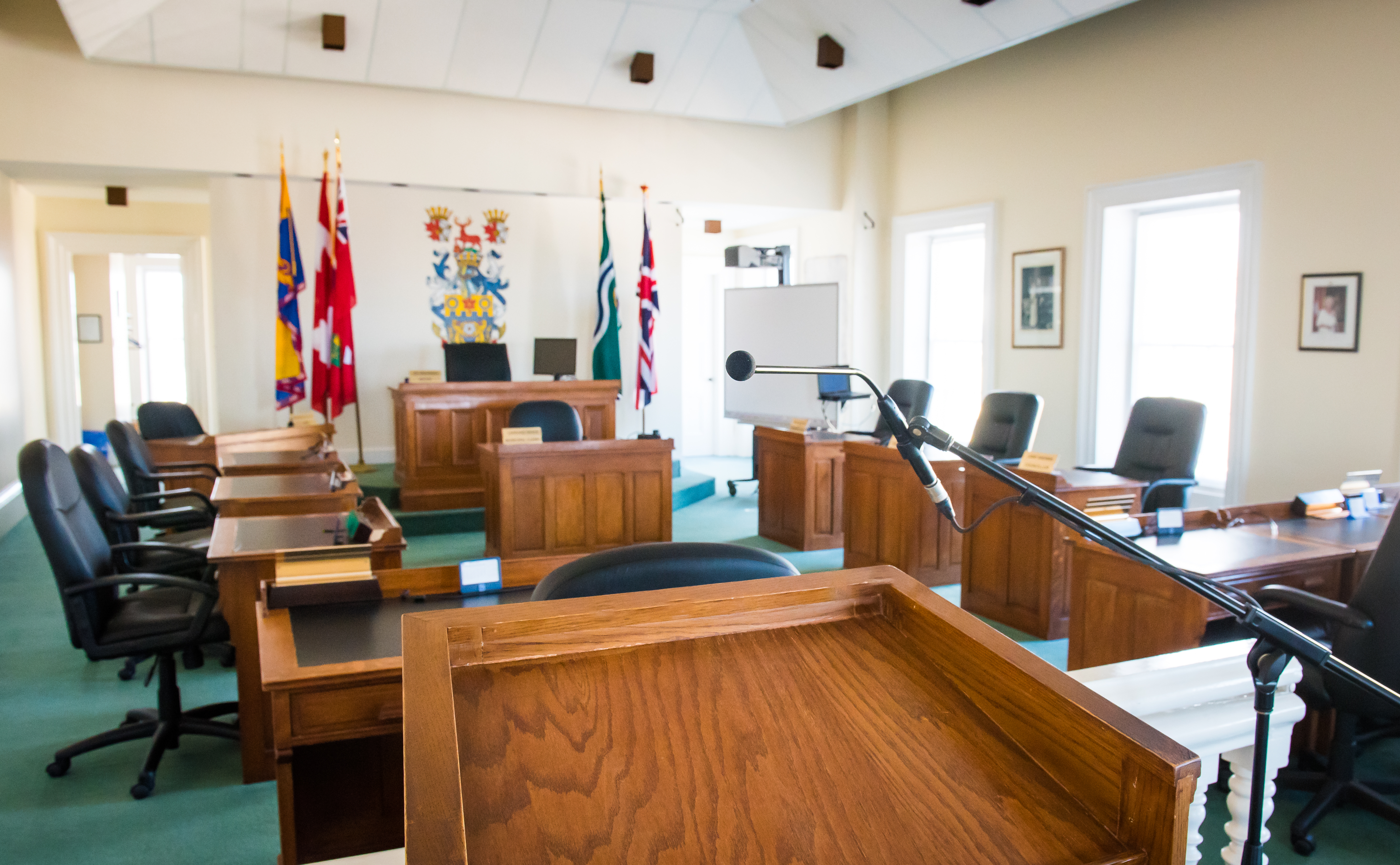 Bailey Court Room Bailey Court Room Council Chambers