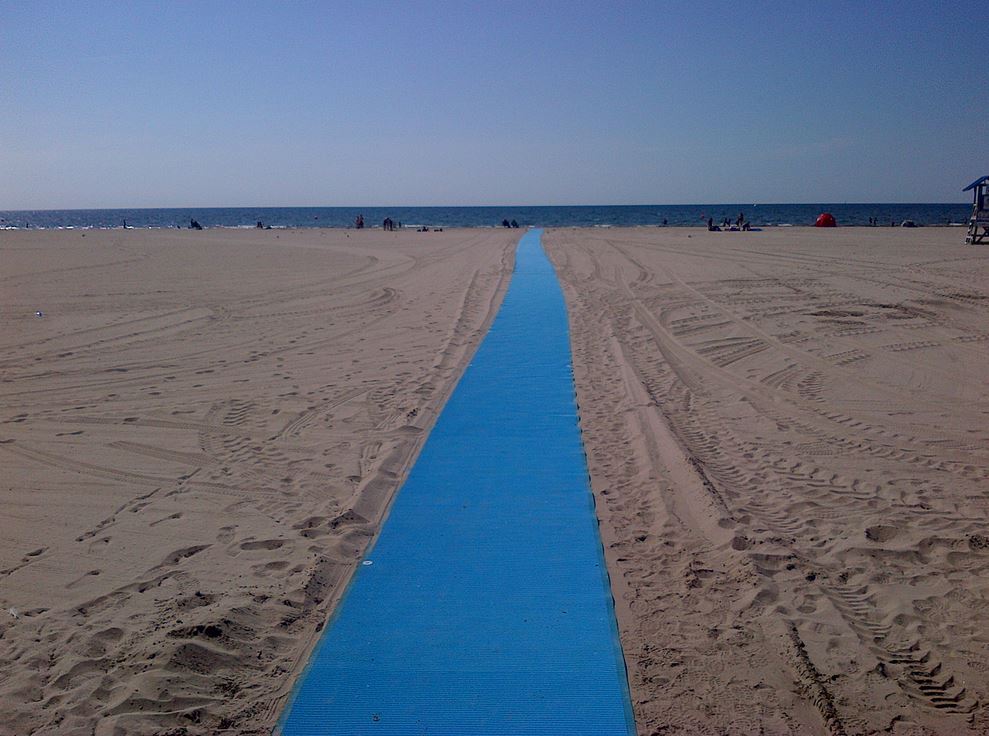 The Town of Cobourg's Commitment to Accessibility
The Town of Cobourg is committed to meeting the accessibility needs of people with disabilities in a timely and proactive manner and will use reasonable efforts to provide equitable access to municipal programs, goods, services and facilities in a way that respects a person's dignity and independence
If you have experienced a Barrier to Accessibility, please contact us by:
Giving us a call at 905-372-4301, or
Visiting us in person. (Please note: Due to COVID-19, our offices are currently closed)
Multi-Year Accessibility Plan
The Town of Cobourg Multi-Year Accessibility Plan 2020 to 2024 provides the opportunity to demonstrate and establish an implementation framework and future priority initiatives for the Town of Cobourg and to demonstrate current achievements regarding accessibility.
Objectives identified within the plan are both long and short term; many are ongoing actions completed and implemented from year to year or could require implementation over several years.
The Town will continue to focus on the following areas:
People,
Communications,
Technology,
Infrastructure,
Training,
Policies, Procedures, Best Practices, and
Accessibility Audits.
An accessible version of the Town of Cobourg's Mutli-Year Accessibility Plan 2020 to 2024 is available upon request by emailing Jamie Kramer at accessibility@cobourg.ca.
Past Multi-Year Accessibility Plans
View the Town of Cobourg Draft Multi-Year Accessibility Plan 2016-2019.
The Accessibility for Ontarians with Disabilities Act, 2005
On June 13, 2005, the Accessibility for Ontarians with Disabilities Act, 2005 (AODA) received Royal Assent and is now law. The AODA required the provincial government to work with the community and the private and public sectors to jointly develop standards to be achieved within stages of five years or less, leading to an accessible Ontario in 20 years (2025).

The AODA was enacted to serve as a framework for the establishment of accessibility in five different areas:
Customer Service,
Information and Communications,
Transportation,
Employment, and
The Built Environment.
Cobourg Accessibility Advisory Committee
The Cobourg Accessibility Advisory Committee meet on a monthly basis, and provide advice on the implementation of the Ontarians with Disabilities Act, 2001 and the Accessibility for Ontarians with Disabilities Act, 2005, as required through regulation in the following:
Development of accessibility plans for the municipally including the goals and objectives.
Advise Council, as required by the AODA, regarding the preparation, implementation and effectiveness of the Town of Cobourg accessibility plan.
Provide feedback on the accessibility plans for municipally administered, contracted or licensed transit providers in consultation with persons with disabilities.
Provide advice on the identification, removal and prevention of barriers to people with disabilities with the Town By-laws, policies, facilities, programs and services.
Perform all other functions specified in the Accessibility for Ontarians with Disabilities Act and or its regulations, including consultation requirements as outlined in the Design of Public Spaces Standards in the Integrated Accessibility Standards.
View the Cobourg Accessibility Advisory Committee agendas and minutes.
You can register to receive correspondence in accessible formats and email updates when the Committee has published their agendas and minutes.
Accessible Customer Service Policy
The Corporation of the Town of Cobourg is committed to providing quality goods and services that are accessible to all persons that we serve and in a manner that respects the dignity and independence of persons with disabilities.
Read the Town of Cobourg's Accessible Customer Service Policy.
Integrated Accessibility Standards Policy
This policy is intended to provide the overreaching framework to guide the review and development of other policies, standards, procedures, by-laws and guidelines of the Town of Cobourg in order to comply with the standards developed under the Accessibility for Ontarians with Disabilities Act, 2005 (AODA) and the Integrated Accessibility Standards Regulation (IASR) established by Ontario Regulation 191/11.
Read the Town of Cobourg's Integrated Accessibility Standards Policy.
Accessible Parking Locations in Downtown Cobourg
An authorized Ontario or other jurisdictional Accessible Parking Permit must be displayed in order to use an accessible parking space.
Regular parking fees apply to all Accessible Parking Spaces. If you are legitimately parked at a parking meter or in the Pay and Display lots, you will need to pay the required fee. For more information on parking please visit our parking page.
Accessible Parking Permits are not allowed to park in "No Parking" or "No Stopping" areas. You can view the map of accessible parking spots: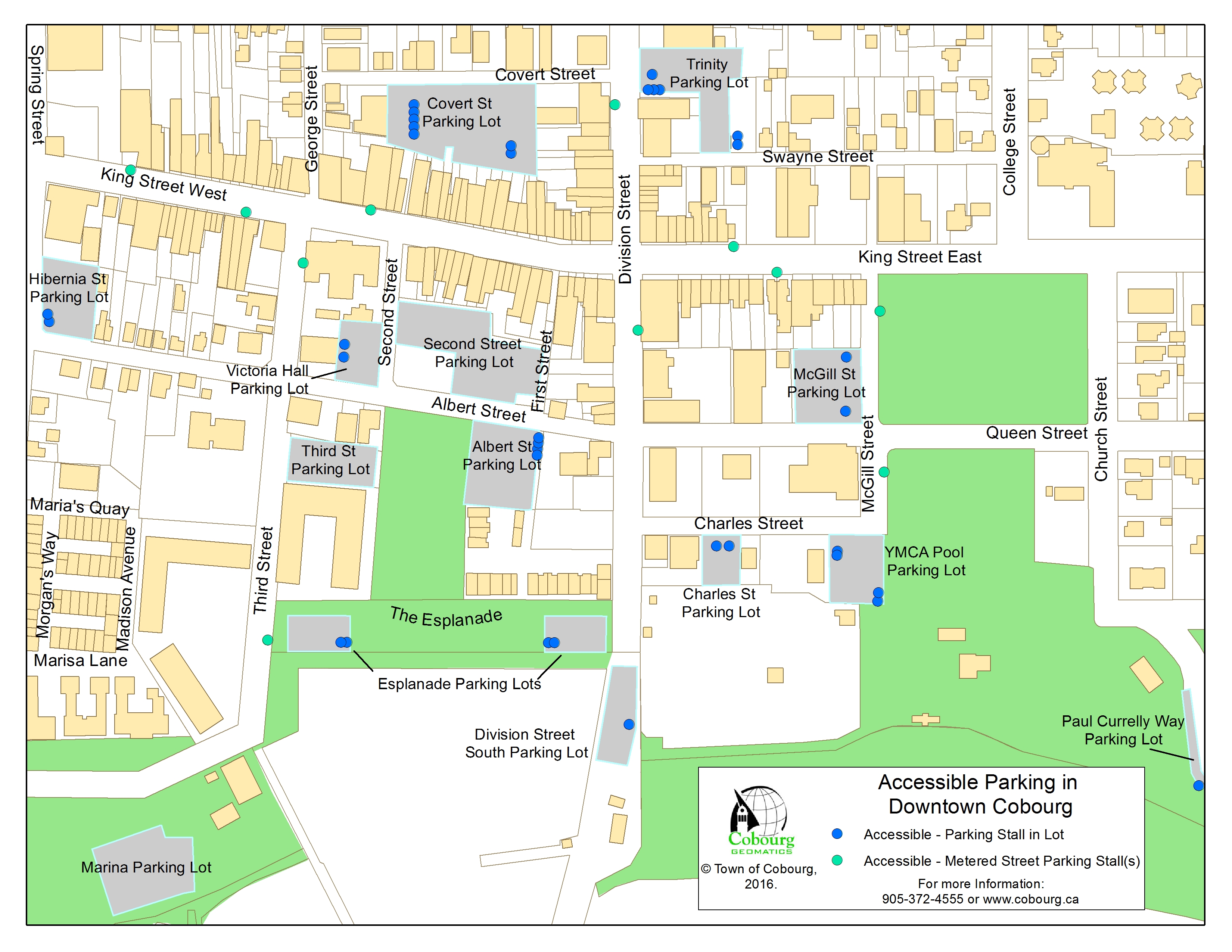 Accessible Parking Stall in Downtown Lot Locations
Division Street South Parking Lot,
Esplanade Parking Lots,
Charles St Parking Lot,
YMCA Pool Parking Lot,
Paul Currelly Way Parking Lot,
Albert Street Parking Lot,
McGill Street Parking Lot,
Victoria Hall Parking Lot,
Hibernia Street Parking Lot,
Covert Street Parking Lot, and
Trinity Parking Lot.
Accessible Metered Street Parking Stall(s) Downtown Locations
Locations can be found along:
King Street West,
King Street East,
McGill Street,
Third Street, and
Division Street.
Accessible Public Washrooms Locations in Cobourg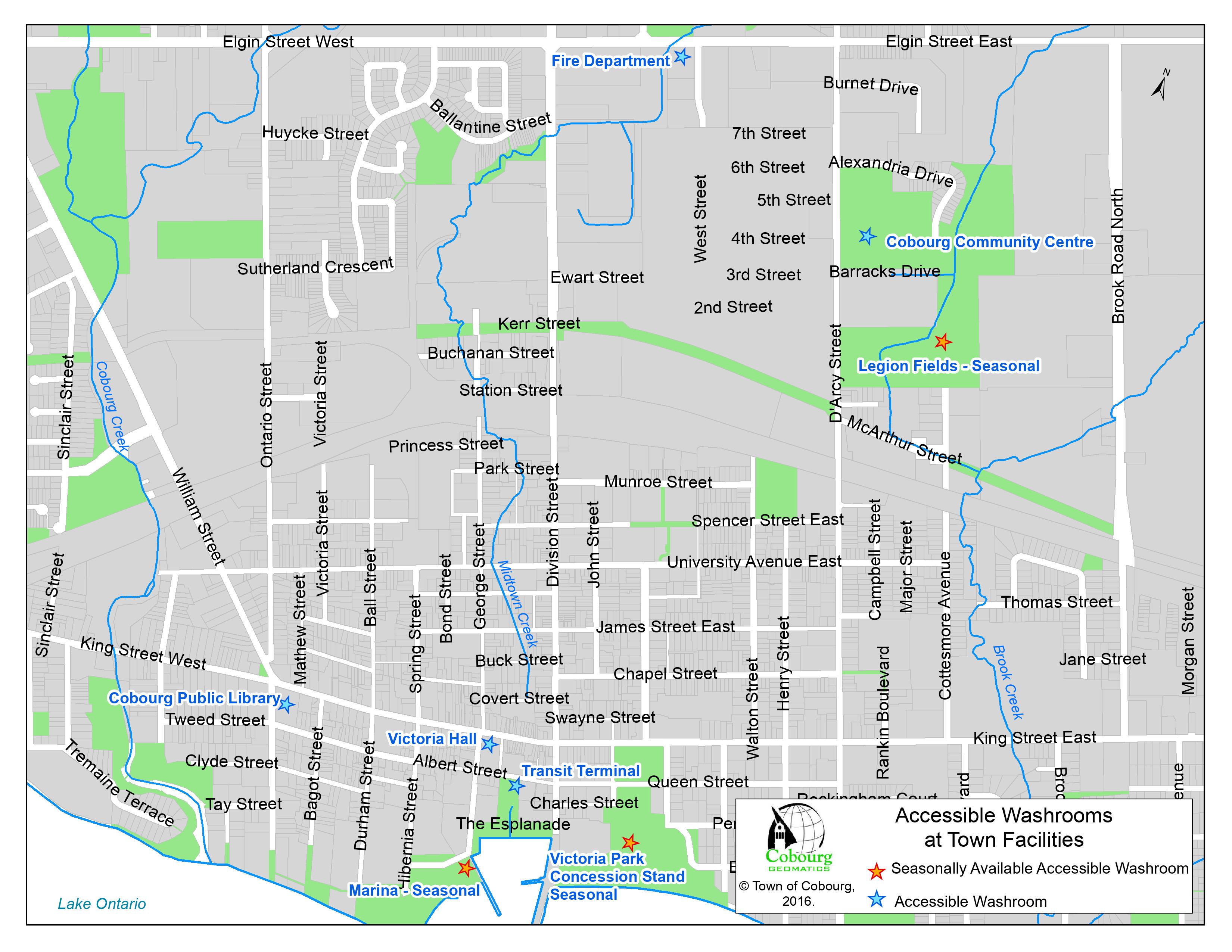 Accessible Washroom Locations
Cobourg Public Library,
Victoria Hall,
Transit Terminal,
Cobourg Community Centre, and
Fire Department.
Seasonally Available Accessible Washroom Locations
Marina,
Victoria Park Concession Stand, and
Legion Fields.
Accessibility Concern? Make a Barrier Report
If you have experienced one of these five barriers LET US KNOW:
Accessibility Reports
One of the requirements that Municipalities must meet under AODA is to file a report every two years on the Municipalities level of compliance with the provincial accessibility standards.

Please see attached for the Town of Cobourg Accessibility Report provided by the Accessibility Directorate of Ontario.