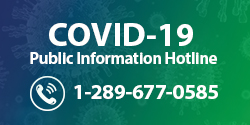 The Haliburton, Kawartha, Pine Ridge District Health Unit have confirmed 13 positive cases of COVID-19 within Northumberland County.
To reduce the spread of viruses, including the flu and COVID-19 we recommend that you: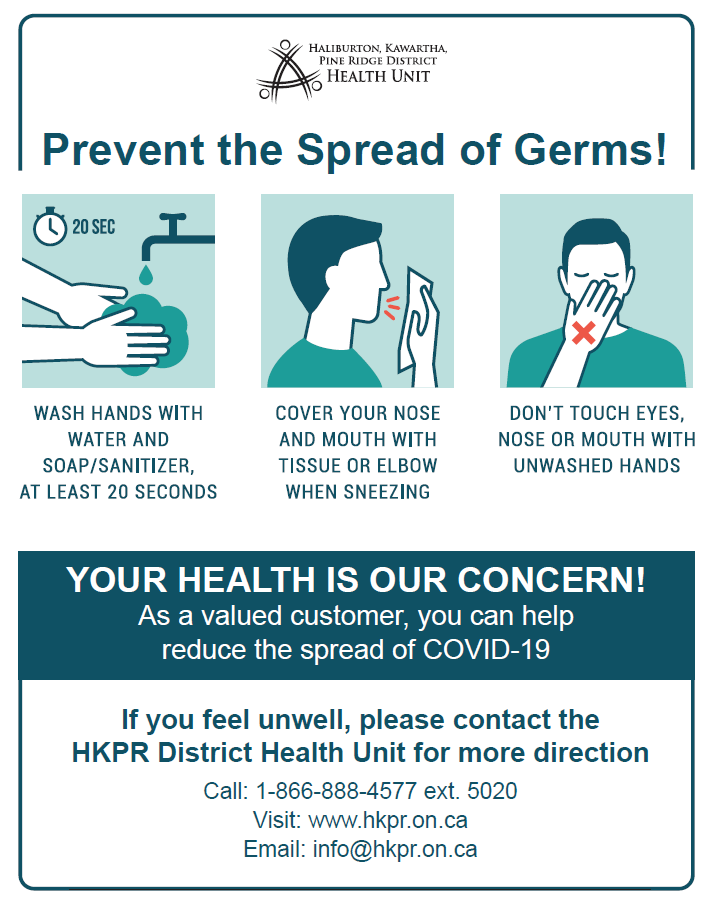 Avoid touching your eyes, nose, and mouth unless you have just washed your hands.
Cover your coughs and sneezes with a tissue or your arm, not your hand.
Stay home if you are sick.
If you are ill and must visit a hospital emergency department, clinic or other health care provider, call ahead or tell them when you arrive that you have a respiratory illness and wear a mask while waiting to be seen. This allows health care workers to reduce the potential spread of illness.
Wash your hands regularly.
Avoid visiting people in hospitals or long-term care homes if you are sick.
Avoid gatherings of over 50 people. (Note: Many of these are currently banned)
Practise social distancing by avoiding close contact with others. Keep a minimum distance of 2 metres (6 feet) from other people outside of your immediate family.
Symptoms and Treatment
Symptoms range from mild – like the flu and other common respiratory infections – to severe. The most common symptoms include: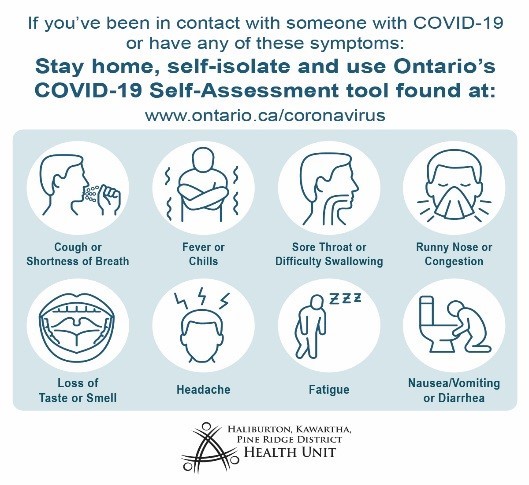 Cough or Shortness of Breath
Fever or Chills
Sore Throat or Difficulty Swallowing
Runny Nose or Congestion
Loss of Taste or Smell
Headache
Fatigue
Nausea/Vomiting or Diarrhea
There are no specific treatments for coronaviruses, and there is no vaccine that protects against coronaviruses. Most people will recover on their own.
You should:
drink plenty of fluids
get rest and sleep as much as possible
try a humidifier or a hot shower to help with a sore throat or cough
Returning from Travel
If you are returning to Canada, you should:
Self-isolate for 14 days. If you are self-isolating, you should not go to work.
Monitor yourself for symptoms of the novel coronavirus for 14 days after returning to Canada.
Contact Telehealth Ontario at 1-866-797-0000 or the HKPR Health Unit if you experience symptoms.
In addition:
Workers who have travelled and are part of workplaces that are essential to daily living are able to return to work as long as they do not have symptoms. However, they should self-monitor for a period of 14 days and identify themselves to their employer so that a plan can be put into place to ensure the protection of those workplaces.
Children under the age of 16 years who have travelled outside of Canada should also self-isolate for a period of 14 days. Parents should actively monitor their children's symptoms. Children who are self-isolating should stay at home and avoid social gathering points such as community centres or parks.
Learn about travel advisories related to the 2019 novel coronavirus.
How to Self-Isolate
Self-isolating means staying at home and avoiding contact with other people to help prevent the spread of disease to others in your home and your community.
All persons over 70 years of age and individuals who are immunocompromised are advised to self-isolate for a period of 14 days. This means that you should only leave your home or see other people for essential reasons. Where possible, you should seek services over the phone or internet or ask for help from friends, family or neighbours with essential errands.
When self-isolating you should:
Stay home
do not use public transportation, taxis or rideshares
do not go to work, school or other public places
your health care provider or public health unit will tell you when it is safe to leave
Limit the number of visitors in your home
only have visitors who you must see and keep the visits short
keep away from seniors and people with chronic medical conditions (e.g. diabetes, lung problems, immune deficiency)
Avoid contact with others
stay in a separate room away from other people in your home as much as possible and use a separate bathroom if you have one
make sure that shared rooms have good airflow (e.g. open windows)
Keep distance
if you are in a room with other people, keep a distance of at least two metres and wear a mask that covers your nose and mouth
if you cannot wear a mask, people should wear a mask when they are in the same room as you
Cover your coughs and sneezes
cover your mouth and nose with a tissue when you cough or sneeze
cough or sneeze into your upper sleeve or elbow, not your hand
throw used tissues in a lined waste basket, and wash your hands. Lining the wastebasket with a plastic bag makes waste disposal easier and safer.
after emptying the wastebasket wash your hands
Wash your hands
wash your hands often with soap and water
dry your hands with a paper towel, or with your own cloth towel that no one else shares
use an alcohol-based hand sanitizer if soap and water are not available
Wear a mask over your nose and mouth
wear a mask if you must leave your house to see a health care provider
wear a mask when you are within two metres of other people
Connect with Healthcare Professionals
Telehealth Ontario
A free, confidential service you can call to get health advice or information. A Registered Nurse will take your call 24 hours a day, seven days a week. Telehealth Ontario is only offered over the phone. Email advice is not available.
Call Toll-free: 1-866-797-0000 | Toll-free TTY: 1-866-797-0007

Haliburton Kawartha Pine Ridge District Health Unit
Citizens are encouraged to visit the HKPR District Health Unit's website www.hkpr.on.ca for the most up-to-date information COVID-19. In addition to the daily updates to the website, Dr. Lynn Noseworthy, Medical Officer of Health for the HKPR District Health Unit., will continue to provide updates on COVID-19 through their website.
Call 1-866-888-4577, ext. 5020 or visit www.hkpr.on.ca

Ontario Ministry of Health
Call 416-235-6556 or 1-877-604-4567

Health Canada
Call 1-833-784-7397
Additional Resources