Halloween Home 'Boo Tour' - Register Today!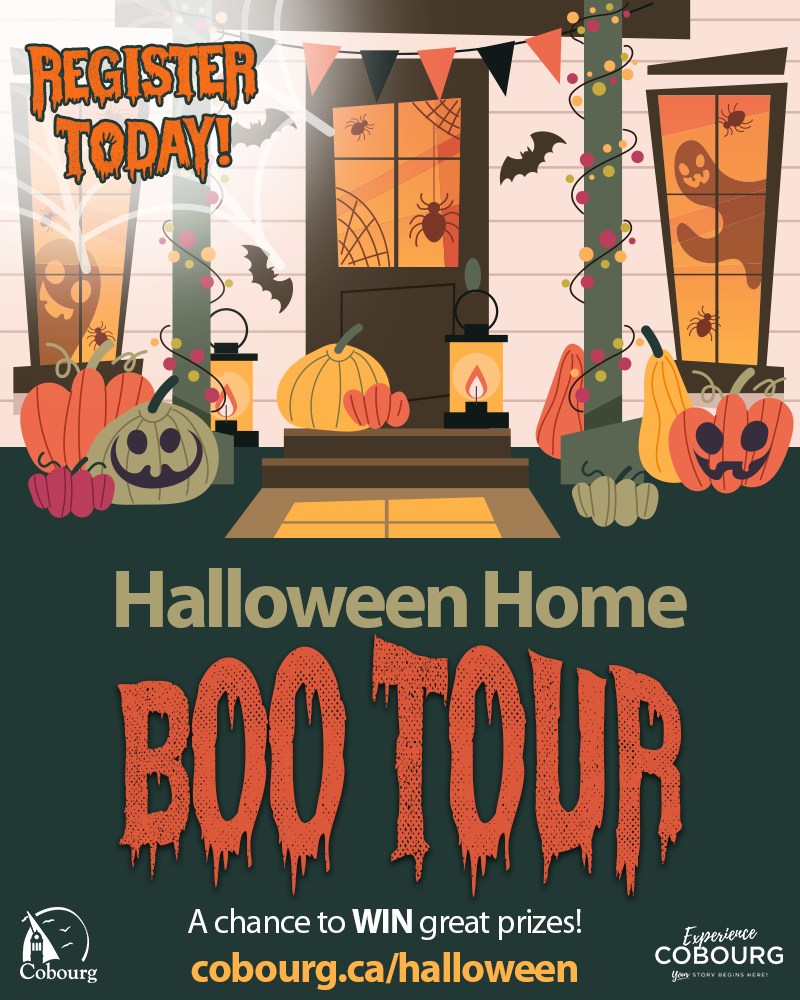 The Town of Cobourg's Community Services Division are pleased to announce the 'Halloween Home Boo Tour', a community-wide self-guided house tour designed to celebrate Halloween. Residents are encouraged to participate by entering their spookily decorated home for a chance to win great prizes!
The Halloween Home Boo Tour encourages homeowners across the Town of Cobourg to decorate their homes, including windows, yards or balconies, in Halloween spooky décor that can also include music or light displays. All participating homes will be entered into a draw to win 1 of 10 gift cards worth $30 that can be used towards any local business.
Register for the Halloween Home Boo Tour
Register here by Wednesday, October 20, 2021.
Submit a photo of your decorated home to Jackie Chapman-Davis, Community Events Coordinator at jchapmandavis@cobourg.ca by Monday, October 25, 2021.
Participate in the Halloween Home Boo Tour
The Halloween Home Boo Tour provides residents of all ages and abilities with an opportunity to safely view all the fun decorated homes and spooky display. The self-guided tours will begin on Wednesday, October 27, 2021, and will run until Sunday, October 31, 2021. A tour map of the locations of the Halloween Home Boo Tour will be available on this webpage starting Wednesday, October 27th at 4 p.m. as well as paper copies available for pick up at Victoria Hall, the Cobourg Community Centre and the Cobourg Public Library.
For those participating in the self-guided tours please be respectful of the neighbourhoods and personal property by not touching the displays or encroaching on lawns, driveways, etc. The Town of Cobourg would like to wish everyone a safe, and fun Halloween! Enjoy the tour.
---
COVID-19 Safety Reminders:
The Town of Cobourg strongly recommends that the community consider safer ways to celebrate Halloween that can be done close to home while following all the necessary safety precautions. As a reminder citizens should always:
Avoid gatherings with people outside of your household.
Stay home if you're ill or at a higher risk for serious illness from COVID-19.
Consider alternate ways to celebrate Halloween by staying at home (see below).
Stay Safe While Trick-or-Treating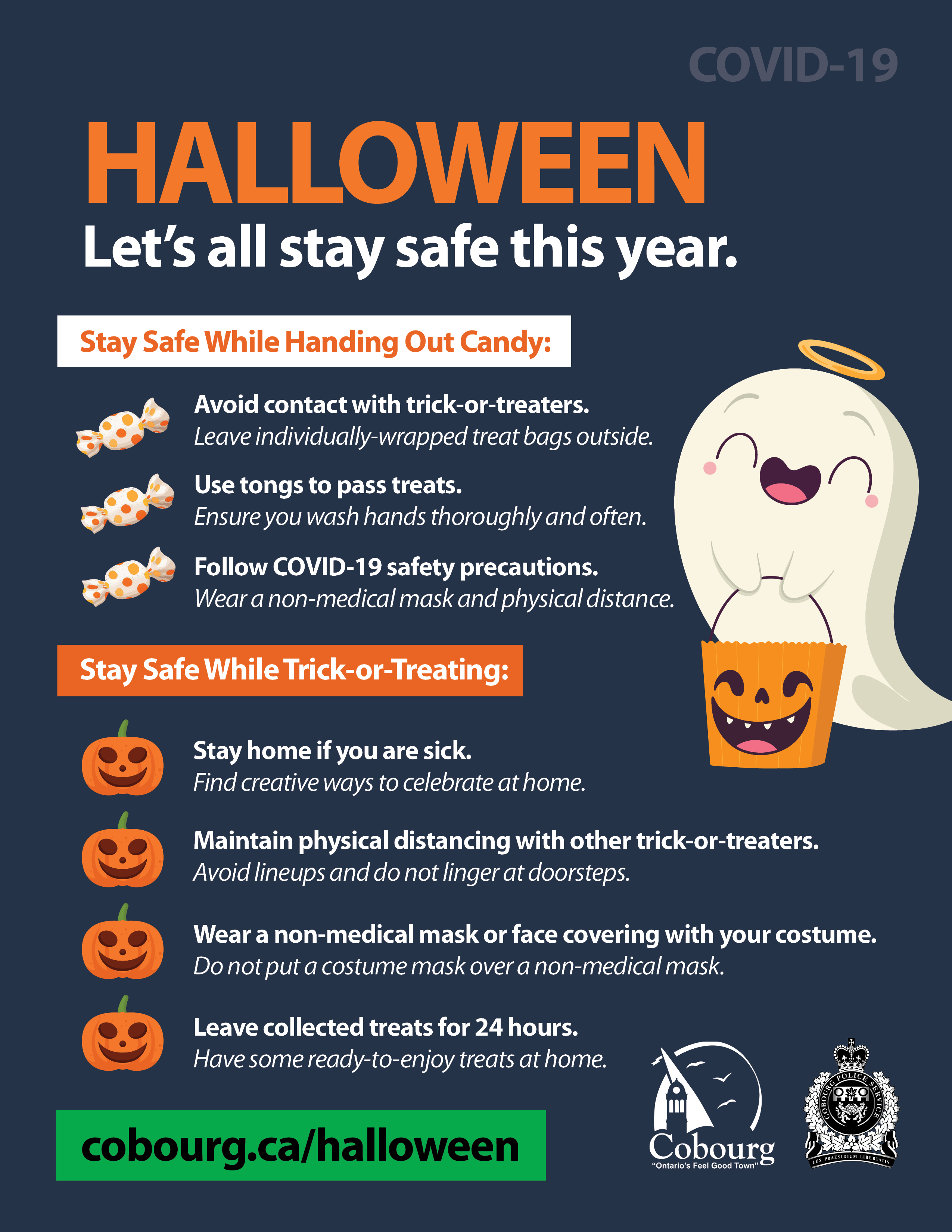 For those handing our candy, it is recommended that you:
Avoid contact with trick-or-treaters by leaving individually-wrapped treat bags outside.
Use tongs to pass treats and do not leave candy in a bowl for children to grab.
Follow COVID-19 safety precautions by wearing a non-medical mask or face covering and maintain physical distancing.
Turn off your porch light and do not hand out treats if you are sick, even with mild symptoms.
Wash your hands often and thoroughly, or use hand sanitizer.
For those going trick-or-treating, it is recommended that you:
Stay home if you are sick.
Maintain physical distancing with others.
Only go out with members of your own household.
Avoid lineups and do not linger at doorsteps.
Avoid high-touch surfaces and objects.
Wear a non-medical mask or face covering with your costume. Do not put a costume mask over a non-medical mask as it may make it difficult to breathe.
Leave collected treats for at least 24 hours. Have some ready-to-enjoy treats set aside for children to enjoy when they return home.
---
Remember Pedestrian Safety
The Cobourg Police Service would like to remind the community that if you choose to go out at night to remember the following pedestrian safety tips:
Fasten reflective tape to your costume, wear light coloured clothing, and carry a flashlight or lighted device to help drivers see you.
Always walk on sidewalks or paths and cross the street using traffic signals and crosswalks.
Watch for cars turning or backing out of driveways.
Slow down and watch for kids if you are driving in residential areas.
Creative Ideas for Halloween at Home
Encourage children to dress up and participate in virtual parties or activities with friends and family.
Have a movie night or sharing scary stories.
Buy treats for your children and enjoy them at home while watching a scary movie together.
Decorate for Halloween inside and outside your home and have children carve pumpkins to add to the festive display.
Showcase Halloween craft projects on your porch and in your front windows for your neighbours to enjoy.
Plan your own monster mash or 'Halloween-at-home' party. Get children to dress up in costume to mark the festivities.
Make your own spooky treats such as: clementine jack-o-lanterns, monster mix, or ghostly cookies.
Organize a Halloween scavenger hunt where children are given holiday-themed items to look for around your home or property. You can also hide treats in different spots and get children to find them.
Do an 'at-home' version of trick-or-treating by setting up treat stations around your home that children can visit for goodies.
Pick out some Halloween themed books to read together.
Set up a piñata at home filled with your favourite Halloween treats.
Take photos of children dressed in Halloween costume and email/share with grandparents and older relatives who can't be there in person.
Additional Resources
Consider printing one of these posters to let your neighbours know whether you are handing out treats.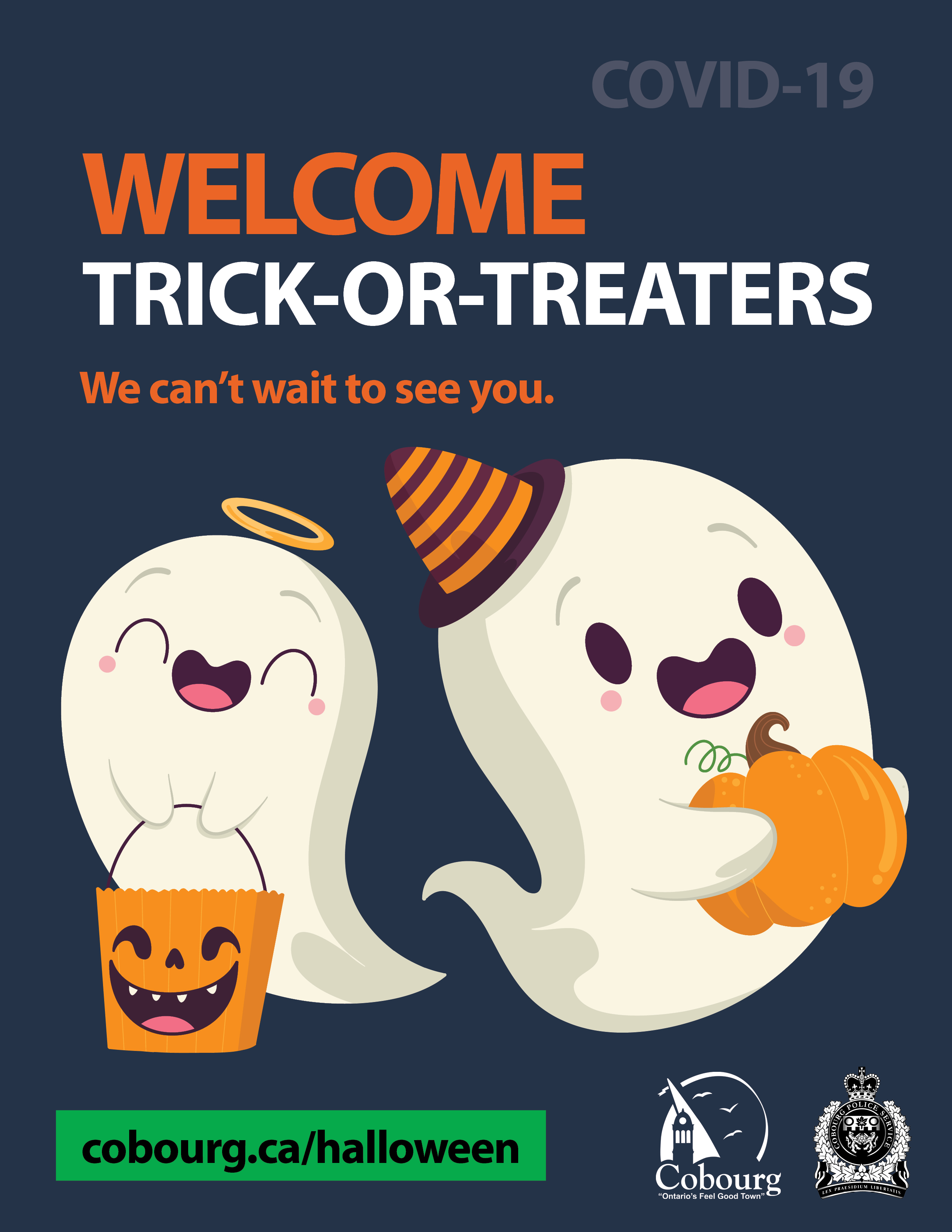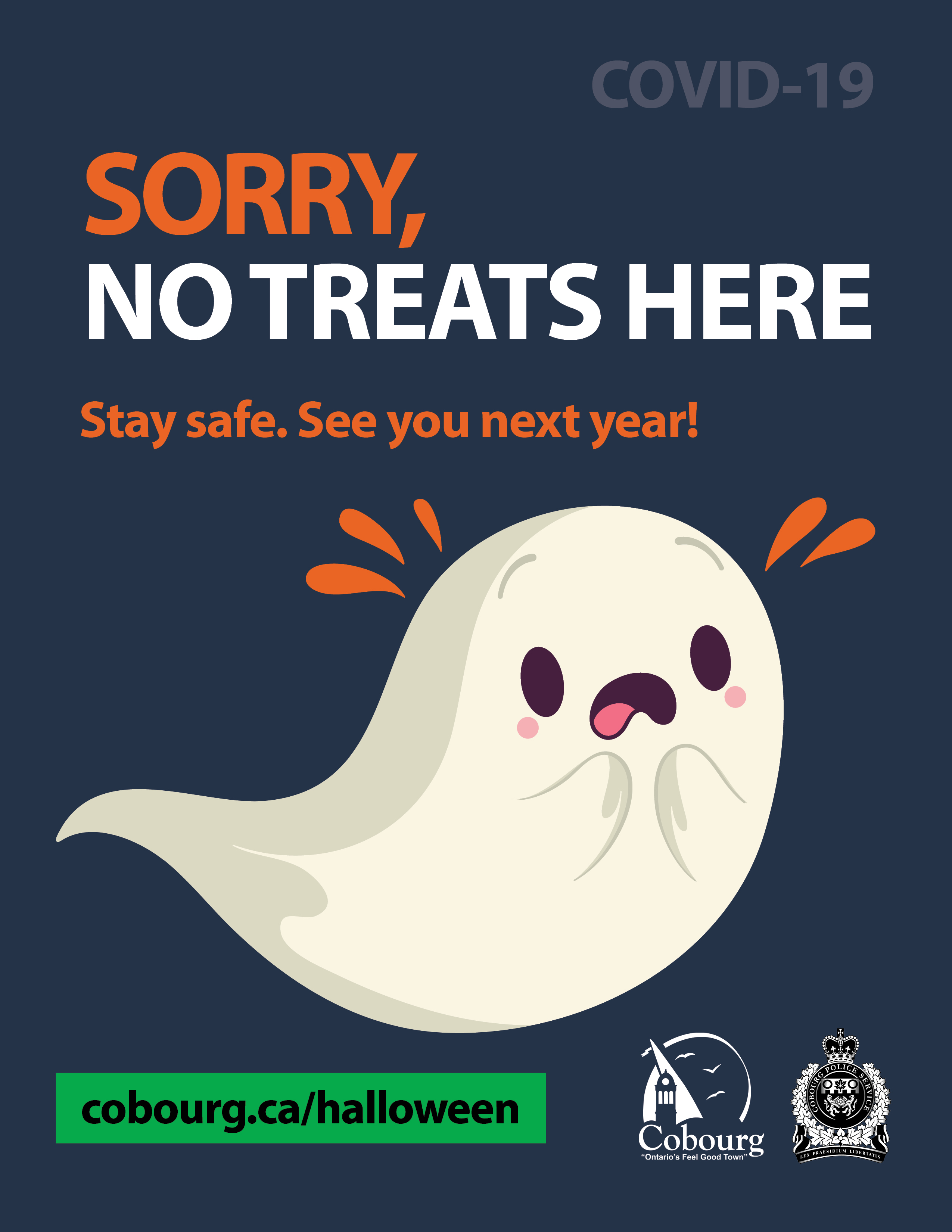 "Welcome Trick-or-Treaters" (PDF, 155 KB)
"Sorry, No Treats Here" (PDF, 96 KB)
---
Additional Resources
Get your COVID-19 and Flu Vaccinations
Protect yourself and your loved ones by getting the free flu vaccine!
Flu vaccine is free in Ontario and strongly recommended every year for anyone six months of age and older. Flu vaccine is safe and effective in protecting you from getting sick with the flu. The flu vaccine strengthens your immune system to build up antibodies against the virus. Even if you do get the flu, the vaccine helps ensure you have milder symptoms of the virus. The best way to prevent the flu is to be immunized every year.
During COVID-19, it's extra important to get the flu vaccine. Getting the flu vaccine reduces your risk of influenza. The flu vaccine will not protect against COVID-19 because the viruses are very different and distinct.
But in getting the flu vaccine this winter, you will be better protected against the flu. This means there is less likelihood you will have to go to the doctor or hospital for influenza treatment. Getting your flu vaccine helps ensure needed health care resources can be deployed to respond to COVID-19.
You can receive your flu vaccine through:
Your family doctor or health care provider
HKPR Health Unit - 1-866-888-4577 x 1507
A+ Compounding Pharmacy, 541 William St., Cobourg, (905) 373-1900
Cobourg DrugMart, 9 Elgin St., Cobourg, (905) 377-8600
Shoppers Drug Mart #1016, 270 Spring St., Cobourg, (905) 372-3333
York Super Pharmacy, 500 Division St., Cobourg, (905) 372-7171
Pharmasave, 995 Elgin St. W., Cobourg, (905) 372-5466
The Medicine Shoppe, 1060 Burnham St., Cobourg, (905) 377-0128
Pharmacy 101, 464 Division St., Cobourg, (905) 372-8808
Wal-mart Pharmacy, 73 Strathy Rd., Cobourg, (905) 377-0927
Cobourg Care Pharmacy, 609 William St, Cobourg, 289-252-2335
Learn more on the Haliburton, Kawartha, Pine Ridge District Health Unit website.
Wearing a Non-Medical Mask or Face Covering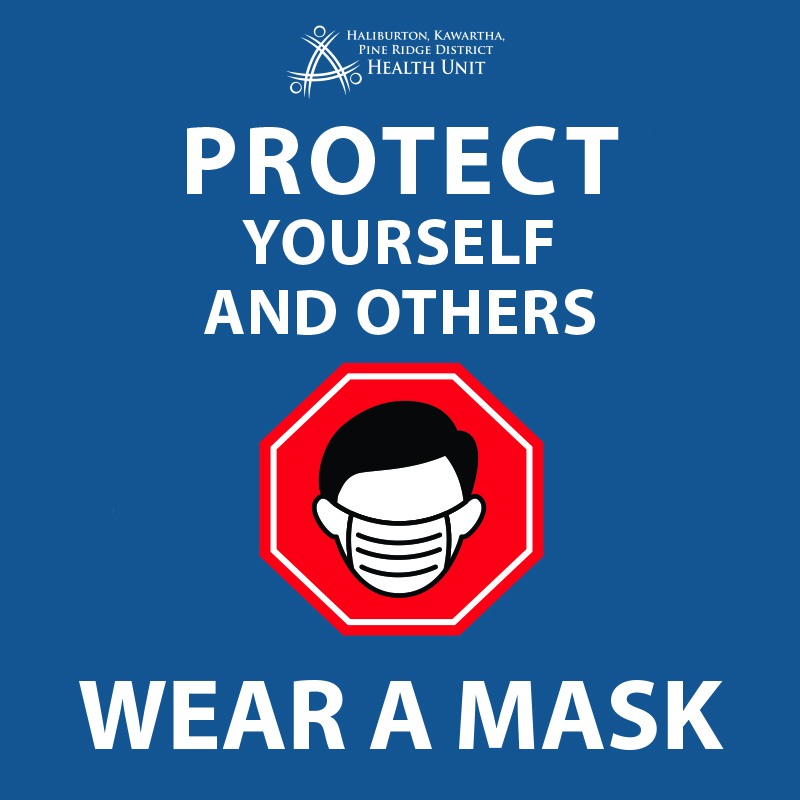 When worn properly, a person wearing a non-medical mask or face covering can reduce the spread of their own potential infectious respiratory droplets.
Non-medical face masks or face coverings should:
allow for easy breathing
fit securely to the head with ties or ear loops
maintain their shape after washing and drying
be changed as soon as possible if damp or dirty
be comfortable and not require frequent adjustment
be made of at least 2 layers of tightly woven material fabric (such as cotton or linen)
be large enough to completely and comfortably cover the nose and mouth without gaping
Wearing a mask alone will not prevent the spread of COVID-19. You must consistently and strictly adhere to good hygiene and public health measures. To protect others, you should also:
stay at home if you feel ill or have any symptoms of COVID-19
maintain a 2-metre physical distance from others
avoid touching your face, mouth, nose or eyes
How to properly wear a non-medical mask or face covering.
Wash your hands immediately before putting it on and immediately after taking it off (use good hand hygiene while wearing it too)
Masks should fit snugly, but comfortably against your face (non-gaping) allowing you to breathe without restriction. Masks should be secured with ties or ear loops and have multiple fabric layers
Do not share cloth masks with others.
Remember not to touch or rub your eyes while wearing it.
Avoid moving, adjusting or touching your mask while using it, as it could become contaminated on the outside.
Change face coverings if they get slightly wet or dirty.
Wash the cloth mask after each use as it can get damp or dirty.
Put it directly into the washing machine or a bag that can be emptied into the washing machine and then disposed of.
Cloth masks can be laundered with other items using a hot cycle, and then dried thoroughly.
Wash your hands with soap and water after putting the mask into the laundry.
Homemade masks that cannot be washed should be thrown out in a properly lined garbage bin as soon as they get damp, dirty or crumpled. Do not throw used masks on the ground or in a shopping cart. Immediately after wash your hands with soap and water.
Watch this How to Use a Cloth Mask Video for additional tips.
Why are masks mandatory now?
As more businesses and public spaces open and people increase their contacts, the risk of a rapid rise in infections and outbreaks is ever-present.
Although the number of cases of COVID-19 in the HKPR area are declining, the risk of ongoing spread remains as the reopening process continues.
Increasing scientific evidence supports wearing a mask when in enclosed public spaces as an important measure in reducing COVID-19 transmission, while the risk of rising rates of infection continues. Together with physical distancing, hand and cough hygiene, and staying home when ill, the use of a non-medical mask or face covering in a commercial establishment is an additional public health measure that may help prevent the spread of COVID-19 in our communities.
Under what circumstances can I remove my mask while indoors?
Members of the public are permitted to temporarily remove a mask for the following reasons:
Receiving services (including eating or drinking when dine-in services are allowed), or
While actively engaging in an athletic or fitness activity including water-based activities.
Ensure you wash your hands using soap and water or an alcohol-based hand sanitizer before and after removing your mask or face covering.
Can a person be refused service or entry for not wearing a mask or face-covering?
The implementation of the policy should be enforced in "good faith" and any person not wearing a mask will receive a verbal reminder from the staff of the establishment.
Every Operator of an Enclosed Public Space will have a policy to ensure that no member of the public is permitted to enter or remain in the public areas of the enclosed public space unless they are wearing a mask in a manner that covers their nose, mouth and chin.
People in an Enclosed Public Space who remove their mask for extended periods of time, will receive a verbal reminder of the requirement to wear a mask under these instructions.
Is anyone exempt from wearing a mask?
The following people are exempt from the requirements of wearing a mask while inside a commercial establishment. Please note: a person refers to any customer, patron, employee, or visitor who enters the premises.
The Person is a child under the age of two years; or a child under the age of 5 years either chronologically or developmentally and he or she refuses to wear a face covering and cannot be persuaded to do so by their caregiver;
The Person is unable to remove their mask without assistance;
For any other medical reason, the Person cannot safely wear a non-medical mask or face covering such as, but not limited to, respiratory disease, cognitive difficulties or difficulties in hearing or processing information.
For any religious reason, the Person cannot wear a non-medical mask or face covering or cannot cover the face in a manner that would properly control the source
Symptoms and Treatment
Symptoms range from mild – like the flu and other common respiratory infections – to severe. The most common symptoms include: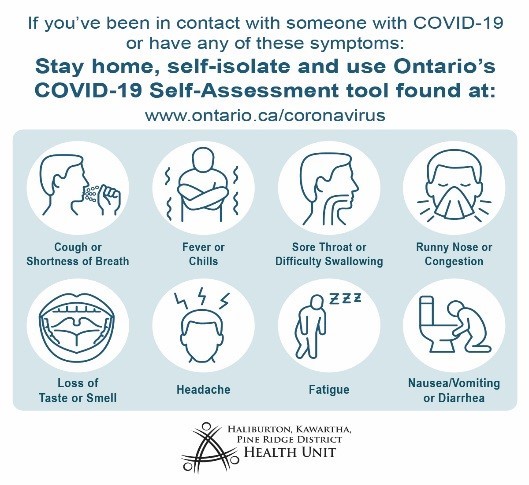 Fever or chills
Difficulty breathing or shortness of breath
Cough
Sore throat or trouble swallowing
Runny nose / stuffy nose or nasal congestion
Decrease or loss of taste or smell
Nausea, vomiting, diarrhea, abdominal pain
Not feeling well, extreme tiredness or sore muscles
There are no specific treatments for the coronavirus, and there is no vaccine that protects against coronavirus. Most people will recover on their own.
You should:
drink plenty of fluids
get rest and sleep as much as possible
try a humidifier or a hot shower to help with a sore throat or cough
To reduce the spread of viruses, including the flu and COVID-19 we recommend that you: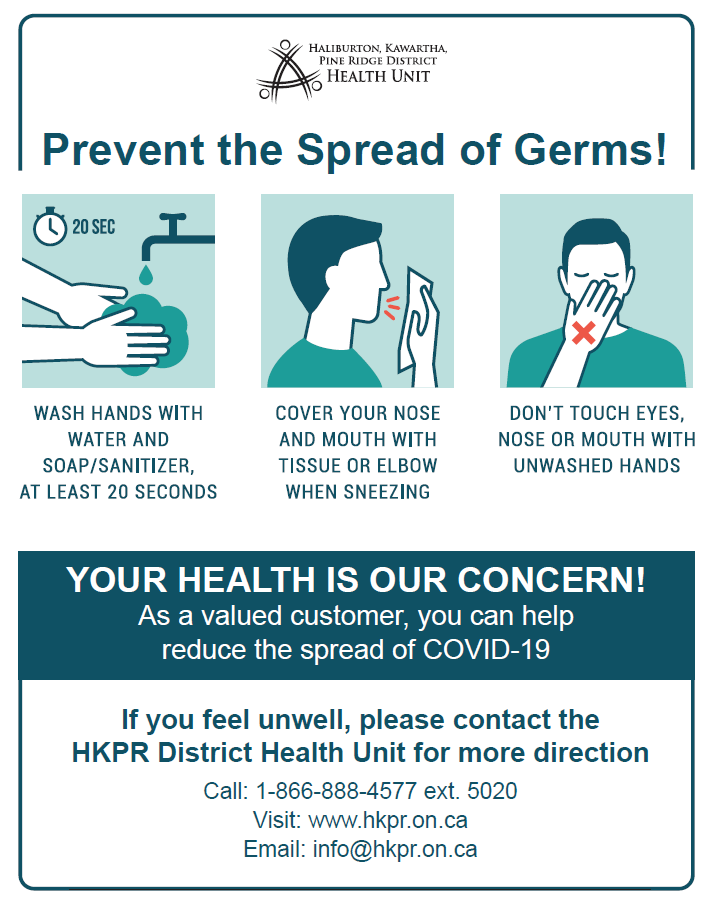 Avoid touching your eyes, nose, and mouth unless you have just washed your hands.
Cover your coughs and sneezes with a tissue or your arm, not your hand.
Stay home if you are sick.
If you are ill and must visit a hospital emergency department, clinic or other health care provider, call ahead or tell them when you arrive that you have a respiratory illness and wear a mask while waiting to be seen. This allows health care workers to reduce the potential spread of illness.
Wash your hands regularly.
Avoid visiting people in hospitals or long-term care homes if you are sick.
Avoid gatherings of over 10 people. (Note: Many of these are currently banned.)
Develop a social circle.
Practise social distancing by avoiding close contact with others. Keep a minimum distance of 2 metres (6 feet) from other people outside of your social circle.
Returning from Travel
If you are returning to Canada, you should:
Self-isolate for 14 days. If you are self-isolating, you should not go to work.
Monitor yourself for symptoms of the novel coronavirus for 14 days after returning to Canada.
Contact Telehealth Ontario at 1-866-797-0000 or the HKPR Health Unit if you experience symptoms.
In addition:
Workers who have travelled and are part of workplaces that are essential to daily living are able to return to work as long as they do not have symptoms. However, they should self-monitor for a period of 14 days and identify themselves to their employer so that a plan can be put into place to ensure the protection of those workplaces.
Children under the age of 16 years who have travelled outside of Canada should also self-isolate for a period of 14 days. Parents should actively monitor their children's symptoms. Children who are self-isolating should stay at home and avoid social gathering points such as community centres or parks.
Learn about travel advisories related to the 2019 novel coronavirus.
How to Self-Isolate
Self-isolating means staying at home and avoiding contact with other people to help prevent the spread of disease to others in your home and your community.
All persons over 70 years of age and individuals who are immunocompromised are advised to self-isolate for a period of 14 days. This means that you should only leave your home or see other people for essential reasons. Where possible, you should seek services over the phone or internet or ask for help from friends, family or neighbours with essential errands.
When self-isolating you should:
Stay home
do not use public transportation, taxis or rideshares
do not go to work, school or other public places
your health care provider or public health unit will tell you when it is safe to leave
Limit the number of visitors in your home
only have visitors who you must see and keep the visits short
keep away from seniors and people with chronic medical conditions (e.g. diabetes, lung problems, immune deficiency)
Avoid contact with others
stay in a separate room away from other people in your home as much as possible and use a separate bathroom if you have one
make sure that shared rooms have good airflow (e.g. open windows)
Keep distance
if you are in a room with other people, keep a distance of at least two metres and wear a mask that covers your nose and mouth
if you cannot wear a mask, people should wear a mask when they are in the same room as you
Cover your coughs and sneezes
cover your mouth and nose with a tissue when you cough or sneeze
cough or sneeze into your upper sleeve or elbow, not your hand
throw used tissues in a lined waste basket, and wash your hands. Lining the wastebasket with a plastic bag makes waste disposal easier and safer.
after emptying the wastebasket wash your hands
Wash your hands
wash your hands often with soap and water
dry your hands with a paper towel, or with your own cloth towel that no one else shares
use an alcohol-based hand sanitizer if soap and water are not available
Wear a mask over your nose and mouth
wear a mask if you must leave your house to see a health care provider
wear a mask when you are within two metres of other people
Connect with Healthcare Professionals
Telehealth Ontario
A free, confidential service you can call to get health advice or information. A Registered Nurse will take your call 24 hours a day, seven days a week. Telehealth Ontario is only offered over the phone. Email advice is not available.
Call Toll-free: 1-866-797-0000 | Toll-free TTY: 1-866-797-0007

Haliburton Kawartha Pine Ridge District Health Unit
Citizens are encouraged to visit the HKPR District Health Unit's website www.hkpr.on.ca for the most up-to-date information COVID-19. In addition to the daily updates to the website, Dr. Lynn Noseworthy, Medical Officer of Health for the HKPR District Health Unit., will continue to provide updates on COVID-19 through their website.
Call 1-866-888-4577, ext. 5020 or visit www.hkpr.on.ca

Ontario Ministry of Health
Call 416-235-6556 or 1-877-604-4567

Health Canada
Call 1-833-784-7397
Additional Resources