The Rotary Harbourfront Outdoor Rink
As of 12:01 am on January 5, 2022, the HKPR District Health Unit region, which includes Northumberland County, Haliburton County and the City of Kawartha Lakes, moved into the Modified Step Two of Ontario's Roadmap to Reopen. This means temporary measures are in place to protect against the spread of COVID-19.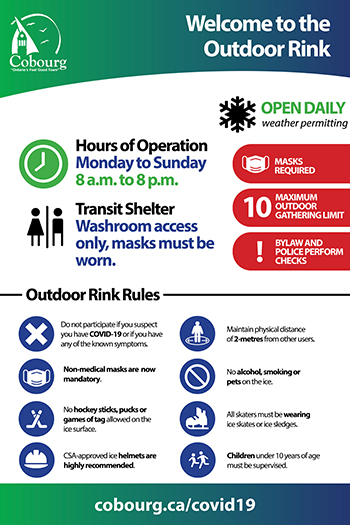 Helpful Reminders for the Outdoor Rink:

Update: Port-a-Potties only are available for washroom use. (Effective: Jan. 7th, 4 p.m.)
Non-medical masks are now mandatory.
Abide by all safety protocols including physical distancing.
No organized team sports (hockey) or games of tag are allowed.
Do not attend the Outdoor Rink if you are not feeling well, or have any symptoms of COVID-19.
There is a maximum outdoor gathering limit of 10 people; this applies to those who are not on the ice.
Police and Bylaw Officers will be monitoring. Those who fail to follow the rules of the Outdoor Rink will be asked to leave immediately.
No alcohol, smoking or pets on the ice.
All skaters must be wearing ice skates or sledges.
CSA-approved ice helmets are recommended.
Children under the age of 10 must be supervised.
Operating Hours
The Rotary Harbourfront Outdoor Skating Rink located at 35 Albert Street will be in operation from Monday to Sunday: 8 a.m. - 8 p.m., weather permitting.
Frequently Asked Questions
Where Can I Put My Skates On?
There are benches located around the Outdoor Rink for ease of changing into skating equipment.
When Does the Rink Close?
The Outdoor Rink is operational daily, 8 a.m. to 8 p.m., weather permitting. Temporary closures of the outdoor rink will be posted on the Town of Cobourg's Municipal website at www.cobourg.ca and on the Town's Facebook and Twitter social media pages. Please follow all signage on site.
What's New with Ontario's Modified Step Two?
The Rotary Harbourfront Outdoor Skating Rink is an amenity that will remain open to the community during Ontario's Modified Step Two. All those utilizing the rink must wear a mask and keep physically distanced whenever possible. For those gathering around the rink itself please abide by the reduced social gathering limits of 10 people outdoors
Where Can I Park?
There are municipal parking lots located adjacent and across from the Rotary Harbourfront Outdoor Rink.
News and Updates