Welcome to the Rotary Harbourfront Outdoor Rink Registration Page
As of 12:01 am on February 16, 2021 the HKPR District Health Unit region, which includes Northumberland County, Haliburton County and the City of Kawartha Lakes, will move into the Orange-Restrict category. This means intermediate measures are in place to protect against the spread of COVID-19. Read the recently updated Provincial COVID-19 Response Framework for further information and details. *To that extent we are ONLY accepting registrations from Northumberland County residents to further reduce the risk of transmitting COVID-19 within our community.*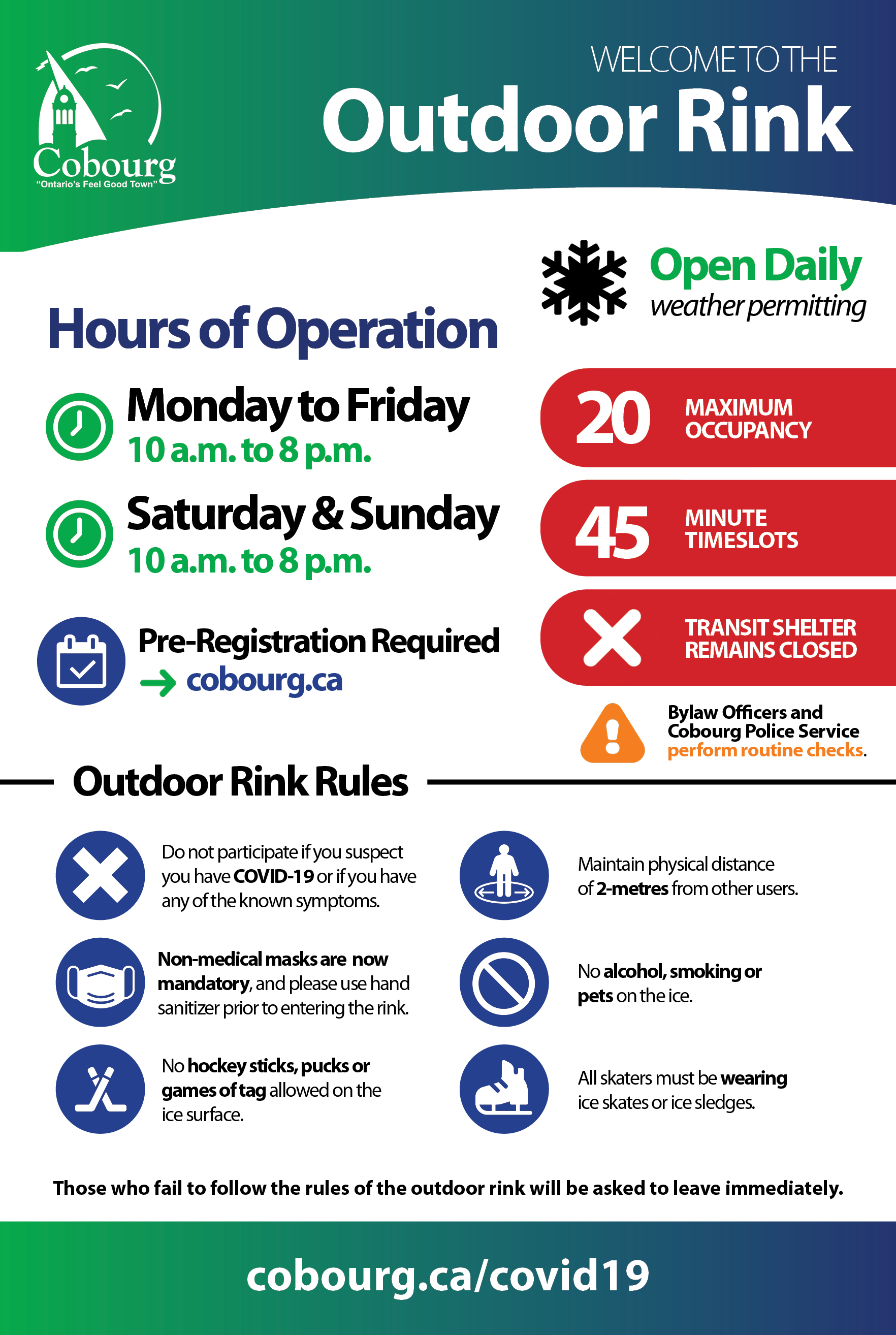 Helpful Reminders for the Rink:

Non-medical masks are now mandatory.
Northumberland County residents only*
20 maximum occupancy
Bookings consist of a 45-minute time slot
Register each member of your household, you will receive a confirmation email
Abide by all safety protocols including physical distancing.
No organized team sports (hockey) or games of tag are allowed
The Albert Street Transit Shelter remains closed
If you are not feeling well, stay home
Operating Hours
The Rotary Harbourfront Outdoor Skating Rink will be in operation from Monday to Sunday: 10 a.m.-8 p.m.
How to Book a Time Slot
We recommend logging into the online registration portal through a laptop or computer vs. a phone and right away Monday at 9 a.m. for bookings for the following week. Please also remember to complete ALL fields (name, address and phone number) to ensure your booking is accepted.

The Cobourg Police Service will have a Special Constable placed full-time at the rink to ensure we all abide by safety protocols and to check registered skaters in. Please check in with the Special Constable once you arrive.
Remember that the rink is subject to the weather and may be closed temporarily if the conditions become unsafe.
Register HereFor bookings during the week of March 1, 2021.
Register HereFor bookings during the weekend of March 6-7, 2021.
Rink Maintenance May Interfere with Booking Times: We apologize in advance however from time to time maintenance is required on the outdoor rink and you may have your booking time reduced. We will try to minimize these times however as an outdoor rink we need to ensure the safety of all users.
Public Notice: Rotary Harbourfront Outdoor Skating Rink Closing March 8th for the Season
(Issued March 4, 2021 at 9:55 a.m. EST) – The Town of Cobourg would like to inform residents that the Rotary Harbourfront Outdoor Skating Rink will close for the season as of Monday, March 8, 2021 due to the impending warmer temperatures.
The Town of Cobourg would like to ask that residents please stay off the ice surface once the rink officially closes. The final day for ice skating will be Sunday, March 7, 2021 between 10 a.m. and 8 p.m., weather permitting. All skaters must register online at www.cobourg.ca/outdoor-rink.
The Town of Cobourg would like to thank all residents who enjoyed the outdoor skating rink this year while abiding by all COVID-19 safety protocols.
Free Public Skating at the Cobourg Community Centre
Residents are also encouraged to take advantage of the free public skating being offered at the Cobourg Community Centre's Pond Arena. For more information and to register for a 25-minute timeslot please visit cobourg.ca/public-skating or call 905-372-7371.
Frequently Asked Questions
Do I have to register each skater separately?
Yes, every family member must be registered individually within our booking system to ensure proper skating counts (10/ice time) and to satisfy contact tracing requirements.
How do I cancel my booking?
Call the Community Centre at 905-372-7371 and leave a detailed message with your full name and phone number. You can also email Krista Williams at kwilliams@cobourg.ca.
How can I find out if the rink will be open/operational?
The rink may be closed due to certain weather conditions. All cancellation notifications will be posted on this page and the Town of Cobourg's social media accounts: Facebook and Twitter.
When can I book for the following week?
All bookings for the upcoming week will be posted on the Monday prior by 9 a.m.
Where do I check in once I arrive?
Please go to the Albert Street Transit Shelter and check in with the Special Constables or Town staff.
More Information