Welcome to the Town of Cobourg's Victoria Park Beach Page
During the July 26, 2021 Regular Council Meeting it was decided to immediately open Victoria Park Beach from Monday to Sunday. The beach will now be open during the weekend as well. Please read this page carefully to ensure a complete understanding of the rules to follow, hours of operation and safety protocol during the current COVID-19 pandemic.

Operating Hours
OPEN DAILY: Monday to Sunday | HOURS: 7 a.m. - 11 p.m.
Reservations are not required.
Rules and COVID-19 Safety Protocols
Please help us keep our beach safe and open during the pandemic by abiding by all rules and safety protocols.
Do not enter if you suspect you have COVID-19 or if you have any of the known symptoms.
Maintain physical distance of 2-metres from other beach users and Town staff.
There are no lifeguards on duty. Swim at your own risk.
No organized team sports (volleyball) are allowed.
Abide by current provincial outdoor gathering limits.
Smoking, alcohol, littering, BBQs, dogs and tents are prohibited on the beach. View the Parks Use Bylaw.
*The Victoria Park Beach may close at any time if rules and safety protocols are not being followed. We want you to enjoy our beautiful beach, so please, help us by respecting the rules and staying safe!*
Parking
Victoria Park Beach parking is enforced between Victoria Day weekend until Thanksgiving weekend between 8 a.m. and 6 p.m., including weekends and holidays.

Parking Fees
Parking rates at the beach for pay and display and metered areas is $2/hour.

How to Pay
1) Pay and Display Machines: Accept major credit cards such as VISA and MasterCard.
2) Honk Mobile App: With the Honk Mobile App, you can search, pay for and top up parking from a phone, tablet or computer.
How it works:

Download the HonkMobile app. Find it at honkmobile.com, Google Play or the App Store
Set up your account. Add as many vehicles and payment sources as you like to your profile.
Use HonkMobile to pay for your parking in all Cobourg on-street locations and Pay & Display lot.

Parking Map
To view parking areas for metered and pay and display parking lots, please see the parking map.


Tips for avoiding parking tickets:
Watch for signs
Read parking meters and pay and display machines
Do not park in accessible spaces unless you have a valid permit
Do not park on or over sidewalks
Check the Parking By-law to make sure of winter parking regulations
Call the Engineering Department at (905) 372-4555 or rchampagne@cobourg.ca if you are not sure of restrictions in an area.
Washrooms
The washrooms located within Victoria Park are now closed for the season.
Splash Pad
The Splashpad is now closed for the season.
Other Facilities and Amenities
Our beach offers many facilities and services for residents and visitors alike, including:
Picnic areas and tables (open)
Canteen (closed)
Washrooms (closed)
Two playgrounds (open)
Splash pad (closed)
Foot bath area
Fenced basketball court (open)
Bylaws and Reminders - What You Can and CANNOT Do
The Parks Use Bylaw 022-2016 is a bylaw that regulates, manages, protects, controls and governs the use and maintenance of all public parks, public open spaces, including the beach, harbour, trails and other public facilities within the Town of Cobourg.

As a reminder, the Parks Use Bylaw does not permit individuals on the Victoria Park Beach to:
Consume alcohol
Bring dogs on the beach
Utilize the beach between the hours of 11 p.m. until 7 a.m.
Light bonfires
Use a BBQ or cooking device
Operate loud speakers or sound amplifying equipment
Install or erect a permanent enclosed tent or structure
For more information please read the complete Parks Use Bylaw 022-2016 or contact the Legislative Services Department at 905-372-4301 or by emailing bylawenforcement@cobourg.ca.

The Town of Cobourg's Bylaw Enforcement Officers have the authority to enforce all Town bylaws. The Town and Cobourg Police Service respectfully request cooperation from all those persons enjoying the Victoria Park Beach during the remaining summer season.

Reporting Non-Compliance at the Victoria Park Beach
Residents and visitors are urged to continue reporting compliance and enforcement issues by calling the Town of Cobourg at 905-372-4301, the Cobourg Police Service at 905-372-6821 or by emailing bylawenforcement@cobourg.ca.
Beach Courtesy Reminders:
Keep the accessibility mat clear for those who use mobility devices such as a wheelchair or walker, or those who have strollers and/or require stable ground to access the beach. The accessibility mat can be accessed from the midpoint of the Victoria Beach boardwalk at the gazebo (center of the beach) and runs south to the water's edge.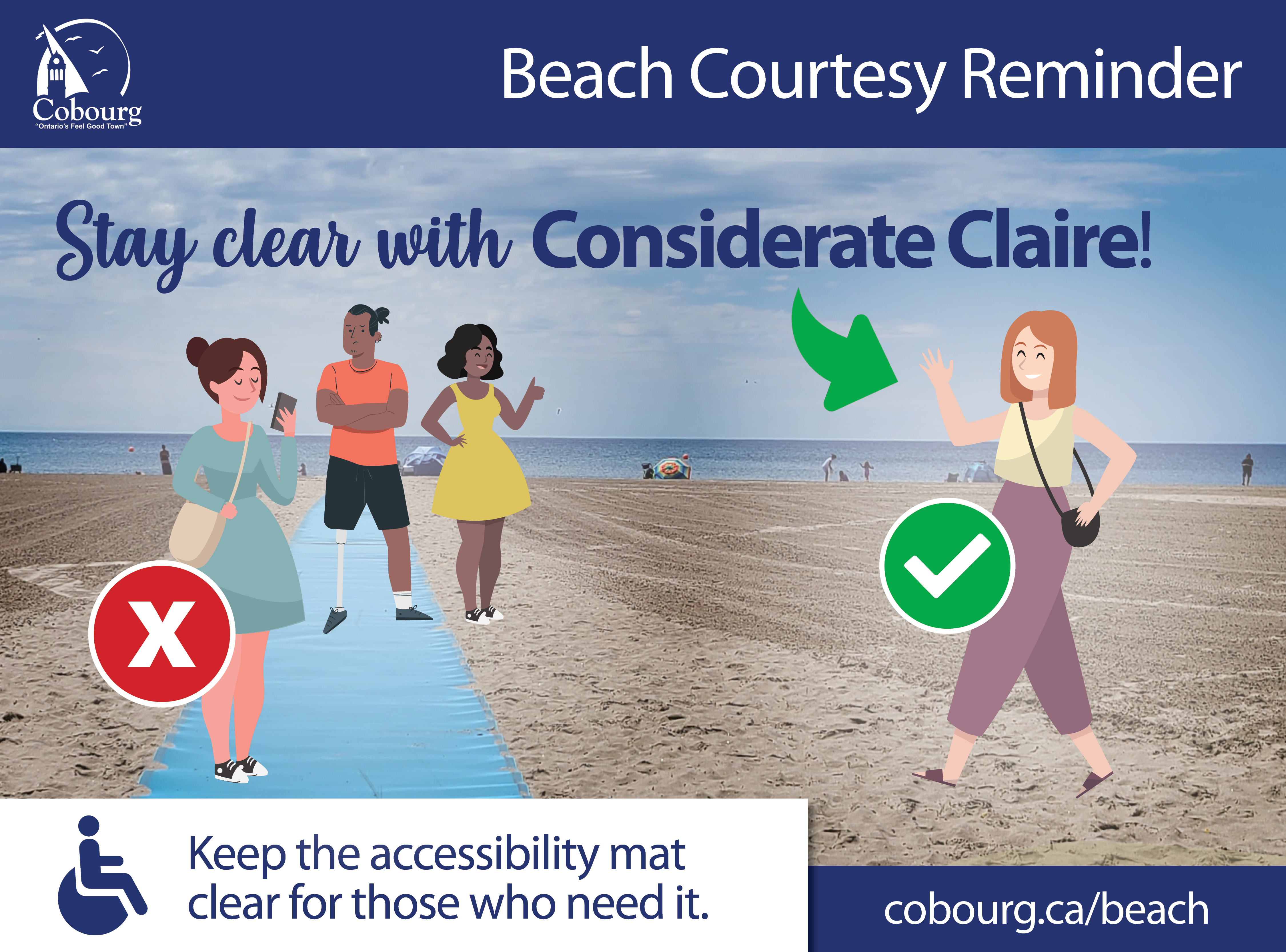 How will people be notified of a beach closure?
The Town of Cobourg notifies the public immediately using the following methods:
Check the helpful channels of information above before planning a trip to the beach or call us at 905-372-4301.
West Beach
Cobourg's West Beach is located just west of Victoria Park. This beach has a mix of pebbles and sand, a naturalized grass area and a boardwalk that runs from Hibernia Street to Ontario Street. We have an Ecology Garden to the north, which is a naturalized garden maintained by our local residents.
Water Quality Testing
The Haliburton, Kawartha, Pine Ridge District Health Unit annually monitors the recreational water quality at public beaches each year for levels of E. coli bacteria and Blue-Green Algae (cyanobacteria) from the beginning of June until the end of August. If a beach is deemed unsafe to swim, it's due to high counts of bacteria in the water. View the current beach water quality testing results.