The Town of Cobourg will be in a Provincewide Shutdown and 'Stay-at-Home' Order effective
Thursday, January 14, 2021 at 12:01 a.m.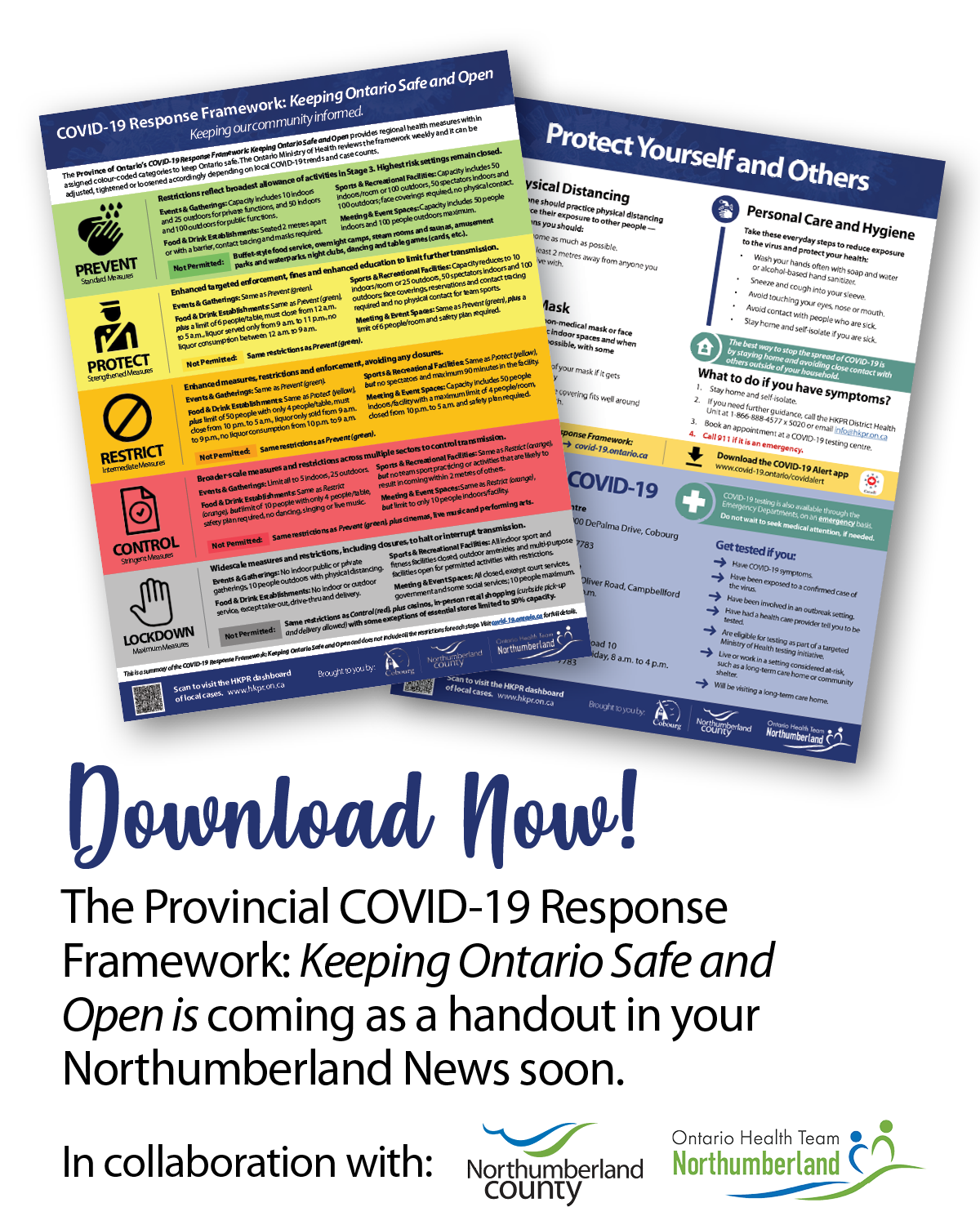 Effective Thursday, January 14, 2021at 12:01 a.m., the Government of Ontario is issuing a stay-at-home order requiring everyone to remain at home with exceptions for permitted purposes or activities, such as going to the grocery store or pharmacy, accessing health care services, for exercise or for work where the work cannot be done remotely. This order and other new and existing public health restrictions are aimed at limiting people's mobility and reducing the number of daily contacts with those outside an immediate household. In addition to limiting outings for these purposes, all businesses must ensure that any employee who can work from home, does work from home.
The enhanced public health and workplace safety measures are in effect for all of Ontario and are anticipated to be in place until at least Thursday, February 11, 2021. Read the Province of Ontario's press release.
Under the new 'Stay-at-Home' Order measures include, but are not limited to:
Outdoor organized public gatherings and social gatherings are further restricted to a limit of five people with limited exceptions. This is consistent with the rules during the lockdown during the first wave of COVID-19 in spring 2020 and will allow individuals and families to enjoy time outdoors safely.
Individuals are required to wear a mask or face covering in the indoor areas of businesses or organizations that are open. Wearing a mask or face covering is now recommended outdoors when you can't physically distance more than two metres.
All non-essential retail stores, including hardware stores, alcohol retailers, and those offering curbside pickup or delivery, must open no earlier than 7 a.m. and close no later than 8 p.m. The restricted hours of operation do not apply to stores that primarily sell food, pharmacies, gas stations, convenience stores, and restaurants for takeout or delivery.
Non-essential construction is further restricted, including below-grade construction, exempting survey.
Learn more about new restrictions in place for individuals, businesses and services under the 'Stay-at-Home' Order here.
Stay-at-Home Order (Amending O. Reg. 82/20)
Read the recently updated Provincewide Shutdown document for further information and details.
About the COVID-19 Response Framework: Keeping Ontario Safe and Open
The COVID-19 Response Framework: Keeping Ontario Safe and Open was implemented in order to take preventative measures to help avoid broader closures and allow for additional public health and workplace safety measures to be introduced or removed incrementally. Within the framework there are five public health categories that public health unit regions can fall into. Each public health category outlines the types of public health and workplace safety measures for businesses and organizations for each category. These include targeted measures for specific sectors, institutions and other settings.
The five levels of public health measures are:
Within the LOCKDOWN grey category the primary objective focuses on implementing widescale measures and restrictions, including closures, to halt or interrupt transmission. Learn about the public health measures for protect (grey).
Our Current 'Provincewide Shutdown — Stay-at-Home Order' - What it Means for Us
The Provincewide Shutdown and 'Stay-at-Home' Order is currently in place for a limited time in order to stop the trend of high COVID-19 transmission in communities, preserve health system capacity, safeguard vulnerable populations and those who care for them, and save lives. Further details on the recently released 'Stay-at-Home' Order can be found here.



Effective Thursday, January 14, 2021 at 12:01 a.m. EST the following changes will be made in adherence to the 'Stay-at-Home' Order:
Town of Cobourg 'Stay-at-Home' Order Sector Changes

Category

Program/Activity

Framework Direction

Organized public events, social gatherings and wedding, funeral and religious services, rites and ceremonies

Public Events and Social Gatherings

No indoor organized public events and social gatherings, except with members of the same household.

Outdoor gatherings limited to 5 people.

Weddings and Funerals

Limited to 10 people indoors and 10 people outdoors where physical distancing can be maintained and face coverings required.

Religious Services, Rites and Ceremonies

Virtual and drive-in events and religious services, rites or ceremonies permitted.

Restaurants

Restaurants, bars and food and drink establishments.

No indoor and outdoor service.

Take out, drive through and delivery permitted, including alcohol.

Sports and Recreational Facilities

Cobourg Community Centre

Rotary Harbourfront Outdoor Rink

Closed. Learn more here.

Will remain open until further notice. Restrictions in place.

Meeting and Event Spaces

Closed.

Retail

Supermarkets, grocery stores, convenience stores and pharmacies

Big box stores and other retailers that also sell food

Other retailers

Open for in-store shopping at 50% capacity and restrictions in place.

Open for in-store shopping at 25% and restrictions in place.

Curbside pick-up or delivery and only allowed to open between 7 a.m. to 8 p.m.

Northumberland Mall

Open for pick-up or delivery only.

Access to businesses permitted to open is allowed.

Personal Care Services

Spas, hair salons, barber shops, nail salons and tattoo parlours.

Closed

Casinos, bingo halls and gaming establishments

Hometown Bingo, Cobourg

Closed.

Cinemas and Performing Arts Facilities

Rainbow Cinemas, Northumberland Mall

Firehall Theatre

Concert Hall at Victoria Hall

Closed.

Closed.

Closed.

Museums and other cultural amenities

Art Gallery of Northumberland

Closed (indoors) to members of the public

Drive-in or drive through only.

Boarding Kennels and Stables

Open for animal's owner, or their representative, to visit the animal, assist in the care or feeding of the animal or, as applicable, ride the animal.

Cannabis

Curb-side pick-up or delivery only.

Hotels and Motels

Open except for any pools, fitness centres, meeting rooms and other recreational facilities.

Libraries

Cobourg Public Library

The Cobourg Public Library will re-open on Monday, December 28th at 12:00 p.m. to provide the community with contactless pick-up. As always, we have our virtual programming available via social media and our website.

From the 28th onwards and until further notice, the Library hours will be:

Monday - 12 noon to 6 pm
Tuesday - 12 noon to 6 pm
Wednesday to Saturday - 10 am to 2 pm

Open for contactless drop-off and pick-up.
No classes

Animal Services

Veterinary services, farms, boarding kennels, stables and animal shelters.
Pet services, including grooming, sitting, walking and training.

Open by curbside/drop-off only.

Closed.
Visit www.ontario.ca/covidresponse for the full list of restrictions.
Public Health Measure Regulations in each Level
Read the regulations for more details on each level:
News, Updates & Additional Resources
To learn more about the public health levels within the Framework and potential program and service changes for the Town of Cobourg please visit the COVID-19 Response Framework: Keeping Ontario Safe and Open.