Notice of Passing Development Charges By-Law 2022 – 001
Public Notice: Notice of Passing of Municipal Development Charges Bylaw (January 12, 2022)
Brochure: Developments Charges By-Law 2022 - 001
2021 Development Charges Background Study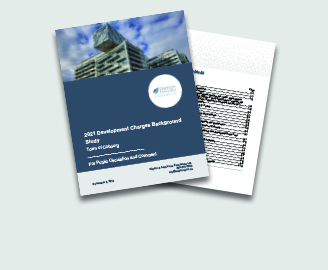 This background study has been prepared pursuant to the requirements of the Development Charges Act 1997 (s.10), and accordingly, recommends new Development Charges (D.C.s) and policies for the Town of Cobourg (Town).

The Town retained Watson & Associates Economists Ltd. (Watson) to undertake the D.C. study process. Watson worked with senior staff of the Town in preparing this D.C. analysis and the policy recommendations.
Report Draft Bylaw Office Consolidation Report
View the Addendums:
An addendum has been made to the Town of Cobourg 2021 Development Charges Background Study. Please refer to the addendum in addition to the report posted on November 5, 2021.