(Updated As Of: March 26, 2020 at 10:51 a.m. EST)
The COVID-19 outbreak continues to evolve in Ontario and globally. It is a dynamic situation and the Ontario government is updating its coronavirus website twice daily. For the most up-to-date and accurate information about coronavirus in Ontario, please use this Government of Ontario site and the Haliburton, Kawartha, Pine Ridge District Health Unit for best available information and required local action.
---
Virtual Press Conference - Community Address
On March 25th, 2020 the Town of Cobourg held their first virtual press conference in an effort to further disseminate messaging from key members of the Emergency Control Group (ECG) with Mayor John Henderson, Fire Chief Mike Vilneff, Police Chief Paul VandeGraaf and Interim CAO Ian Davey.
View the Community Address Videos
The messaging and content of each video is structured in the following way: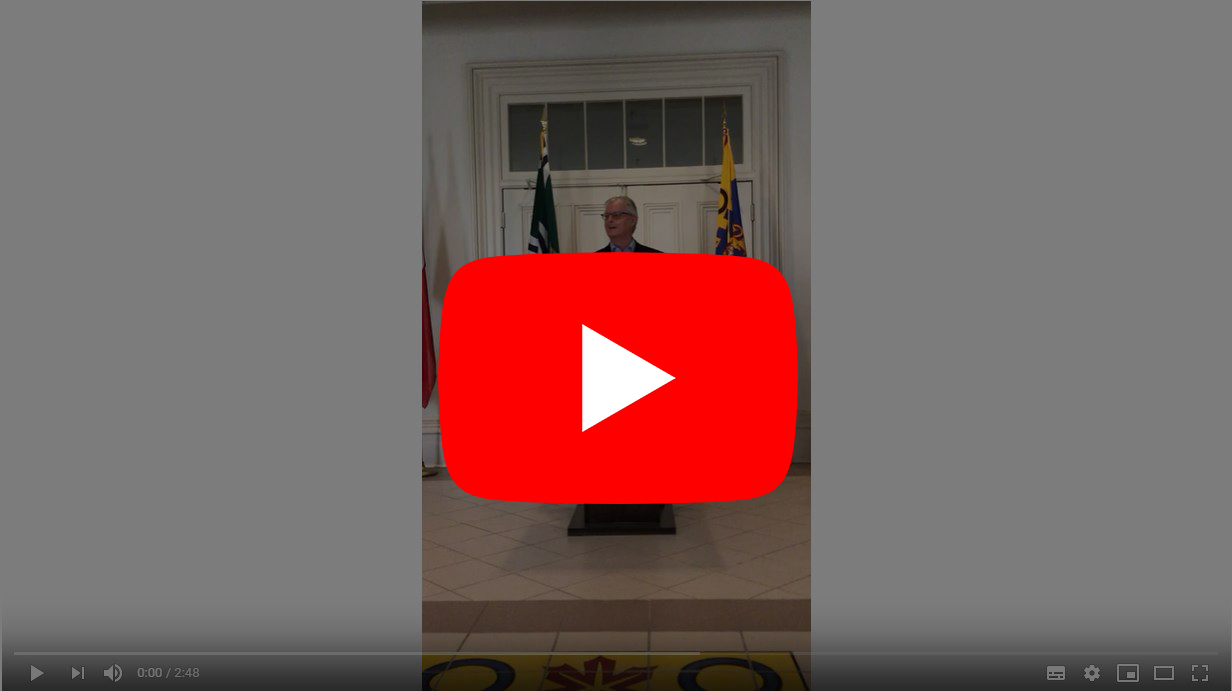 Mayor John Henderson speaks to citizens in respect to community safety and his confidence in the Emergency Control Group that has been activated as a result of the COVID-19 pandemic.
View the video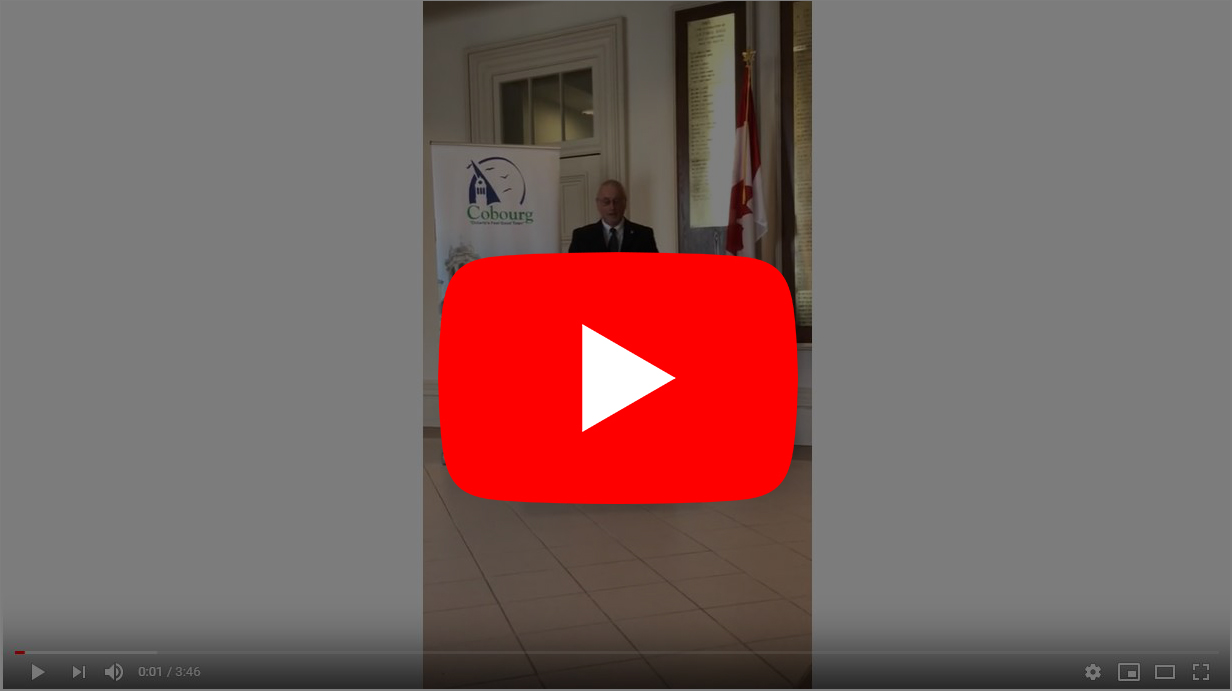 Ian Davey, Chief Administrative Officer and Manager of the Emergency Operations Centre speaks to the community regarding municipal and business continuity and financial relief initiatives.
View the video
Police Chief Paul VandeGraaf speaks to citizens in respect to community safety and enforcement measures.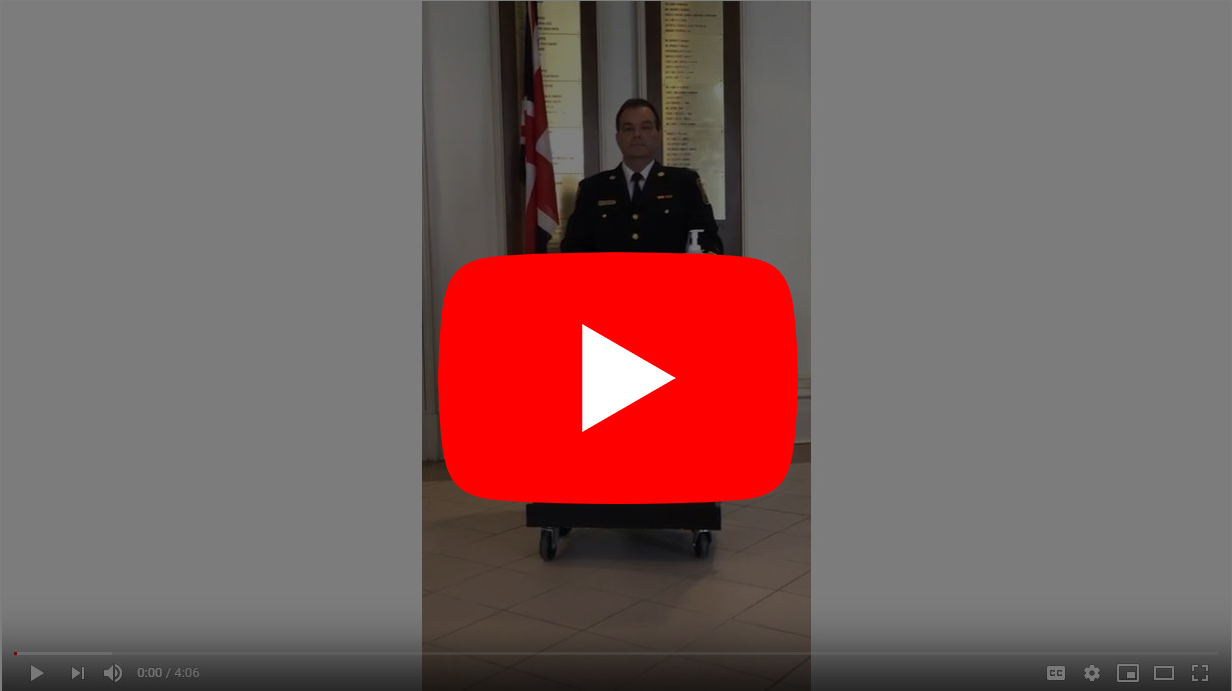 Fire Chief Mike Vilneff and Community Emergency Management Coordinator speaks to citizens regarding the Emergency Control Group and the actions this group is continuously taking to ensure citizen safety. The announcement of the Public Inquiry Line also takes place.
View the video
---
Town of Cobourg
Highlights
The Town of Cobourg would like to inform residents of the numerous precautions its taking to prevent against COVID-19 within the corporation itself and its many highly visited facilities. Please see the latest updates below:

Given the latest developments, we are taking the following further action:
Town Announces COVID-19 Public Information Hotline allowing citizens to call 289-677-0585 for assistance and referall services on financial aid, housing, food and other forms or relief.
Fire Chief Mike Vilneff issues a message to the community.
Encouraging landlords to provide residential and commercial tenants with a temporary grace period on rental payments upon their request.
Deferred tax payments and waived penalities and interest charges for commercial, industrial, multi-residential and residential property taxes.
Free parking in all municipal lots and municipal parking meters until May 1, 2020.
Play Equipment/Play Structures Now Closed. Effective immediately all play equipment and play structures are closed.
Portable public washrooms available in Downtown Cobourg. The portable washrooms, including an accessible unit, are located on the east side of Third Street, easily accessed from both King Street and Albert Street.
State of Emergency Declaration. As of 5:02 p.m. today (March 19, 2020), the Town of Cobourg declared a State of Emergency in accordance with Ontario's Emergency Management and Civil Protection Act. The Town of Cobourg is currently working very hard to protect the health and safety of all community members in the municipality. Declaring a State of Emergency is an important measure in supporting the Province of Ontario and Minister of Health to provide a swift response to the COVID-19 pandemic.
Free Public Transit. Effective March 19, 2020 all Town of Cobourg public transit will be free until May 1, 2020 in an effort to help stop the spread of COVID-19 by reducing interaction with drivers, other transit commuters and the passing of change and tickets.
All events and programs cancelled. As of Friday, March 13, 2020 all Town-events, programs and classes taking place at the Cobourg Community Centre, Concert Hall at Victoria Hall, Fire Hall Theatre, Venture13 Innovation and Entrepreneurship Centre and Victoria Hall will be postponed effective immediately. This includes all classes, recreational programs, facility spaces, March Break camps, gymnasiums, rinks and walking spaces.
Municipal Buildings Closed. All Municipal buildings are now closed to the public.
All Local Advisory Committee Meetings and Quasi-Judicial Boards will be postponed.
Council Meetings Postponed. All Municipal Council meetings until April 6, 2020 will be suspended. All Statutory Public Meetings will still be taking place.
Newsroom
To help distribute news on COVID-19 we utilize a full-sized ad in Northumberland News. Check your newspaper every Thursday for updates. Below are the advertisements related to the COVID-19 pandemic.
Government of Ontario
Highlights
Health Care Capacity Increases with $3.3 Billion being provided.
New toll-free line to support Ontario businesses. Businesses who have questions about closures of at-risk workplaces or how emergency measures impact their business or employment can call 1-888-444-3659.
One-year plan released. Includes increased resources for our healthcare system, support for poeple and action to protect jobs and our economy.
Fixed off-peak rate for electricity. For a 45-day period, the government is working to suspend time-of-use electricity rates, holding electricity prices to the off-peak rate of 10.1 cents-per-kilowatt-hour.
All Non-Essential Workplaces Closed. Beginning Tuesday, March 24, 2020 at 11:59 p.m. View the complete list here.
Learn at Home online for elementary and secondary students. Find supplementary resources for elementary and secondary students to practice math and literacy skills and learn at home.
All DriveTest Centre closed. Applicants will not lost their driver's lisence and cancellation fees will be waived.
All Ontario Parks closed to the public. All provincial parks will be closed to the public from March 19, 2020 until April 30, 2020. This includes car camping, backcountry camping, roofed accommodations, day use opportunities and all public buildings.
Avoid large gatherings of over 50 people. The Chief Medical Officer of Health advises to avoid large gatherings of over 50 people, which includes the closure of all recreational programs and libraries, private school, daycares, churches and other faith settings, all bars and restuarants.
Job-protection legislation for employees. The Ontario government intends to introduce legislation that, if passed, would immediately provide job-protected leave to employees in isolation or quarantine due to COVID-19, or those who need to be away from work to care for children because of school or day care closures.
Ontario schools closed. The Minister of Education has issued a Ministerial Order to close all publicly funded schools in Ontario for two weeks following March break, in response to the emergence in Ontario of COVID-19.
Newsroom
Visit the Government of Ontario newsroom here.
Government of Canada
Highlights
Restrict non-essential travel between the USA and Canadian border.
Ban travel into Canada. This does not apply to air crews, travellers arriving in Canada in transit to a third country, Canadian permanent residents, diplomats, or immediate family members of Canadian citizens.
Introduce Emergency Care Benefit.
Increase the maximum for Canada Child Benefit.
Delay the deadline for filing income taxes until June 1, 2020.
One-week waiting period waived for Employment Insurance.
Parks Canada suspends all services. Parks Canada is temporarily suspending all visitor services in all national parks, national historic sites and national marine conservation areas across the country until further notice.
Newsroom
Local Partners and Community Organizations
Highlights
Transition House temporarily moves to Cobourg Collegiate Institute. A temporary shelter, the first of its kind in Ontario during the COVID-19 pandemic, will be located at Cobourg Collegiate Institute.
Vistors restricted at NHH.
Community Mental Health Services shifts to phone support. The walk-in counselling clinic will be temporarily closed, and instead phone support will be available at 905-377-7784 on Tuesdays from 8 a.m. to 4 p.m. and Thursdays from 10 a.m. to 6 p.m.
COVID Assessment Centre Opens at NHH. The centre will be used exclusively for the purpose of COVID-19 assessments and testing.
Newsroom