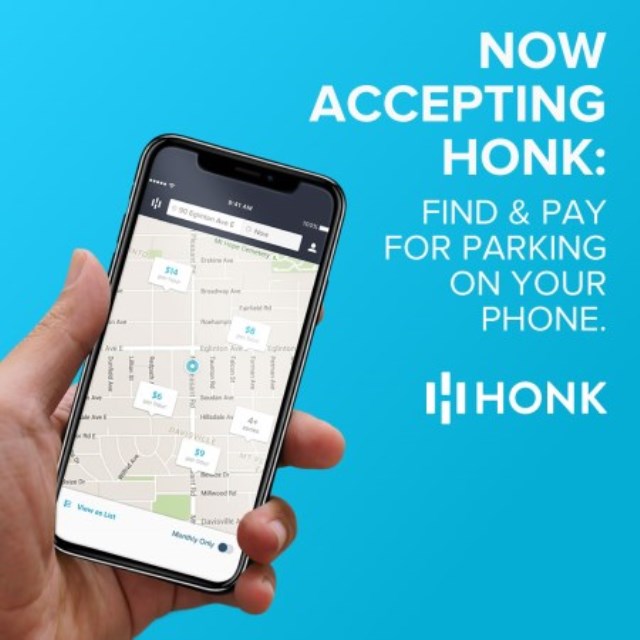 Public Notice: Paid Parking in the downtown core is still free at this time; 2 weeks notice will be provided before parking fees are collected

The Town of Cobourg monitors, regulates and enforces parking on Town streets in order to meet the needs of residents, businesses and visitors.

The Town of Cobourg has partnered with HonkMobile to offer a new way to pay for parking at on-street and pay & display parking lot location.
With the Honk app, residents and visitors can seamlessly search, pay for and top up parking from a phone, tablet or computer.
Coin operated parking meters and Pay and Display machines will remain available. HonkMobile is available in addition to the existing payment options.
How it works:
1. Download the HonkMobile app. Find it at honkmobile.com, Google Play or the App Store
2. Set up your account. Add as many vehicles and payment sources as you like to your profile.
3. Use HonkMobile to pay for your parking in all Cobourg on-street locations and Pay & Display lot
Frequently Asked Questions
How does the Town know I've paid for parking?
Each parking transaction is registered with your licence plate. Parking enforcement officers have a real-time list of compliant plates available on their handheld devices. You do not need to display anything in your vehicle.
Can I use Honk to reserve a parking spot?
No. All parking is first-come-first-serve. While it is possible to purchase your parking through HonkMobile before you arrive at the parking lot, please keep in mind that HonkMobile does not reserve you a spot or guarantee that space will be available when you arrive. We recommend that you wait to purchase your parking after you have located an appropriate space.
What methods of payment are available?
Most customers use a credit card, but Honk also accepts PayPal, VISA debit and Masterpass digital wallet. Cash and credit cards will still be accepted at pay & display machines. Coins are still accepted at parking meter locations.
I need proof of payment for my parking. How do I get a receipt?
Once you've paid for parking, Honk will email you a receipt. You can also view all your transactions by visiting the Receipts page in your profile.
What happens if I get a ticket but I have paid through Honk?
However infrequently, mistakes happen. Please ensure that the license plate entered in the app matches the one on the infraction. If you still believe that you have received a ticket in error, you may contact the Engineering Department at 905-372-4555.
Pay your Parking Ticket Online
Purchase a Daily/Monthly Parking Permit Online
Paid Parking in the downtown core is still FREE at this time; 2 weeks notice will be provided upon resuming collection of parking fees
Online Parking Permit Purchases
Parking permits are not valid at metered or pay and display locations. Parking permits are valid in Downtown Municipal Lots where permit parking is permitted. Parking permits are also sold at Victoria Hall, 55 King St W., Cobourg in the Finance Office.
Town of Cobourg's Parking By-law
Parking Permits
*Please note that the Town of Cobourg has enhanced its parking management software and will require your licence plate number as well as the make of vehicle to issue your permit.
Parking permit fees:
| Types of parking permits | Fee |
| --- | --- |
| 1-day | $5 |
| 30-day | $15 |
| 6-month | $90 |
| 12-month | $180 |
Downtown Parking
Downtown parking meters are enforced between 8:00 a.m. and 6:00 p.m., including weekends and holidays. Parking rates at meters in the downtown area are $1.00 per hour.


There are seven municipal lots with 2-hour free parking and permit parking, please see our parking brochure.
Victoria Park Beach Parking
Please note that the Cobourg Beach is currently CLOSED due to COVID-19.
Victoria Park Beach parking is enforced between Victoria Day weekend until Thanksgiving weekend between 8:00 a.m. and 6:00 p.m., including weekends and holidays. Parking rates at the Beach for pay and display and metered areas is $2.00 per hour.
Pay and display machines accept major credit cards such as VISA and MasterCard.

To view parking areas for metered and pay and display parking lots, please see the parking map.
Accessible Parking Permits
You must have and display an eligible accessible parking permit to use an accessible parking space. Regular parking fees in the area apply to accessible spaces as well. Accessible parking permits do not allow you to park in no parking or no stopping areas.
No Parking Anytime
View the street map.
Winter Parking
Winter parking is in effect annually from November 1 to March 31between 2:00 a.m. and 7:00 a.m. on certain streets. For a list of streets that you cannot park on overnight, please see the Town of Cobourg Winter Parking Map below or view the interactive map.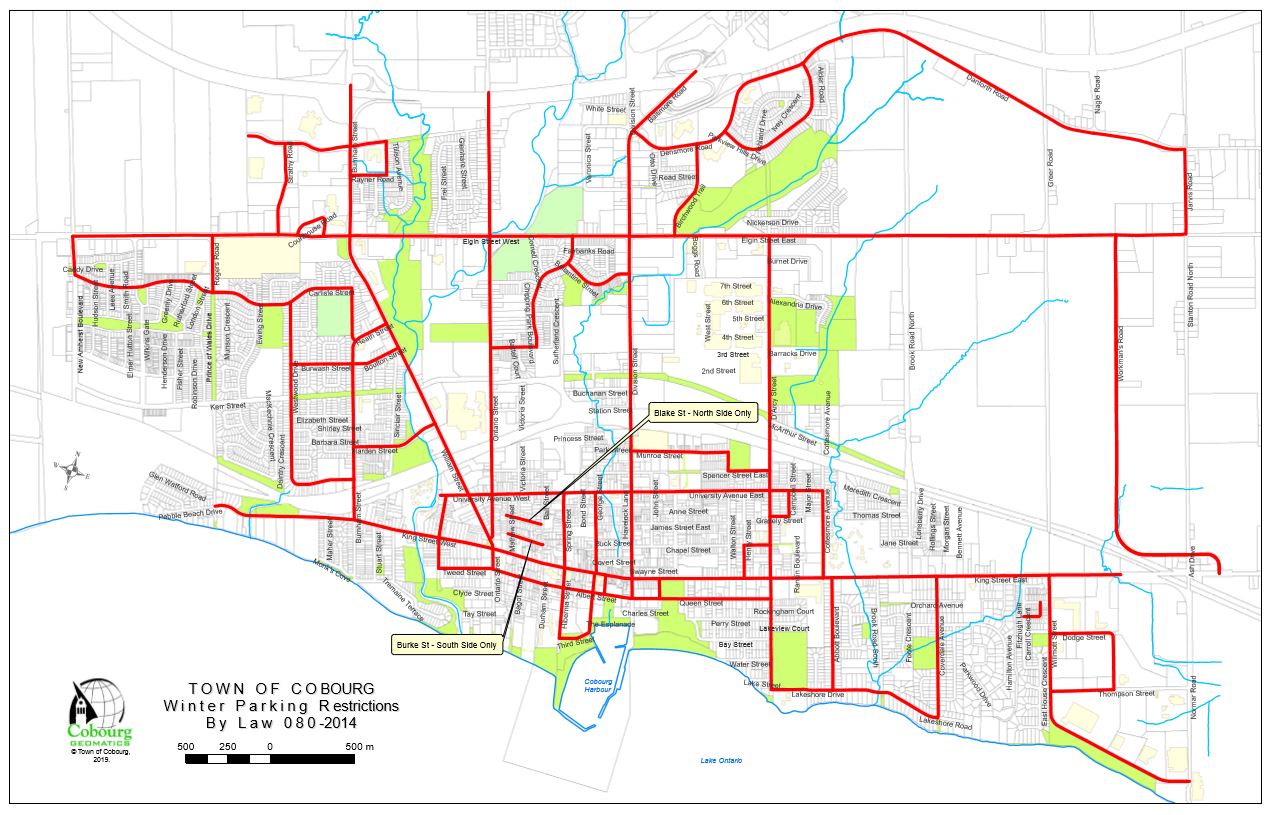 Parking tickets
Tips for avoiding parking tickets:
Watch for signs
Read parking meters and pay and display machines
Do not park in accessible spaces unless you have a valid permit
Do not park on or over sidewalks
Check the Parking By-law to make sure of winter parking regulations
Call the Engineering Department at (905) 372-4555 or rchampagne@cobourg.ca if you are not sure of restrictions in an area
Filing a parking complaint
Complete this form to report a parking infraction/complaint.