Coboug Strong Campaign - 'Stay Safe. Stay Home. Coming Together by Staying Apart.'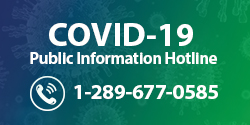 The Town of Cobourg has launched our #CobourgStrong campaign to raise mental health and wellbeing within our community as we all continue to self isolate, self distance and stay safe. Friendly faces of our community, leaders, kind spirits and more are gathering and sharing their messages of hope, tips and advice.
Follow, Share and Join the Movement!
Join us on Facebook and Twitter to follow our daily 'Coming Together by Staying Apart' messages from your local community.#CobourgStrong social media campaign — sending positive messages to YOU!
Do you want to be part of the campaign? Email your picture and positive message to communications@cobourg.ca today!