Cobourg Copes Campaign
The COVID-19 pandemic has challenged everyone's ability to cope with stress. Managing stress is more difficult when we are taken out of our regular routines, dealing with a constantly changing situation and distanced from our usual supports. COVID-19 has created new life stressors and made existing ones even more intense.
Emergency Preparedness Week (May 2-8,2021) is an opportunity for you to take action to ensure you are prepared to protect yourself, your family and your community during an emergency. We've been dealing with the COVID-19 pandemic for over one year now, which many of us were likely not prepared for. Although we strongly encourage residents to #GetPrepared physically for any emergency such as a flood, fire, or another natural disaster, we have also been challenged mentally and emotionally during this pandemic.
We want to know how you and your family are #CopingWithCOVID?
Share your pictures and stories with us!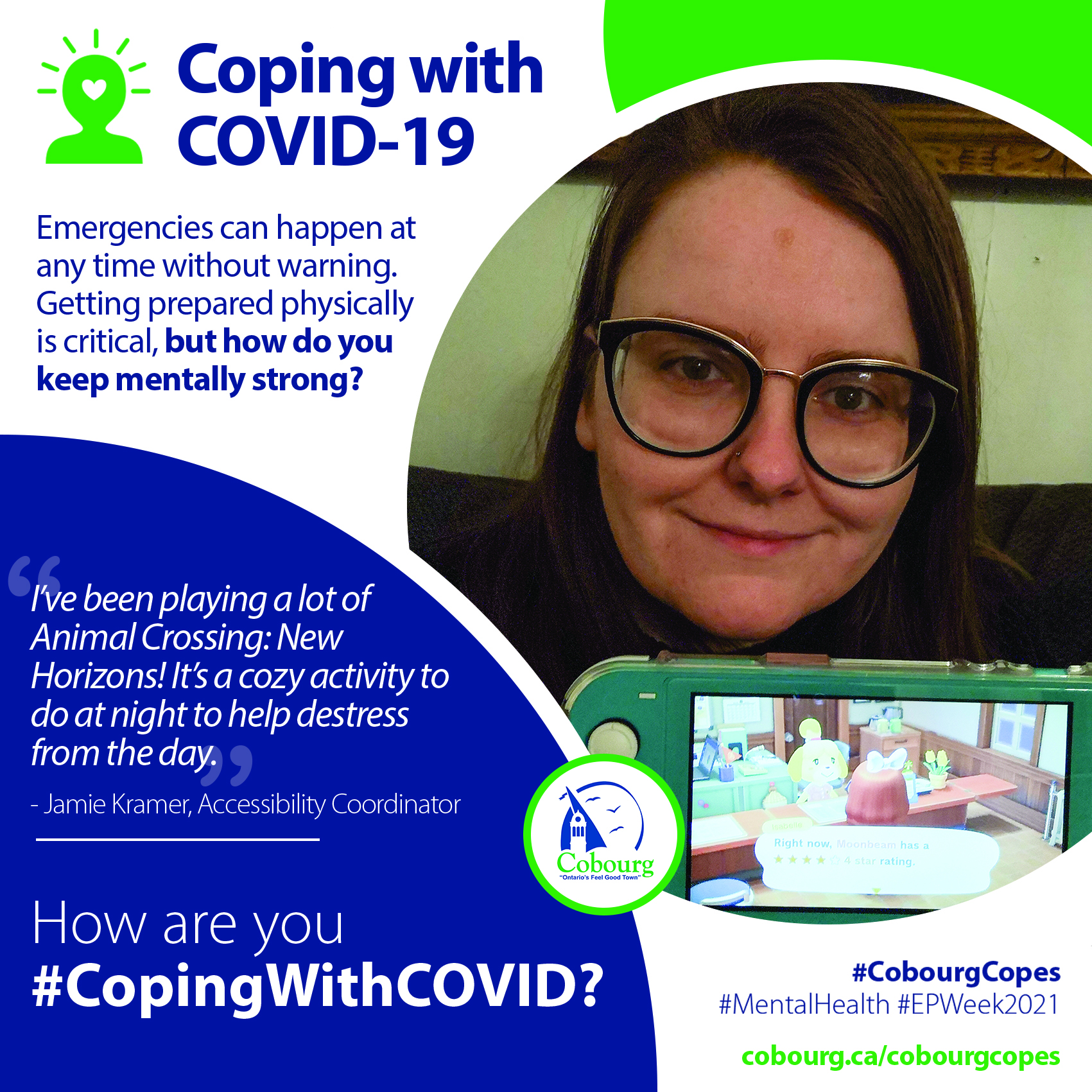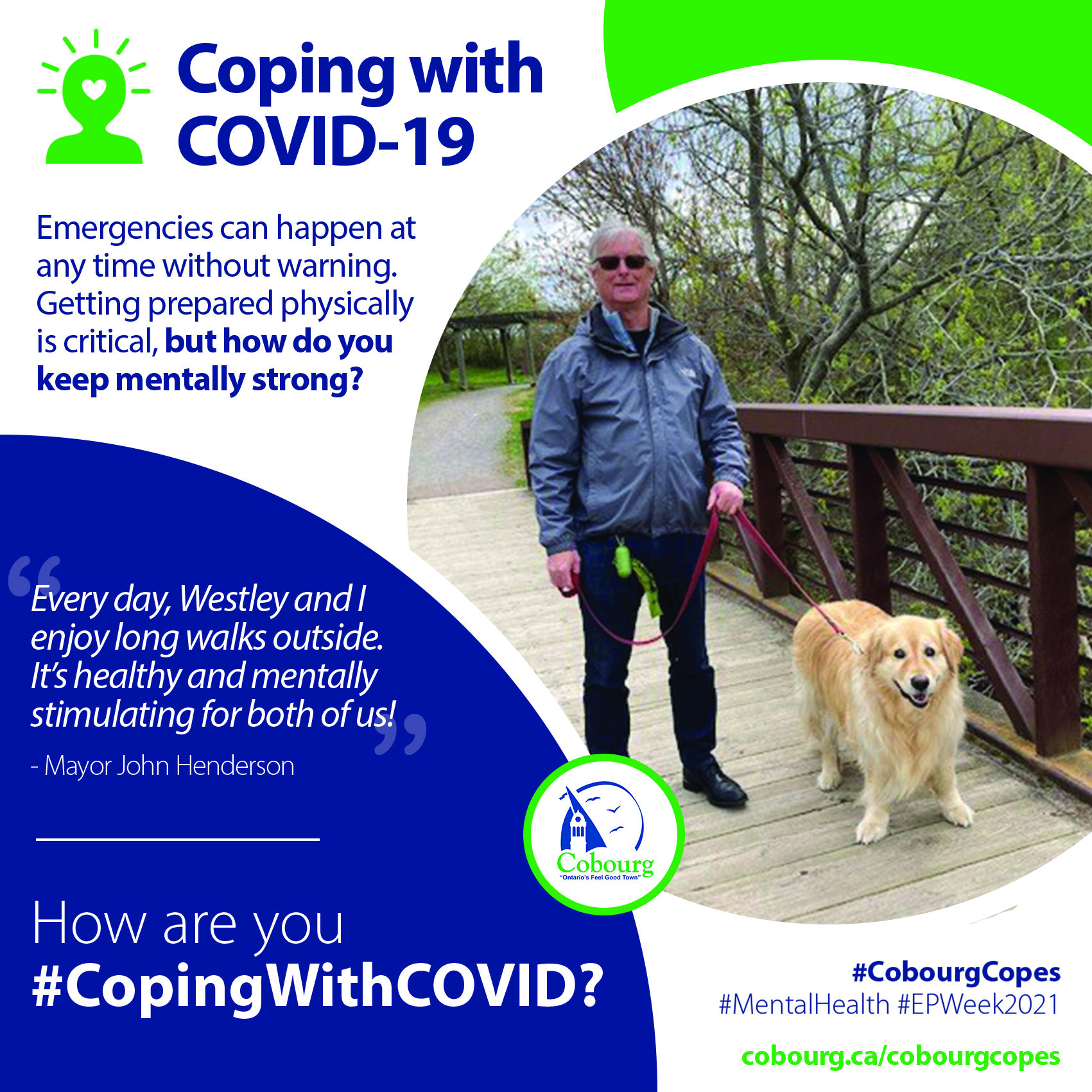 Supporting Your Mental Health
Maintain routines as you're able, keeping in mind the importance to take precautions such as physical distancing to slow the spread of COVID-19.
While you're encouraged to only have close contact with others in your immediate household, stay connected with family and friends through phone, social media or video-conferencing.
Seek professional help. If you're overwhelmed, talk by phone to a health professional or counsellor. If you have coverage for a counsellor through work, access your Employee and Family Assistance Plan.
Stay active: Doing fun and healthy activities outdoors makes it easier to keep physical distance.
Get enough sleep
Look back at challenging situations and see how you successfully coped with them
Limit your daily dose of COVID-19-related news to reduce anxiety and worry. Fight fear with facts about the pandemic by turning to credible sources of information.
---
If you are self-isolating:
Stay connected with friends and family by phone, social media or video calls.
Ask for help from friends, family and neighbours to deliver necessities to your door. Many community groups (e.g. churches and service clubs) have volunteers to help those who are isolated.
Even if isolating or in quarantine, keep up your personal daily routines at home or create new ones.
Stay healthy. Be active, eat well and get enough sleep.
Supporting Children
Kids are natural empaths and detect stress, fear, and anxiety in their parents and caregivers, which can lead to them internalizing those emotions and becoming anxious or fearful themselves.
Tips to help children and teens cope with COVID-19:
Stay calm. Don't avoid the subject, discuss COVID-19 with your children honestly, offering age-appropriate information. If your children have concerns, addressing those together may ease their anxiety.
Recognize symptoms of stress and anxiety. Just like adults, not all children and teens respond to stress in the same way. Acting out, crying, irritability, and regressive behaviors can be signs of stress.
Help children find positive ways to express their feelings. Offering a safe and supportive environment in which to voice their concerns is the first step. Encourage drawing, play-acting, or other creative outlets that enable kids to process and share their feelings.
Maintain familiar routines in daily life as much as possible, especially if children are confined to the home.
Take advantage of extra time together to have fun!
There are a few specific things you can do and say to build your child's resilience:
Reassure your child that many doctors, nurses, and scientific experts around the world are working hard to keep us safe and healthy.
Model healthy behaviours. Children are observant and pick up on body language and emotions. Help them to understand, verbalize, and organize their own feelings around the pandemic.
Find out what they know about what is happening. Correct any misinformation about "this new germ".
Be honest, but positive. Reinforce that they are unlikely to get sick, but that it is still important that they do their part to protect themselves and their families, especially those who are at higher risk.
Model good media habits and try to limit the news running in the background. Be mindful of your child's exposure to the news. There will likely be an increase in screen time during physical distancing, explore child-appropriate options and watch together.
Encourage and strengthen existing connections with family, friends and neighbours in creative ways.
Talk to your child about supporting and thanking others who are on the frontlines of healthcare, and those who are maintaining our public services.
The National Collaborating Centre for Indigenous Health has put together a fact sheet offering information for First Nations, Inuit and Métis parents and caregivers to support the health and well-being of children and teens during this pandemic.
For more tips, check out COVID-19 Fact Sheet: Talking to Children About the Pandemic created by the Ontario Ministry of Health.
Supporting Your Friends, Family and Neighbours
COVID-19 affects everyone, so be kind to others – regardless of gender, ethnicity, income or age.
Reduce stigma. Use supportive language like: "people who have COVID-19", "people who are being treated for COVID19", or "people who are recovering from COVID-19". Don't define others just because they're affected by the coronavirus.
Be neighbourly and assist others where possible, being sure to protect your health as well.
Share positive and inspiring stories of what your community is doing to pull together during this time.
Be patient and recognize the role caretakers and health care workers are playing in supporting people affected with COVID-19.
Additional Resources
Mental Health Support for People
Mental Health Services for Children and Youth
---
Four County Crisis – If you're in crisis please call 705-745-6484 or toll-free 1-866-995-9933. By phoning these numbers, you can access 24-hour, free, confidential crisis support.
211 Community Support – Easily find/search government and community-based services during COVID-19. Call or text 2-1-1 day or night to find support for all of life's challenges. Live Chat also available Monday to Friday from 7 am to 9 pm.
Centre for Addition and Mental Health
Bounce Back – A guided self-help program for adults and youth aged 15 and over using workbooks with online videos and phone coaching support.
Kids' Help Phone – 24/7 virtual support service offering professional counselling, information and referrals as well as volunteer-led, text-based support to young people. Services available in both English and French by calling 1-800-668-6868.
Good2Talk – Free, confidential mental health support service providing professional counselling and information and referrals for mental health, addictions and well-being to postsecondary students in Ontario
Wellness Together Canada – Mental health and substance use support.
Past Campaigns
Cobourg Strong Campaign
The Town of Cobourg launched #CobourgStrong campaign in April 2020 to raise mental health and wellbeing within our community as we all continue to self isolate, self distance and stay safe. Friendly faces of our community, leaders, kind spirits and more are gathering and sharing their messages of hope, tips and advice.
Follow, Share and Join the Movement!
Join us on Facebook and Twitter to follow our 'Coming Together by Staying Apart' messages from your local community.#CobourgStrong social media campaign — sending positive messages to YOU!
Do you want to be part of the campaign? Email your picture and positive message to communications@cobourg.ca today!