Downtown Cobourg Events
Downtown Cobourg hosts many events throughout the year. Our lineup boasts annual events that have occured for over 5 decades to newly introduce festivals! Look below to find our 2018 event dates, times, and descriptions. Want to participate as a vendor or volunteer? Check out our Apply page!
Winter Brews Pub Crawl
Saturday, February 24, 2018
5PM to 11PM
The Winter Brews Pub Crawl is bringing downtown restaurants, bars, and pubs together to set you up with drink and appetizer specials, prizes, live entertainment, pints & more!
Make new friends, try new places, and get to know downtown at this first time Pub Crawl event! Discover places locals go to and some they may not know about! Enjoy a local brew or Cobourg cocktail, taste tapas and sliders! All while taking in live entertainment and good conversation.
Locations with list of features, entertainment, and last call times in can be found on our Facebook event page.


#FestofAle #WinterBrews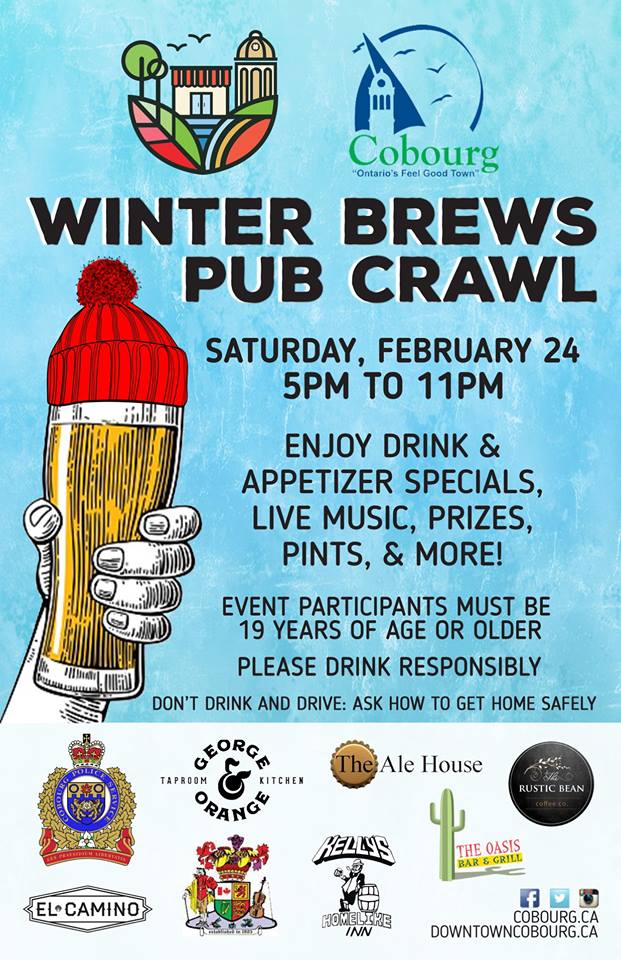 Spring Passport Program
March 19 to April 30, 2018
It's finally spring! How better to celebrate its arrival than with the Spring Passport Program. Shop at any of the participating locations to collect stamps in your passport. For every $10 spent within Downtown Cobourg, you'll receive a stamp on your passport. Receive 10 stamps and your passport is complete! Enter your passport in for a chance to win one of five prizes. Prizes to be awarded at the Girls Night Out event on Friday, May 11.

Pick up a passport at any of the participating locations and shop to win between Monday, March 19th and Monday, April 30th. Posters will be displayed at participating locations.

Locations, business descriptions, and promotions can be found on our Facebook event page.
#SpringPassport #ShopToWin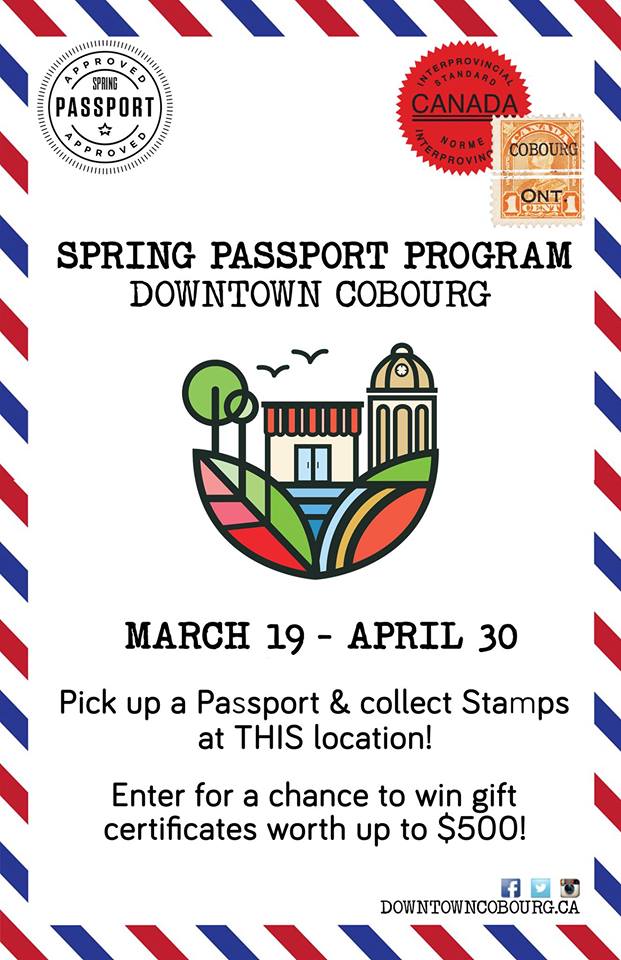 Girl's Night Out
Friday, May 11, 2018
5PM to 9PM
Grab your gals and get ready for a night on the town. Girl's Night Out is back on Friday, May 11 in Downtown Cobourg. The party starts at 5PM and goes 'til 9PM with over 50 stores open and offering sweet one-night savings and promotions, including vendors in the Market Building! Plus, there will be live music from the jazz quartet, TimeOut, and 20 certificates to win from downtown businesses during the free hourly draws. An amazing night of fabulous shopping, delicious dining, pampering and fun awaits!
Now let's shop, sip, and socialize, and get down to business!
Locations with list of specials can be found on our Facebook event page.

#GirlsNight #NightOnTheTown
Busker Festival
Saturday, June 9, 2018
10AM to 5PM
Step right up to the annual Busker Festival in Downtown Cobourg happening on Saturday, June 9. From 10AM to 5PM enjoy free busker shows for all ages! With 7 international performers such as the Canadian Champion of Magic and identical twins from cirque du Soleil, come be amazed as the streets come alive with talent! Plus, there will be lots sidewalk sales, food to eat and fun for the whole family. Join us downtown for a full day of performances, activities, shopping and food!
Come be amazed as the streets come alive with Buskers & Art!
More details to come including the lineup of international buskers!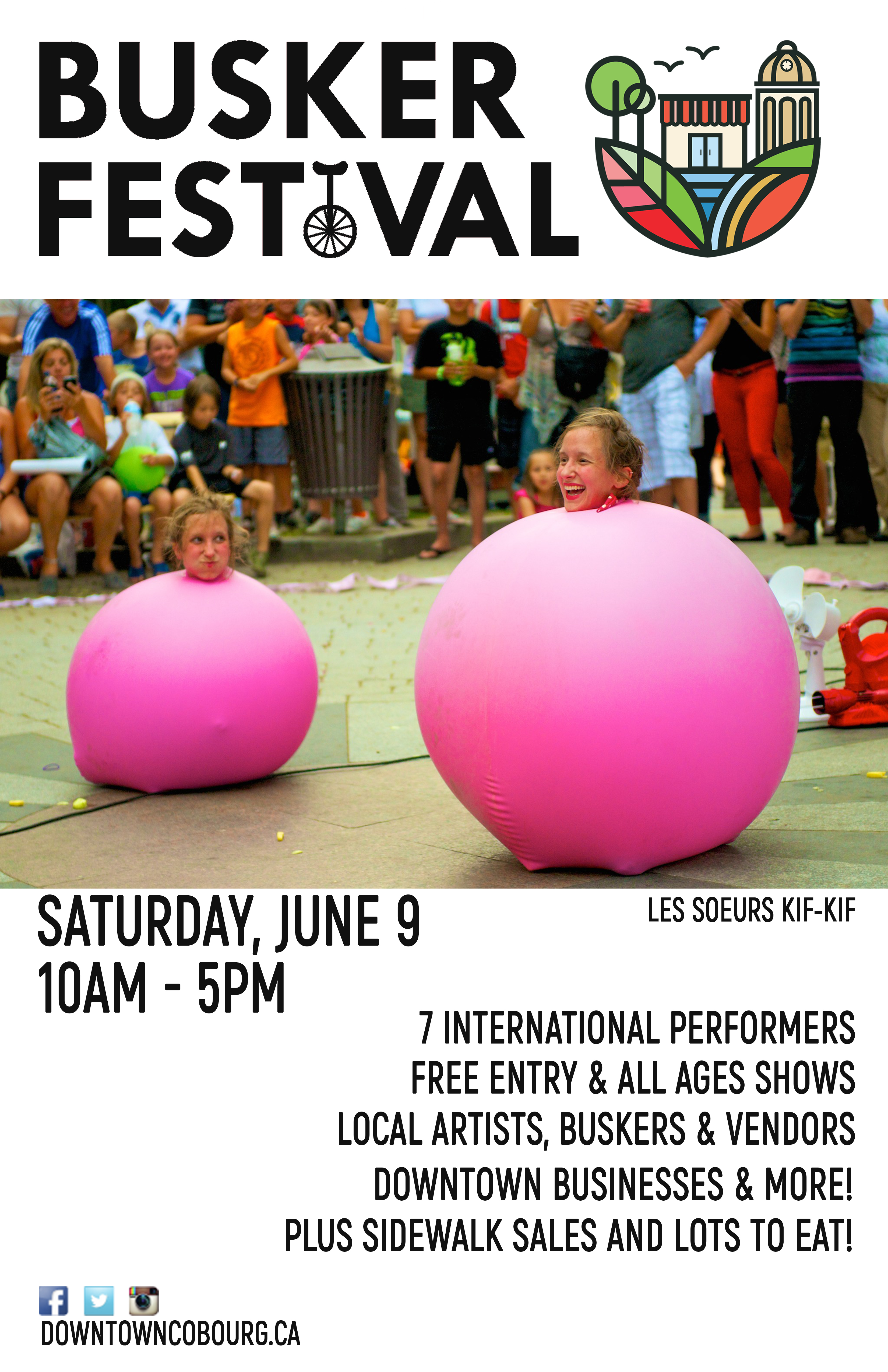 Food and Music Festival
Saturday, July 7, 2018
11AM to 9PM
For those about to eat, we salute you.

Downtown Cobourg is bringing back the Food and Music Festival on Saturday July 7. Between 11am and 9pm enjoy tons of eats, treats and beverages from popular food trucks and our always delicious local restaurants.

This year's festival also features a Treat Central in front of Victoria Hall! While you eat, rock out to all day live music from Backyard Riot, Nurse Joy, The Spirits, MaxMouse and the Gorillas, Storm the Palace and our headlining tribute band AC/DC Who Made Who.

Be there or be hungry. Let's eat together!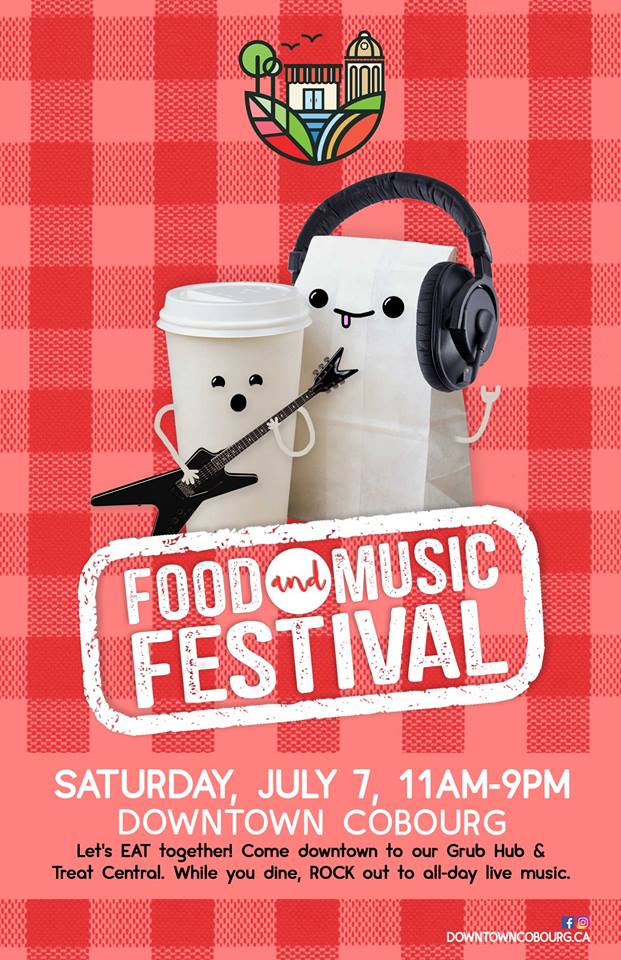 50th Annual Sidewalk Sale
Thursday, August 2 to Sunday, August 5, 2018
Thursday: 9AM to 7PM
Friday: 9AM to 8PM
Saturday: 9AM to 6PM
Sunday: 11AM to 4PM
Presenting sponsor: Scotiabank
Join us in Downtown Cobourg as we host blocks of extended storefronts and street vendors on King Street, offering days filled with live entertainment, family fun, summer sales and summer sun! Each day will bring something new to enjoy including a 24 foot tall cross fit tower! Different vendors, activities, and experiences from Thursday to Sunday. Come to Downtown Cobourg for the shopping experience of the summer. Get ready for the hottest #DowntownDeals at the 50th Annual Scotiabank Sidewalk Sale. PS This event features its own sandcastle on King Street!
More details to come including activities, and sale promotions!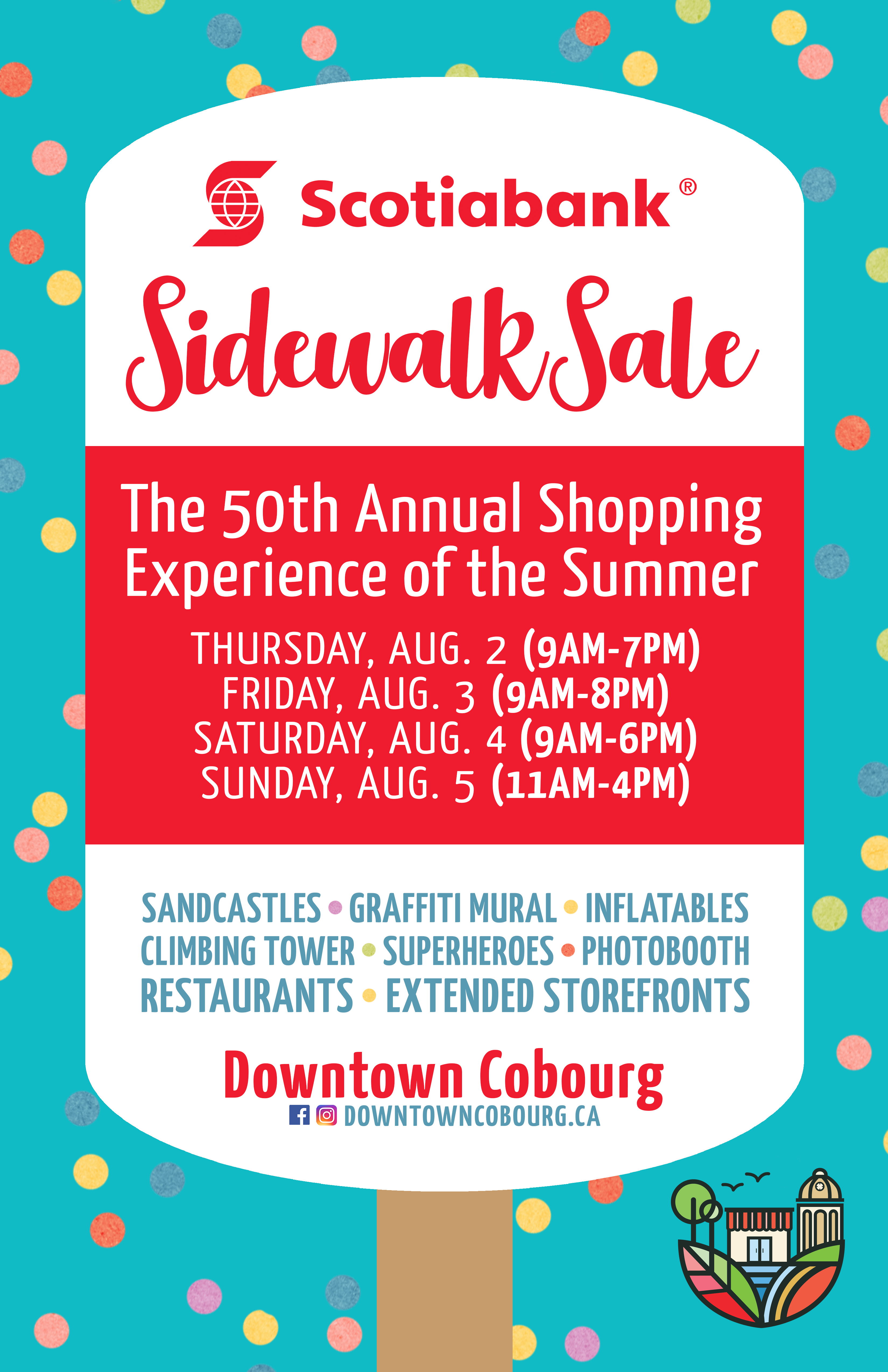 Art Walk and Pub Crawl
Saturday, August 25, 2018
10AM to 2PM (Art Walk), 3PM to 11PM (Pub Crawl)


You should walk before you crawl! Downtown Cobourg is hosting its second Art Walk with a twist!

Tour the art windows in our downtown locations and visit the Art Gallery of Northumberland on the third floor of Victoria Hall. Enjoy local artists and vendors on Second Street and take part in an art class.

After you walk, crawl in for an appetizer, drink or Art Tart at our participating downtown locations to receive a stamp on your Pub Pass. Enjoy drink and appetizer specials, pints & more! Get to know our downtown bars and pubs and patios at our first summer Pub Crawl. Missed out on Winter Brews? Enjoy Creative Cocktails!

More details to come including list of artists, locations of Arts N' Tarts in downtown, and pubs for the crawl!
Harvest Festival
Saturday, September 29, 2018
10AM to 5PM
Come celebrate the beauty and bounty of fall at the Harvest Festival in Downtown Cobourg. Think you can make it through the inflatable corn maze? Do you have what it takes to stay on the mechanical bull? Can you throw a bullseye with an axe? Enjoy these activities, plus extended storefronts, seasonal vendors and lots of hearty food! A scarecrow contest has them popping up amongst the cornstalks, hay bales and pumpkins that decorate the street. You'll certainly fall in love with this downtown event.
More details to come including full list of activities and stores!
Christmas in Downtown Cobourg
Friday, November 23 and Saturday, November 24, 2018
Times TBA
Discover how good Christmas feels in Downtown Cobourg. From festive window displays to a holiday passport program, experience Christmas Magic! Downtown will be merry and bright with lots of holiday shopping, festive music, and a special visit from Santa! Kiss under the mistletoe, get cozy with a cup of hot chocolate, and walk the historic streets of downtown for a classic hometown Christmas.
More details to come!
Holiday Postcard Contest
November 1 to November 30, 2018
Wish you were here!

More details to come including the prize announcement!