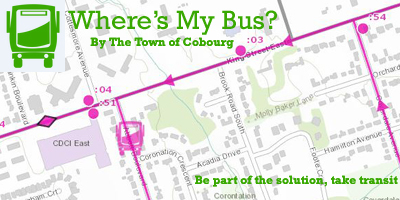 The Town of Cobourg is eager to announce the launch of the "Where's My Bus" application. This new web mapping application will provide users with real time updates on the geographic location of the Town of Cobourg transit buses Routes 1 & 2. Updates are every :12 seconds in realtime.
The application can be accessed on a computer, tablet or smart phone. Because the application is web based there is no need to download or purchase it from an app store, simply access the website using your web browser.
Is the app not working on your phone?

Caching varies across mobile devices and mobiles browsers; if the bus locations aren't updating on their own, please refresh you browser. Bus locations generally update every 12 seconds when the buses are moving.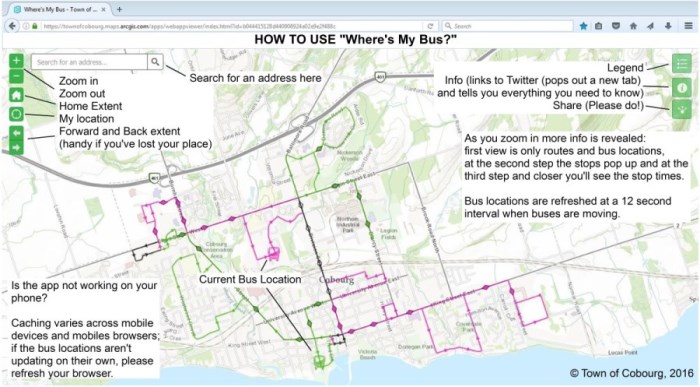 COBOURG TRANSIT
Cobourg Transit is a fully accessible service that has two fixed routes (Route 1 & Route 2). Cobourg Transit offers a door-to-door service called WHEELS for eligible riders who cannot use conventional transit. For more information about bookings and becoming a member of WHEELS, please call the Engineering Department at 905-372-4555.
DETOUR - Downtown Cobourg Food Festival
On Saturday, July 8, 2017 Cobourg Transit will be detouring the Downtown due to the Downtown Cobourg Food Festival. Cobourg Transit will be using our regular downtown detour (see below)
Route 1 - will miss the :44 stop on Division St and access the Terminal by traveling west on University, south on Spring St to Albert. All other stops remain unchanged.
Route 2 - The terminal stops will be moved to Third St beside the Third St parking lot. All other stops remian unchanged.
DETOUR - HARDEN ST
On May 31, 2017 Cobourg Transit will be detouring Harden St due to Bridge Rehabilitation, the closure will last for approx. 8 weeks.
Route 2 will be detouring beginning May 31; the :20 stop on Harden St will temporarily be moved to William St before the lights at Harden St. Other stops will not be affected however delays are expected as the detour takes the bus well off-route.
Cobourg Transit Hours of Operation

| | | |
| --- | --- | --- |
| Day | From | TO |
| Monday to Friday | 6:15 a.m. | 7:45 p.m. |
| Saturday | 8:15 a.m. | 6:45 p.m. |
| Sunday | 8:45 a.m. | 3:45 p.m. |
Start and end times noted above occur at the Downtown Terminal.
Fares and passes
Here are the 2016 Cobourg Transit fares and passes:
| Types of fares and passes | Fee |
| --- | --- |
| Cash fare | $2 |
| Tickets | $16 for 10 tickets |
| Adult monthly pass | $60 |
| Senior monthly pass | $30 |
| Student monthly pass | $50 |
| After School pass after 2:30 p.m. weekdays and all day on weekends | $15 |
| Children 5 and under | FREE |
Passes and tickets can be purchased at Victoria Hall, 55 King St W., and at the Cobourg Public Library at 200 Ontario St., Cobourg.
Cobourg-Port Hope shuttle service
The bus arrives from Port Hope every hour at 10 minutes past each hour at Northumberland Mall. You can transfer to a Cobourg Transit bus for $1.
The shuttle bus picks up at Northumberland Mall at 10 past each hour, to the Hospital 14 past and Walmart at 15.
Cobourg-Port Hope shuttle hours of operation
Here are the Cobourg-Port Hope Shuttle hours:
| Day | From | To |
| --- | --- | --- |
| Monday to Friday | 7:00 a.m. | 8:00 p.m. (last shuttle 7:10 p.m.) |
| Saturday | 9:00 a.m. | 4:00 p.m. (last shuttle 3:10 p.m.) |
The shuttle service does not run on Sundays or holidays.
The Port Hope bus leaves from Town Hall (56 Queen St) every hour on the hour.
For more information on Port Hope transit service please call (905) 885-2431.
Getting here
The Town of Cobourg has a number of ways to get around and enjoy all Cobourg has to offer.
Cobourg has two highway 401 off ramps (exits 472 and 474) and direct access on County Road 2 from both the east and west.
For more information on transportation services: